56 hunts
8 animals
2,493

km
to the nearest trip
About hunting in Saskatchewan
Some of the largest white-tailed deer in the world live in the western Canadian province of Saskatchewan. The deer grow big here thanks to the minerals in the province's fertile soil, the abundant habitat, and superior genetics. Saskatchewan is considered a mecca for white-tailed deer hunting. The record typical whitetail from Saskatchewan scored 214 4/8 B&C points, while the non-typical record stands at 265 3/8. These deer are also some of the largest whitetails in the world in terms of body size. Good numbers of black bears also roam the province, and they can be hunted in both spring and fall. Plenty of moose are found in the boreal forests, rounding out Saskatchewan's exceptional big-game hunting opportunities. Covering 251,700 square miles consisting mainly of prairie grassland in the south and boreal forest in the north, the province of Saskatchewan has an estimated 100,000 lakes as well as many streams and rivers, many of them providing exceptional fishing. Saskatchewan is also known for its severe winters, with temperatures plunging to 40 below zero during the coldest periods. Deer hunting in Saskatchewan, which is typically conducted from stands, is not for the faint of heart, but the rewards can be tremendous. Non-residents of Canada hunting on provincial Crown lands or private lands must use the services of a licensed outfitter. Outfitters have allocations for white-tailed deer, moose, and bears in certain wildlife management units. If hunting on First Nation reserve lands, non-residents must have permission from the First Nation Chief and Council, whether or not they are hunting with an outfitter. Canadian residents residing outside of Saskatchewan are only required to hire a guide for moose hunting. The Saskatchewan Outfitter Association is a good place to find information on hunting in Saskatchewan and a list of accredited outfitters: www.soa.ca. Saskatchewan also has exceptional hunting for upland birds and waterfowl. Upland game birds include Hungarian partridge, ptarmigan, sharp-tailed, ruffed, and spruce grouse. Waterfowl species include large flocks of geese, sandhill cranes, and many species of ducks. For additional information on hunting in Saskatchewan, see the Saskatchewan Ministry of Environment website: www.saskatchewan.ca/hunting.
Saskatchewan on map
Reviews
Fall Black Bear Hunt '19
Canada
We offer some of the finest Black Bear hunting in Saskatchewan. This hunt is sure to get your adrenaline pumping. Our hunting area is well populated with large black bear. Through the years, several of our clients have taken Boone and Crocket and Pope and Young bear. Our largest harvested was 21 9/16 B&C and over 500 Lbs. You will be hunting black bear, but don't let the name fool you. In addition to black, these bruins come in all color phases: blonde, cinnamon, chocolate and mixed. Hunting is done over active baits from strategically placed tree stands with the average shot around 40 yards. Baits are set to accommodate all hunters and weapons. We can guarantee that you will see bear, and we boast a 100% success rate. Bare in mind, we also accommodate a bird and bear combo hunt for the September Black Bear hunting season. With the flyways jammed-packed, you are assured to have the shoot of a lifetime!
Trip duration: 6 days
Trip available on: 1 September 2019 30 September 2019
3 Day Waterfowl Hunt 1-4 hunters
Canada
Early morning breakfast around 4am and then head out to the field to set up the decoys and blinds for a morning waterfowl hunt. The morning hunt is a great experience with lots of Snow Geese, Canada Geese, Specklebelly Geese, Sandhill Cranes and ducks filling the skies. We use many Snow Goose decoys, flyers, and rotary decoys, as well as electronic goose call to our birds. You will see over ten species of ducks and over five sub species of Canada geese ranging from Giant Greaters to small Cacklers in staggering numbers. Goose season remains open into December, but the peak period is usually the final week of September through mid to late October in this province Around 10 am or when we limit out we head back to the lodge for brunch and relax until we are ready to venture out for our evening duck hunt. After our evening shoot, we have prepared for you a home-made supper, and spend the night relaxing and relive the day's hunt. Limits: Ducks - daily limit of 8, only 4 may be pintails Dark goose - daily limit of 8, only 5 may be specklebelly, no hunting dark geese after noon until October 15th White goose - daily limit of 20, no possession limit Other duck and goose possession limits are 3 days daily bag limits.
Trip duration: 3 days
Trip available on: 1 September 2019 31 October 2019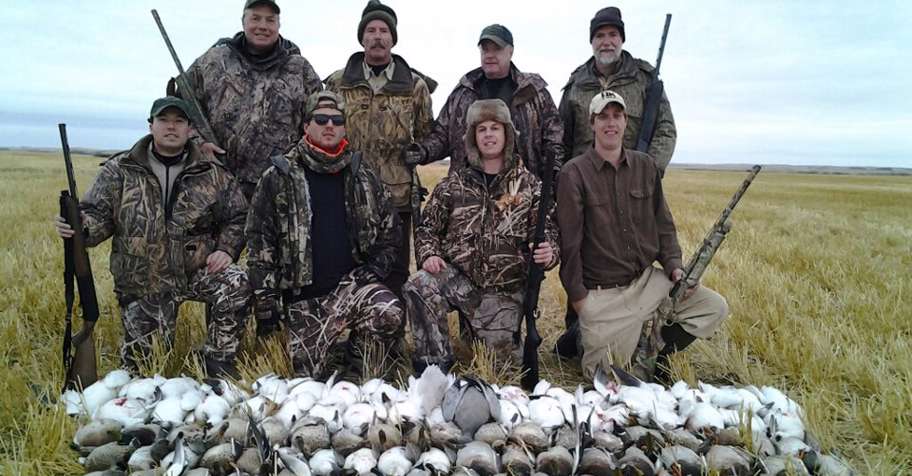 4 days Fall hunt
Canada
Fantastic hunting for Canada geese, specks, snows and blues. In addition, ducks, sandhill cranes and upland birds round out the diverse bag our hunters experience. Limits 20 snows, 3 days possession 8 darks, 3 days possession 5 cranes, 3 days possession 8 ducks, 3 days possession 8 huns, 3 days possession 3 sharptail, 2 days possession
Trip duration: 4 days
Trip available on: 10 September 2019 31 October 2019
Interested in this destination? Create a subscription for Saskatchewan to get offers right to your inbox
You might also like