68 hunts
7 animals
2493

km
to the nearest trip
About hunting in Saskatchewan
Some of the largest white-tailed deer in the world live in the western Canadian province of Saskatchewan. The deer grow big here thanks to the minerals in the province's fertile soil, the abundant habitat, and superior genetics. Saskatchewan is considered a mecca for white-tailed deer hunting. The record typical whitetail from Saskatchewan scored 214 4/8 B&C points, while the non-typical record stands at 265 3/8. These deer are also some of the largest whitetails in the world in terms of body size. Good numbers of black bears also roam the province, and they can be hunted in both spring and fall. Plenty of moose are found in the boreal forests, rounding out Saskatchewan's exceptional big-game hunting opportunities. Covering 251,700 square miles consisting mainly of prairie grassland in the south and boreal forest in the north, the province of Saskatchewan has an estimated 100,000 lakes as well as many streams and rivers, many of them providing exceptional fishing. Saskatchewan is also known for its severe winters, with temperatures plunging to 40 below zero during the coldest periods. Deer hunting in Saskatchewan, which is typically conducted from stands, is not for the faint of heart, but the rewards can be tremendous. Non-residents of Canada hunting on provincial Crown lands or private lands must use the services of a licensed outfitter. Outfitters have allocations for white-tailed deer, moose, and bears in certain wildlife management units. If hunting on First Nation reserve lands, non-residents must have permission from the First Nation Chief and Council, whether or not they are hunting with an outfitter. Canadian residents residing outside of Saskatchewan are only required to hire a guide for moose hunting. The Saskatchewan Outfitter Association is a good place to find information on hunting in Saskatchewan and a list of accredited outfitters: www.soa.ca. Saskatchewan also has exceptional hunting for upland birds and waterfowl. Upland game birds include Hungarian partridge, ptarmigan, sharp-tailed, ruffed, and spruce grouse. Waterfowl species include large flocks of geese, sandhill cranes, and many species of ducks. For additional information on hunting in Saskatchewan, see the Saskatchewan Ministry of Environment website: www.saskatchewan.ca/hunting.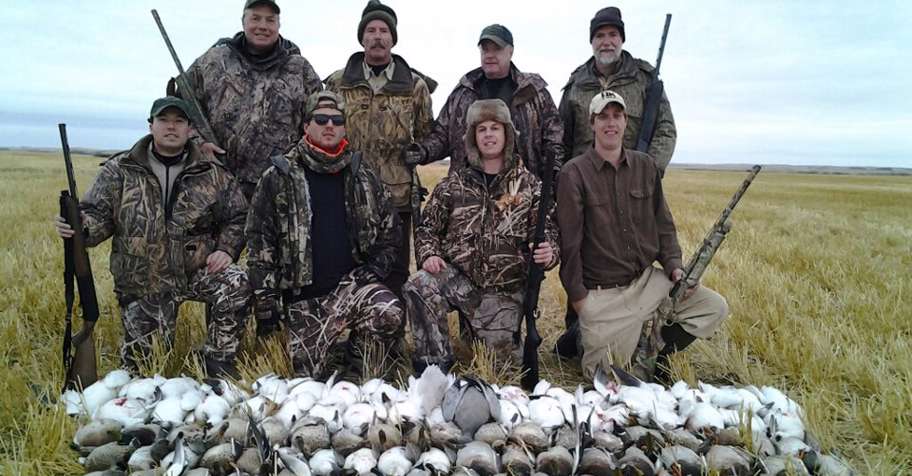 3 days Spring Snow Goose hunt '21
Canada
Fantastic hunting for Canada geese, specks, snows and blues. In addition, ducks, sandhill cranes and upland birds round out the diverse bag our hunters experience. Limits 20 snows, 3 days possession 8 darks, 3 days possession 5 cranes, 3 days possession 8 ducks, 3 days possession 8 huns, 3 days possession 3 sharptail, 2 days possession
Trip duration: 3 days
Hunting season: 10 Apr 2021 7 May 2021
Waterfowl Hunt
Canada
Waterfowl hunting simply does not get any better than this! Located near Chitek Lake Saskatchewan, our hunting area is situated under one of the largest migratory routes in Western Canada. Due to our unique location and the variety of birds, we are able to offer many types of waterfowl hunting. The south end of the boreal forest is the first farmland for waterfowl on their migration south and our area is a favourite feeding ground for waterfowl due to this vast grain-producing region. Loaded with fields of peas, wheat and barley and thousands of potholes, every September through October, a variety of geese including Canada's, Cacklers, Specklebellies, Snow and Blues as well as Mallard and Pintail Ducks grace this region. (Not to mention the local ducks and geese that nest here yearly). Saskatchewan waterfowl hunting is world famous for a reason and we would love to help you experience it firsthand. We pride ourselves on offering our clients a high quality, organized, professionally outfitted hunting experience by using top notch gear, working hard, scouting daily and hunting one of the very best waterfowl hunting areas in all of Canada. Bag limits: - Dark Geese (Canada, cackling and white-fronted geese) daily limit: 8 (only 5 may be white fronted). Possession limit: three times daily limit - White Geese (white and blue phase snow geese and Ross' geese) daily limit: 20. Possession limit: no possession limit - Sandhill Cranes daily limit: 5. Possession limit: no possession limit - Ducks Daily limit: 8 (only 4 may be pintails). Possession limit: three times daily limit. - Coots and Snipe daily limit: 10 (each species). Possession limit: three times daily limit.
Trip duration: 1 - 6 days
Hunting season: 1 Sep 2020 31 Oct 2020
All-inclusive Waterfowl Hunt - 3 Days
Canada
This is a 3-days all-inclusive outfitted waterfowl hunting package. We want you to be assured there will be no surprises and no hidden costs. We include everything so you do not have to worry about the minor details or extra expenses. Ducks daily limit is 8 with the Pintail daily limit at 4, no other restrictions on duck hunting Dark goose daily limit is 8 with the Speck daily limit at 5, no hunting dark geese after noon until Oct, 15. White goose daily limit is 20 with no possession limit Other duck and goose possession limits are 3 days daily bag limits
Trip duration: 3 days
Hunting season: 1 Sep 2020 1 Nov 2020
Interested in this destination? Create a subscription to get offers right to your inbox