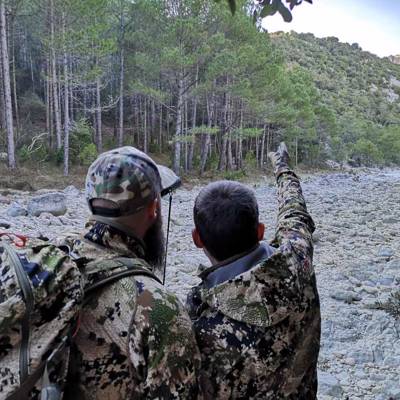 Who is offering this hunt Once you

start a conversation

regarding this hunt the outfitter name will be provided Andorra
Josep Maria, Owner & Outfitter
Our company was established in 2017 and operates in 5 territories.
We are a company operating in three countries, Spain, France and Andorra.
Our company is specialized in world-class Pyrenean Chamois hunting in France and Spain (Pending Top 10 World Record for 2020) and Spanish Ibex.
We also provide Red Deer, Roe Deer, Fallow Deer and Mouflon Sheep.
About this hunt
Even if the culture in Spain is "Monterias", approaches to this huge animal can be super exiting! Getting close to Wild Boar shows you in detail how powerful they can be. We hunt Wild Boar in high country, which changes a lot from hunting it in Southern Spain and makes it much more challenging!
Guided (Regular trip)
Rifle Hunting Stalking Bow Hunting
Hunting season: 1 Sep 2020 - 31 Mar 2021
Best time for hunting: 1 Sep 2020 - 31 Mar 2021
Where you will hunt
Territory
Fence type: Not fenced
Territory size: 40,000 ha
Languages spoken by staff: English French Spanish Portuguese
Operating since: 2005 year
Structure by elevation
Plains: 10%
Hills: 30%
Mountains: 60%
Structure by landscape
Fields/Bush: 50%
Forest: 50%
Entertainment services
Fishing Clay shooting Excursions
Where you will stay
Hotel
Accommodation during the hunt is arranged in cozy hotels with all the conveniences.
Facilities: Wi-Fi TV In-suite shower Fridge Electricity Sauna Swimming Pool Table Games Billiard Wine Tasting Quad Biking Horse Riding
How to get there
Navigation guidelines
Upon arrival to the airport you will be met by the outfitter who will take care of rifle customs formalities and then transfer you to hotel in the hunting area.
Nearest airport: Barcelona
Distance from airport: 195 km
Transfer from airport: Yes
Transfer from railway: No
Other information
Gun rental: No
Vaccination required: No
Additional services
Rescue travel insurance
Ripcord - we take the worry out of your travel so you can be completely devoted to the things you enjoy...
read more
Terms
Price Includes
Accommodation
Transport on territory
Transfer from/to airport
Ammunition
Guiding by PH
Field trophy preparation
Trophy measurement
Hunting license
Gun permits
Insurance
Gun rental
Breakfast
Lunch
Dinner
Snacks
Beverages/soft drinks
VAT
Terms of Payment
Deposit: 40% based on trip price
Deposit deadline: 10 days after booking
Final payment: 60 days Before hunt
Cancellation
Deposit is not refundable
Price DOES NOT include
Flights
Alcoholic drinks
Tips
Trophy care and shipment
Taxidermy
Export veterinary papers
Wounding
100% of trophy price must be paid
Price Includes
Accommodation
Transport on territory
Transfer from/to airport
Ammunition
Guiding by PH
Field trophy preparation
Trophy measurement
Hunting license
Gun permits
Insurance
Gun rental
Breakfast
Lunch
Dinner
Snacks
Beverages/soft drinks
VAT
Price DOES NOT include
Flights
Alcoholic drinks
Tips
Trophy care and shipment
Taxidermy
Export veterinary papers
Terms of Payment
Deposit: 40% based on trip price
Deposit deadline: 10 days after booking
Final payment: 60 days Before hunt
Cancellation
Deposit is not refundable
Wounding
100% of trophy price must be paid
Interested in this hunt? Create a subscription to get offers with the same destination and species
{{ onboarding.step }}
/{{ onboarding.stepsCount }}
{{ onboarding.title }}
{{ onboarding.text }}