4 hunts
1 country
1553

km
to the nearest trip
Where to hunt Ocellated Turkey
The range of ocellated wild turkey covers the southern part of the North American continent, most notably the Yucatan peninsula in Mexico. This is where most of the outfitters that offer the hunting for this unique variety of wild turkey are located.
Price distribution
Ocellated Wild Turkey hunts are typically in the $2,500-3,000 range. A hunter typically has opportunities to combine a turkey hunt with other exotic birds and animals such as curassow, peccary, or brocket deer.
When to hunt Ocellated Turkey?
Most ocellated turkey hunts take place during the mating season, which is from mid-March to mid-April. There's also an autumn season, but most hunters prefer to go after the bird in spring, when the chances of bagging a big tom in full splendor are much higher.
Ocellated turkeys are hunted like other kinds of wild turkey, by calling a male tom in range during the mating season. Guides often use ground blinds to conceal hunters from their prey. In the fall season, ocellated turkey hunting is done in agricultural areas by stalking or waiting from a blind.
Why hunt Ocellated Turkey?
Not to be confused with Osceola Turkey, the oscillated turkey got its name from its unique rainbow-like iridescent plumage, with blue and gold-tipped tail feathers. It's one of the smallest kinds of wild turkey, with adult males weighing only 11-12 pounds. They have a unique high-pitched gobble preceded by a drumming sound, very long spurs, but no beard. Being the most remote and exotic species of North American wild turkeys, ocellated turkey is usually the crown of a turkey hunter's "Big Six Slam".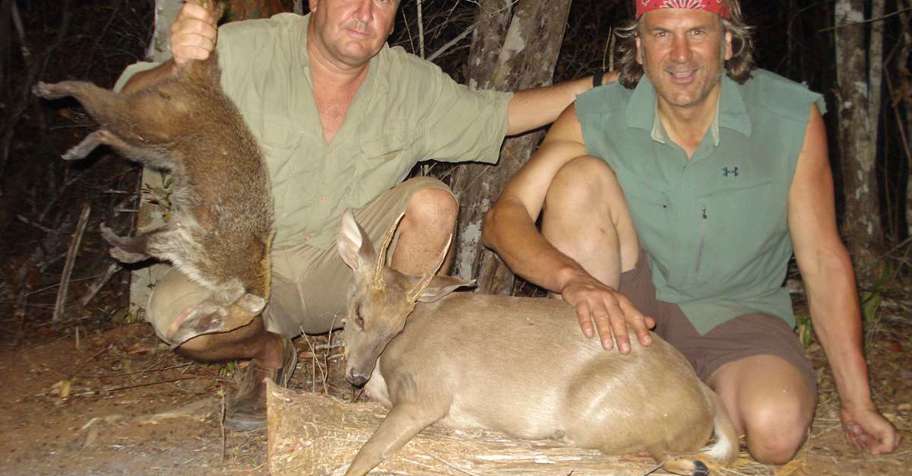 Jungle Hunt '21
Mexico
We offer you a unique hunting expedition to Mexican jungle where we take care of all the detials involving logistics, lodging, meals, guiding, transportation, etc. in order that hunting lovers from all over the world may find here the nicest place to practice their favorite sport. We can assure the best experience of enjoying your staying, the beauty of places, and the unique scenses and mysterious sounds of the jungle! Your day itinerary will be like the following: - You will wake up around 4-5:00 AM and have a light breakfast (coffee, orange juice, cereal and fruit). - After the morning hunt you will return to camp around 10-11:00 AM and have a complete breakfast, and before leaving camp for the afternoon hunt around 3-4:00 PM you will have snacks and refreshments. - You will return to camp around 7-8:00 PM for a full and relaxing dinner.
Trip duration: 7 - 14 days
Hunting season: 15 Mar 2021 31 May 2021
Price from
$

5,850
for 7 days, 1 hunter
Ocellated Turkey Hunt '21
Mexico
This is the most representative bird of the south east, it is native to the state of Campeche, Quintana Roo, Belize, and Guatemala (it only exists in this part of the American content and of the world). It is a spectacular animal with iridiscent feathers throughout the rainbow colors, with an impressive brightness. He figures a head that is turquoise blue with red, yellow and orange colored dimples, and a long protuberance in the forehead that can measure up to 7 cm (2,5 in). This turkey is a part of Grand Royal Slam of North American turkeys. Hunting season is opened February through May, but only April to May the gobblers sing. The sound of their signing is totally different from the common turkeys and so far no call manufacturer has been able to imitate it. Your day itinerary will be like the following: - You will wake up around 4-5:00 AM and have a light breakfast (coffee, orange juice, cereal and fruit). - After the morning hunt you will return to camp around 10-11:00 AM and have a complete breakfast, and before leaving camp for the afternoon hunt around 3-4:00 PM you will have snacks and refreshments. - You will return to camp around 7-8:00 PM for a full and relaxing dinner. Additional trophies that can be added to the hunt as extra: Cougar / Puma concolor - $3,000.00 Red brocket deer / Mazama Americana - $4,500.00 Gray brocket deer / Mazama Gauzobira - $3,000.00 Tropical white-tailed deer / Odocoileus virginianus yucatanensis - $3,000.00 Collar pecari / Pecari tajacu- $500.00 Sereque / Dasyprocta punctata - $300.00 Tepezcuincle / Agouti paca - $500.00 Coati / Nasua narica - $400.00 Ocellated turkey / Agriocharis ocellata - $1,000.00 Great curasaw / Crax rubra - $800.00 Crested guan / Penelope purpurascens - $700.00 Mancolon / Colinus nigrogularis - $250.00 Chacalaca / Ortalis vetula - $250.00 Mexican chukar / Crypturellus cinnamomeus - $250.00
Trip duration: 7 days
Hunting season: 15 Mar 2021 31 May 2021
Package price
$

2,850
for 7 days, 1 hunter
2 Hunter Ocellated Turkey Hunt Special
Mexico
This is the most representative bird of the south east, it is native to the state of Campeche, Quintana Roo, Belize, and Guatemala (it only exists in this part of the American content and of the world). It is a spectacular animal with iridiscent feathers throughout the rainbow colors, with an impressive brightness. He figures a head that is turquoise blue with red, yellow and orange colored dimples, and a long protuberance in the forehead that can measure up to 7 cm (2,5 in). This turkey is a part of Grand Royal Slam of North American turkeys. Hunting season is opened February through May, but only April to May the gobblers sing. The sound of their signing is totally different from the common turkeys and so far no call manufacturer has been able to imitate it. Your day itinerary will be like the following: - You will wake up around 4-5:00 AM and have a light breakfast (coffee, orange juice, cereal and fruit). - After the morning hunt you will return to camp around 10-11:00 AM and have a complete breakfast, and before leaving camp for the afternoon hunt around 3-4:00 PM you will have snacks and refreshments. - You will return to camp around 7-8:00 PM for a full and relaxing dinner. Additional trophies that can be added to the hunt as extra: Cougar / Puma concolor - $3,000.00 Red brocket deer / Mazama Americana - $4,500.00 Gray brocket deer / Mazama Gauzobira - $3,000.00 Tropical white-tailed deer / Odocoileus virginianus yucatanensis - $3,000.00 Collar pecari / Pecari tajacu- $500.00 Sereque / Dasyprocta punctata - $300.00 Tepezcuincle / Agouti paca - $500.00 Coati / Nasua narica - $400.00 Ocellated turkey / Agriocharis ocellata - $1,000.00 Great curasaw / Crax rubra - $800.00 Crested guan / Penelope purpurascens - $700.00 Mancolon / Colinus nigrogularis - $250.00 Chacalaca / Ortalis vetula - $250.00 Mexican chukar / Crypturellus cinnamomeus - $250.00
Trip duration: 7 days
Hunting season: 15 Mar 2021 31 May 2021
Package price
$

4,000
for 7 days, 2 hunters
Interested in this animal? Create a subscription to get offers right to your inbox