4 hunts
3 countries
1440

km
to the nearest trip
Where to hunt Chukar
Chukar is a medium-sized upland game bird, closely related to red-legged partridge. It inhabits dry and relatively open hills and mountains, with some scrubs and vegetation. Chukar originates from the mountains of Asia, and its clicking calls can be heard from Asia Minor to Inner Mongolia. The bird has been introduced to North America, and it's hard to imagine now that it's not a native of the Rockies. You can hunt Chukar both in its original range, in countries like Tajikistan and Kazakhstan, and in the United States as well.
Price distribution
Technically, the most affordable Chukar hunting opportunities exist in Kazakhstan or Tajikistan, where they cost about $300-$500 a day. However, since we're talking about 5-8 day hunts, and with added travel costs, the bottom line will not be as attractive. Chukar hunts for released birds in the East of the US sell for about $1,000 a day. Perhaps the best value are hunts in the American West, where for $600-$800 a hunter a day you'll get a guided hunt for wild birds over well-trained pointers and setters.
Special offers
Learn more from our blog story
Hunters don't often travel far to hunt birds - this is far less common, at least, than going places after big game. However, there are exceptions. Dove shooting in Argentina is legendary, and has made Argentina one of the most popular destinations for international hunters. If you're only considering a dove hunt in Argentina, check out this blog post to help you prepare for it.
15 Jun 2017 How to Survive High-Volume Dove Shooting in Argentina.
When to hunt Chukar?
Chukar hunting seasons usually open in September or October, and close in December or February, although in some destinations or on private land preserves they can continue until April. The best time for hunting depends on the area, but in most cases it is believed that hunting gets better when winter strikes.
But by far the most popular and sporting way of hunting Chukar is to walk up with pointing dogs. Be ready to do a lot more walking than shooting. One tip to bear in mind when hunting Chukar is that the birds will usually run uphill, but fly downhill. Sheep and goat hunters who visit the ranges of Asia are sometimes offered a Chukar hunt as an extra after they've bagged their Ibex or Marco Polo. Here the guides will usually resort to one of the old traditional methods of the Asian mountains. One is to sit for the birds over the waterhole and shoot them as they come to drink. Another option is to stalk the feeding coveys, approaching them from the other side of the hill and navigating yourself by their calls.
Why hunt Chukar?
Many jokes exist about Chukar hunting in the USA, all playing on the fact that the effort Chukar hunters put in is seldom justified by the size of the bag. Indeed, Chukar hunting is extremely demanding for both humans and canines. It takes a lot of walking over some very difficult terrain just to find a covey, and the birds are skilled at evading their pursuers. And once flushed, their strong flight (and your weary hands) make them quite a challenge for a shotgunner. But that's another way of saying that it's a very sporting hunt, and the more effort you put in, the higher the satisfaction from the result. The biggest attraction of Chukar hunting is, perhaps, the places it takes you to. Magnificent mountain ranges, almost entirely devoid of human presence, have a way of refreshing your mind like nothing else.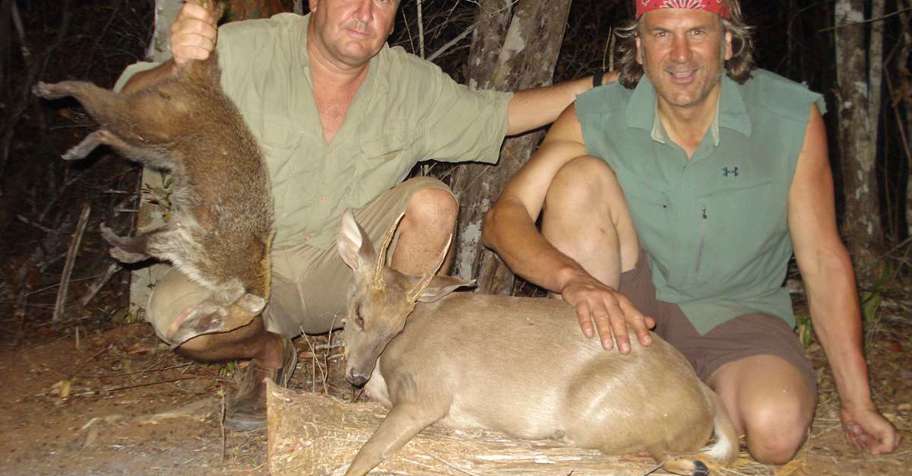 Jungle Hunt '21
Mexico
We offer you a unique hunting expedition to Mexican jungle where we take care of all the detials involving logistics, lodging, meals, guiding, transportation, etc. in order that hunting lovers from all over the world may find here the nicest place to practice their favorite sport. We can assure the best experience of enjoying your staying, the beauty of places, and the unique scenses and mysterious sounds of the jungle! Your day itinerary will be like the following: - You will wake up around 4-5:00 AM and have a light breakfast (coffee, orange juice, cereal and fruit). - After the morning hunt you will return to camp around 10-11:00 AM and have a complete breakfast, and before leaving camp for the afternoon hunt around 3-4:00 PM you will have snacks and refreshments. - You will return to camp around 7-8:00 PM for a full and relaxing dinner.
Trip duration: 7 - 14 days
Hunting season: 15 Mar 2021 31 May 2021
Price from
$

5,100
for 7 days, 1 hunter
Half Day Chukar Hunt
United States
Daybreak at the ranch is a majestic moment in time as the morning sun rises from the east behind the grand oak trees along "The Parkway" and the smell of New Orleans Community Coffee brewing at the main lodge. An orchestra of nature plays it's early morning sounds of ranch livestock, wildlife and birds beginning another day on the farm. A southern, country breakfast is served by the Ranch staff and your personal hunting guide prepares you for a productive day in the field hunting the historic Southern Bobwhite Quail or hunt in waist deep sorghum grain fields for Ringneck Pheasant or Chukar . We provide your personal hunting guide, excellent bird dogs, hunting ATV's, cold beverages in the field and high quality habitat for plentiful game. Our guides cater to every level of hunter expertise, from the most experienced wingshooter to the totally inexperienced hunter who desires to learn this classic sport. You're welcome to come with all of your hunting gear or without a gun, shells, hunting vests, hats or upland hunting clothing and we can accommodate you from our Ranch Sport Shop where we sell or rent everything you need. The morning hunt is from 8:30 A.M. until 11:30 A.M. The afternoon hunt is from 1:30 P.M. until 4:30 P.M. All hunts are by reservation only. All hunters are required to follow standard Hunter Safety Rules. After the hunt, kick back at the lodge in front of the massive stone fireplace, soak in the cedar wood hot tub or socialize and share your experiences during the hunt with your hunting partners at the Cabana Bar. We can process and package your game for travel or shipping, as well as for the taxidermist. All hunts are priced based upon a minimum of 1 hunter each. MEALS & LODGING One Night's Lodging and Meals $250 per person per night
Trip duration: 1 day
Hunting season: 1 Oct 2021 30 Apr 2022
Package price
$

495
for 1 day, 1 hunter
Classic Upland Bird Hunt
United States
Seasons: Wild Hunts-Arizona is October - February, Nevada is October - January   Limits:      Arizona - Gambel Quail - 15 Daily      Nevada - Gambel Quail - 10 Daily      Nevada - Chukars - 6 Daily (or 3 Chukars & 3 Huns)      Nevada - Huns - 6 Daily (or 3 Chukars & 3 Huns) Hunting may take place across the entire state of Nevada and Arizona depending on bird populations and the particular species that you wish to target. Usually it is necessary to concentrate on a single species each day.  Generally speaking, Northern Nevada is made up of 80% Chukars & 20% mixture of Huns & California Quail. Southern Nevada is usually split between 70% Gambel Qual & 30% Chukars. Arizona hunting is for Gambel Quail, Scaled, & Mearns Quail. 10,000 acre ranch in southern Arizona that has 3 species of quail Make your interests known prior to the hunt so our scouting can concentrate on your choice of species. Programs will require some driving throughout the hunting territories. Lodging is provided in quality facilities, including three daily meals and airport transfers. Overnight trips at the following airports; Elko, NV - Reno, NV, Tucson, AZ, and may require a small increase for fuel due to high fuel costs.
Trip duration: 3 days
Hunting season: 1 Oct 2021 28 Feb 2022
Package price
$

2,600
for 3 days, 1 hunter
Interested in this animal? Create a subscription to get offers right to your inbox