Spectacular 1 Day Small Game Hunt
Package price
Package price
$
32,276
for 1 day, 12 hunters,
with

Duck

Partridge

Pheasant

included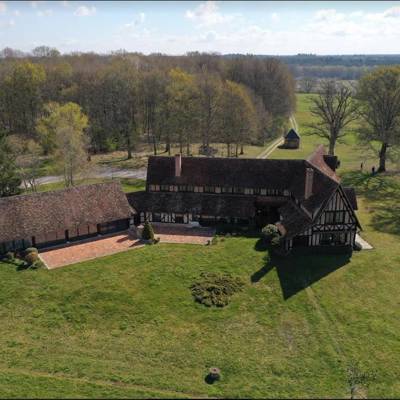 Maxime France

Response rate: 100 %

Response time: within a week
More about us
Our company was established in 2000 and operates in 1 territory.
The domaine is 600 hectares, 8 large ponds and 2 houses dedicated to hunting
We offer you the best driven and stalk hunts plus wing shooting in France (Sologne) with a specialized team that will provide you with the personalized service and professionalism you deserve, fulfilling the agreement, guaranteeing what we offer with the most discretion and seriousness possible
French experience, made up of its excellent gastronomy and promising wines, reaches its peak with its hunts, framed in a wonderful natural environment. It is guaranteed to be a unique hunting experience that will charm even the most seasoned hunter.
The domain is an essential place for a hunting party in Sologne.
You will meet very high quality game: pheasants (English aviary) , gray partridges, red partridges, ducks, wild boars, roe deer, hares
We take you by the hand from the beginning, during the hunt and after the hunt, we offer quality hunting.
*This is an approximate price in the selected currency. Actual price of the trip is
€

30,000
This price includes:
Duck, Partridge, Pheasant
About this hunt
We offer amazing hunting days in France (Sologne). Therefore, we have chosen some of the best hunting reserves, where low forest is mixed with wheat, corn and sunflower plantations to get the most suitable landscape for animal breeding and shooting, we do pheasant, duck, driven red partridge hunt day. This complete package is up to 12 Hunters Itinerary: Day 1: Arrival to Paris Transfer from airport to hunting lodge. Breakfast, Lunch or Dinner depending on the time of arrival. The guests will have time to discover the hunting lodge, a person will guide you, and will show you all the rooms and activities. Traditional dinner in the dining room. Day 2: Homemade breakfast, introduction to the beaters and loaders for the hunting, 500 quality bids (pheasants, ducks, partridge) 2 beats in the morning, lunch break with champagne, 2 beats in the afternoon, after that gastronomy meal and promising wines. Departure after dinner
Guided (Easy trip)
Driven Bird Hunt
Hunting season: 1 Sep 2023 - 20 Dec 2023
Where you will hunt
Territory
Fence type: Fenced
Territory size: 500 ha
Languages spoken by staff: English French
Structure by elevation
Plains: 80%
Hills: 20%
Structure by landscape
Fields/Bush: 50%
Forest: 50%
Where you will stay
Hunting Lodge
We will accommodate you in our luxurious hunting lodge. Or Recommendations: To fully benefit from your experience, you will be welcomed in very comfortable Sologne hunting houses and you will enjoy traditional meals cooked on site. Accommodation can be provided at 90€/room/night (2-3 persons) Meals - 50€ per person
Facilities: Wi-Fi Bathroom In-suite shower Electricity
How to get there
Navigation guidelines
We can help with airport transfer if needed
Nearest airport: Paris Orly / Paris Charles De gaulle / Orleans (for Private plane)
Distance from airport: 200 km
Transfer from airport: Yes
Transfer from railway: Yes
Other information
Gun rental: Yes
Vaccination required: No
Terms
Price Includes
Accommodation
Guiding by PH
Field trophy preparation
Breakfast
Lunch
Dinner
Snacks
Beverages/soft drinks
Alcoholic drinks
1 Night Accomodation Luxury Estate.
500 quality birds (pheasants, ducks, partridge)
21% VAT
Cancellation
Deposit is non-refundable
Price DOES NOT include
Transport on territory
Transfer from/to airport
Laundry
Ammunition
Gun rental
Gun permits
Hunting license
Insurance
Tips
Wounding
Price Includes
Accommodation
Guiding by PH
Field trophy preparation
Breakfast
Lunch
Dinner
Snacks
Beverages/soft drinks
Alcoholic drinks
1 Night Accomodation Luxury Estate.
500 quality birds (pheasants, ducks, partridge)
21% VAT
Price DOES NOT include
Transport on territory
Transfer from/to airport
Laundry
Ammunition
Gun rental
Gun permits
Hunting license
Insurance
Tips
Cancellation
Deposit is non-refundable
Wounding
Payment
Deposit
50% based on trip price
Deposit deadline: 5 days after booking
Final payment
Paid Onsite
Payment options provided by outfitter:
Interested in this hunt? Create a subscription to get offers with the same destination and species
{{ onboarding.step }}
/{{ onboarding.stepsCount }}
{{ onboarding.title }}
{{ onboarding.text }}