Online Hunting Show

14 Jan - 13 Feb.

Best deals for 2022-2023!
Waterfowl Shooting near Göteborg
Package price
Package price
$
913
for 2 days, 1 hunter,
with

Duck

Goose / Geese

Pigeon

included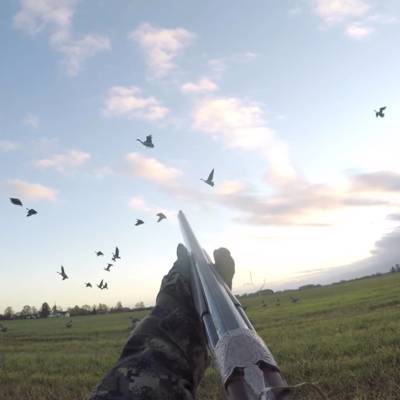 Who is offering this hunt Once you

start a conversation

regarding this hunt the outfitter name will be provided Finland

Response rate: 100 %

Response time: within a day
Jani Salmi and Juuso Räsänen, owners
Our company was established in 2010 and operates in 2 territories.
We have been doing Goose hunting tours since 2010 and have started working together since 2018. Jani guides in Grästorp / Trollhättan and Juuso guides in Kalmar / Öland.
We have a lot of experience of hunting waterfowl in Finland and Sweden. We always do our best to get you the best hunting experience of your life!
*This is an approximate price in the selected currency. Actual price of the trip is
€

800
This price includes:
Duck, Goose / Geese, Pigeon
About this hunt
We are specialized on Goose hunting and operate two great areas in Sweden: Kalmar Öland and Grästorp / Trollhättan. Both areas are well-known for great Goose and Duck hunting. Local birds nest in these areas and migrating birds use them to rest, so there's a lot of birds during the whole hunting season. Our target species will be: Barnacle Goose, Canada Goose, Greylag Goose, Common Crane, Swan, Mallard Duck, Teal, Wigeon, Pheasant, Wood pigeon. Main hunting season: 11/08 - 30/01, protection hunting is avalable year round The 2 days package includes 2 morning and 2 evening hunts. We require minimum 3 persons for booking.
Guided (Easy trip)
Shotgun Hunting
Hunting season: 11 Aug 2021 - 30 Jan 2023
Best time for hunting: 11 Aug 2021 - 30 Jan 2022
Where you will hunt
Territory
Fence type: Not fenced
Territory size: 30,000 ha
Languages spoken by staff: English Finnish
Structure by landscape
Fields/Bush: 90%
Forest: 10%
Where you will stay
Hunting Lodge
You will stay in our comfortable private house with bathroom, litchen and electricity.
Facilities: Bathroom In-suite shower Electricity
How to get there
Navigation guidelines
We will provide you with directions upon booking.
Nearest airport: Göteborg
Distance from airport: 80 km
Transfer from airport: Yes
Transfer from railway: No
Other information
Gun rental: Yes
Vaccination required: No
Terms
Price Includes
Accommodation
Transport on territory
Guiding by PH
Decoys, blinds
Meat
Terms of Payment
Deposit: 50% based on trip price
Deposit deadline: 5 days after booking
Final payment: Onsite
Cancellation
Deposit is non-refundable
Price DOES NOT include
Transfer from/to airport
Meals
Gun rental & ammunition
Laundry
Tips
Hunting license
Field trophy preparation
Gun permits
Insurance
Wounding
Price Includes
Accommodation
Transport on territory
Guiding by PH
Decoys, blinds
Meat
Price DOES NOT include
Transfer from/to airport
Meals
Gun rental & ammunition
Laundry
Tips
Hunting license
Field trophy preparation
Gun permits
Insurance
Terms of Payment
Deposit: 50% based on trip price
Deposit deadline: 5 days after booking
Final payment: Onsite
Cancellation
Deposit is non-refundable
Wounding
Interested in this hunt? Create a subscription to get offers with the same destination and species
{{ onboarding.step }}
/{{ onboarding.stepsCount }}
{{ onboarding.title }}
{{ onboarding.text }}