1 Carpathian chamois package in Romania
Package price
Package price
$
3,635
for 3 days, 1 hunter,
with

Chamois

included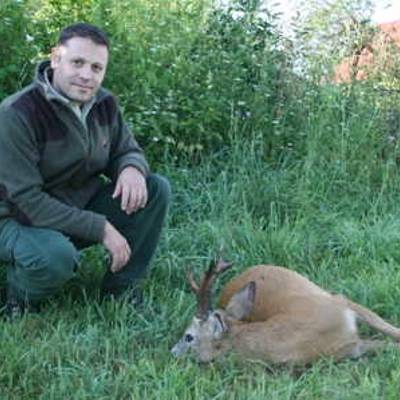 Ioan Banucu Romania

Response rate: 90 %

Response time: within a day
More about us
Our association was established in 2001 and operates in 8 territories.
First of all we are hunters. We want to share our passion and knowledge with all those hunters who want to hunt in the wilderness of the Carpathians. We aim to provide you a unique and unforgettable hunting experience in the last European wilderness.
We have over 10 years of experience in professional hunting in Romania. Our experience and in-depth knowledge of the hunting market guarantees you an unforgettable holiday tailored to meet individual needs. ing tourist attractions, horseback riding, hiking.
*This is an approximate price in the selected currency. Actual price of the trip is
€

3,400
About this hunt
The chamois is spread all over the world and can be found in 8 large geographic areas: Alps, Pyrenees, Apennines, Balkan Peninsula, Asia, the Carpathians, Caucasus and New Zealand. In Europe there are seven known subspecies of the chamois. The rocky peaks of the Romanian Carpathians represent the habitat of the most vigorous population of chamois in the world. The Carpathian Chamois has some of the best Chamois trophies in the world. The world record for chamois was shot in Făgăraş Mountains in 1934(141.1 CIC points). The hunting season start on 1st of September and ends on 15th of December. The Carpathian Chamois may be hunted during the day, between 1,800 and 2,500 meters height. From above the tree line and down into spars forest in the valleys below. Stalking and waiting at the places that are frequented is the main method. As with all mountain game the hunt for Chamois a great experience with breathtaking views but also that kind of hunting that takes its toll on ones condition. When sitting beside your hard earned Chamois you know it was all well worth the effort. For the hunters who love to hunt in the mountains and not just ...we have the pleasure to offer chamois hunts in fix price system described bellow. Expectation : Chamois with the trophy between 85 and 110 CIC .In rare cases are shot trophies over 110 CIC or less than 85 CIC. Fixed price chamois hunting with 1 Carpathian chamois included 4 nights in l 3***hotel-single room, with three meals a day and soft drinks. 3 days complete hunting organization (Romanian hunting permits, trophy cleaning, trophy evaluation and documentation) Car usage on the hunting location Individual hunting guide on territory (1: 1) Transfer from airport to hotel and back Skinning & salting 1 Chamois regardless the size of trophy ___________________________________ Extra day: €300/ 1 hunter Missed shot € 75/ 1 shot Wounded chamois 1100 Eu
Guided (Regular trip)
Stalking Mountain Hunting
Hunting season: 15 Sep 2023 - 15 Dec 2023
Best time for hunting: 1 Nov 2023 - 10 Dec 2023
Success rate
95%
Where you will hunt
Territory
Fence type: Not fenced
Territory size: 17 000 ha
Languages spoken by staff: English
Structure by elevation
Plains: 10%
Hills: 30%
Mountains: 60%
Structure by landscape
Fields/Bush: 20%
Forest: 80%
Entertainment services
Excursions
Where you will stay
Hotel President
Hotel President is located in Băile Olăneşti, 500 m from the sulfurous springs. It features air-conditioned rooms with a balcony and free WiFi as well as a restaurant. Free private parking is available. The restaurant serves typical Romanian cuisine and the bar is an inviting place for a nightcap. The bus station is 500 m away and the Ramnicu Valcea Train Station is 20 km away from the President Hotel.
Facilities: Wi-Fi TV Bathroom Mobile network coverage Electricity
How to get there
Navigation guidelines
We will meet you at the airport
Nearest airport: Bucuresti
Distance from airport: 200 km
Transfer from airport: Yes
Transfer from railway: No
Other information
Gun rental: No
Vaccination required: No
Terms
Price Includes
Accommodation
Transport on territory
Transfer from/to airport
Guiding by PH
Field trophy preparation
Trophy measurement
Hunting license
Gun permits
Breakfast
Lunch
Dinner
Beverages/soft drinks
Cancellation
Deposit is non-refundable
Price DOES NOT include
Rifle hire : 50 € /day ( Blaser, Mauser etc).
Ammunition: market price
Snacks
Alcoholic drinks
Tips
Insurance
Shipping of the trophies
Wounding
Wounded and not recovered chamois € 1100
Price Includes
Accommodation
Transport on territory
Transfer from/to airport
Guiding by PH
Field trophy preparation
Trophy measurement
Hunting license
Gun permits
Breakfast
Lunch
Dinner
Beverages/soft drinks
Price DOES NOT include
Rifle hire : 50 € /day ( Blaser, Mauser etc).
Ammunition: market price
Snacks
Alcoholic drinks
Tips
Insurance
Shipping of the trophies
Cancellation
Deposit is non-refundable
Wounding
Wounded and not recovered chamois € 1100
Payment
Deposit
$
{{model.tourPrice.deposit | currency:"":0}}
Deposit deadline: 5 days after booking
Final payment
Paid Onsite
Interested in this hunt? Create a subscription to get offers with the same destination and species
{{ onboarding.step }}
/{{ onboarding.stepsCount }}
{{ onboarding.title }}
{{ onboarding.text }}