All reviews of 'Wintershoek Safaris' (28)
9.9
Review score Based on 28 reviews
A niece on her first hunt in South Africa with her uncle
From the very beginning to the good-byes at the airport, top notch outfit that go beyond expectations.
Having to leave. And this site misspelling my name.
Excellent hunting experience
WE liked the entire experience with this outfitter
Exceeding Every Expectation!
From arrival to departure they handle everything. Every need is handled. We have hunted there three different times and hunted on three of their properties and each one out does the other. From the quality of animals to the accommodations they are top quality.
Not one single negative comment.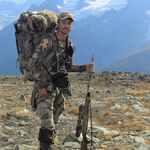 Genuine, Great Outfit and Safaris
I have hunted there numerous times at a few of their different lodges and taken my family several times including small children. They are great with families and kids and provide a great experience and atmosphere. Every Lodge and area is first class and game and hunting top notch.
There is nothing to " not like" about them and their areas and staff except you'll owe your taxidermist a lot of money. 😊
Excellent hunt
Plentiful game, excellent trophies, fantastic food, quality guide
Nothing. Everything was terrific!
Excellent hunting experience
-the lodging, staff, and equipment for excellent. - food and beverages were excellent especially the wine - tremendous variety, and numbers of game. - excellent trophy opportunities - very large property -the PH was not only a great hunter, but also very knowledgable on flora and fauna.
Quite simply, the BEST!
Great areas, PHs, food, vehicles. The entire experience could not have been better.
Nothing.
Exceeded my expectations from start to finish!
This is a top notch outfitter. From the accommodations to the food and service, and from the guides to the availability of game, every aspect of our hunt was outstanding! After the hunt we felt like we were a part of their family. These great memories will truly last a lifetime!
The only thing I didn't like was having to leave! I would love to go back again some day!
Excellent hunting experience
My son and I have hunted with this outfitter twice and have already booked our third hunt. Their Professional Hunters are the best in the business. Safari Club International named Johnny Vivier International Professional Hunter of the Year at their 2019 Convention and Yvan Nieuwoudt was named South Africa's Professional Hunter of the Year the previous year. The quality of the game is outstanding and our trophy room is filled with several record book trophies from thier concessions.The accommodations, food, and drink can only be described as 5 star or first class. Their Professional Hunters, trackers, and entire staff are very attentive and focused on making your safari the memory of a lifetime. At the end of the day it is the people that make a difference and you won't find a better team of people to hunt with that believe in hunting hard but having fun along the way. You arrive as a client but you leave as a good friend and you will be looking forward to your next hunt with them from the moment you complete your last hunt.
Don't wait
I had the wonderful experience of an eight day plains game with Johnny Vivier .I have hunted for sixty years, with and without guides, across North America. My time with Johnny was not only the best hunt I have ever had but truly a life altering event. I harvested a number of excellent trophies but more importantly developed admiration for and a friendship with a dedicated professional who worked continually for my success.I had waited forty years for an African hunt due to the demands of my profession as a neurosurgeon . In retrospect , I wish I had done this 30 or 40 years ago. It was the best hunting experience of my life and at 76 years of age I am returning to hunt with Johnny. I had developed a visual disability which Johnny made insignificant with his excellent guiding and advise.Anyone who has the opportunity to hunt with Jonny Vivier is truly a very lucky person.Johnny's recognition by the Safari Club as 2019 international hunter of the year reflects his recognized ability. Johnny's sense of humor, vast hunting experience and story telling ability make the time past too quickly. My wife and I stayed at Thuru camp. The skinners and my tracker were fantastic. The camp staff was outstanding, kind and helpful. The accommodations and meals were first class. My wife absolutely enjoyed the time and is looking forward to our return visit .
My only negative is that I wish I had had more time
Client review
United States
Plains game and dangerous game with Johnny Vivier
PH Johnny Vivier's bushcraft, experience; judgment, and ethics, making each hunt into an unforgettable lifetime experience
After many safaris, nothing comes to mind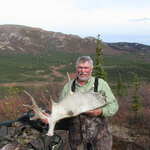 May 2018 Kareekloof lodge
Everything was first class, good hunting, the people at the lodge were professionals, the rooms were luxurious and the food was delicious! The trophy quality was excellent and seeing all the rhinos was a once in a lifetime experience.
Not much to dislike, I would liked to have spent more time, but that's on me.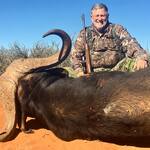 My hunt was a huge success. My wife went with me and believe me she isn't an Outdoors Women. She was treated like family and every effort was made with her comfort and her experience top of mind.
Lodging, food, guides, Quailty of animals taken, and prep of trophies was as good as It gets.
I loved it all. In fact I went back and it was my number 1 preferred location.
Best guide & accommodations
As a woman hunter they treated me with respect & trusted my abilities. The food was excellent besides the accommodations.
One of the best organizations
Everything
6 th trip to Africa, by far the best ever!!!
Attention to detail and our personal needs was spot on!
That we couldn't stay longer!
Extremely sastisfied bucket list experience!
This was the second time my wife and I hunted there, and we've harvested several trophy quality animals with them. PH's, staff and facilities are all top notch. I would have no reservations recommending this operation!
The time goes by to fast :}
You become family with everyone
Truly amazing people and outstanding game quality.
Had to leave, honestly the most reliable people in the industry.
Arrive as a client, depart as family.
With every hunt, you never know what can happen. It is always an adventure. Fantastic game, excellent food, attention to detail, your safety is paramount and incredible staff are just a few words to describe this place.
That my hunt came to end.
Excellent hunting experience
We had 10 family members with us including one with Cerebral Palsy and the entire crew couldn't have done a better job! Not only did we have a fantastic hunt but they also offer video options so you'll never forget your experience! These guys are the real deal!
Winter shoes hunt
I took my daughter and son in law, great experience and people
Weather- it snowed it was Johnny's fault
Great guides and game at a fabulous lodge
professionalism of entire operation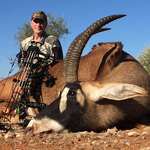 You will return again and again....!
High quality personal service from the time they meet you at the airport until they drop you off on your return. Accommodations were well above what I had expected on my first trip. High density of quality game on their properties. Quality of food and service is excellent. I have taken more than 20 people with me back to Africa and introduced them to this outfitter. Their standard comment is "This has exceeded all my expectations" Very experienced and professional PH's. And they take care of you from the time you get up until you go to bed. Even fix your favorite drinks. They have multiple properties that allows the hunter to return and experience quite different African terrain. Superior service to any guide service I have used in the United States.
I can't think of anything. I am returning this year for my 8th hunt with them.
great hunting and experience. Outfitters were available for every request and professional hunters knew the game animals we pursued. Totally satisfied.
the total experience
n/a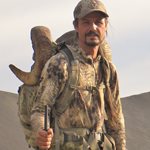 James
Verified review
This review comes from a verified BookYourHunt purchase
20 Feb 2019
Honest, Reliable, Excellent
I have hunted there several times a a few of their different lodges. I have also taken my family including small children. The loves kids and relish including them in the hunt and making it a special and memorable experience. Every one of their properties is magnificent both in lodging and game quality. You will come the first time as a client and leave as family. Truly a special outfit.
That I'm not down there right now. 😊
Verified review
This review comes from a verified BookYourHunt purchase
20 Feb 2019
Very friendly and professional people
Hospitality and the attitude. A huge property and very nice lodges. Wiaan met us in the airport of Kimbrely and found a great solution with transportation. We visited three different lodges in a very short time.
Nothing to complain
Verified review
This review comes from a verified BookYourHunt purchase
23 May 2022
Outstanding hunt.
Everyone was very professional and knowledgeable about everything. Had the hunt of a life time with the most amazing hospitality.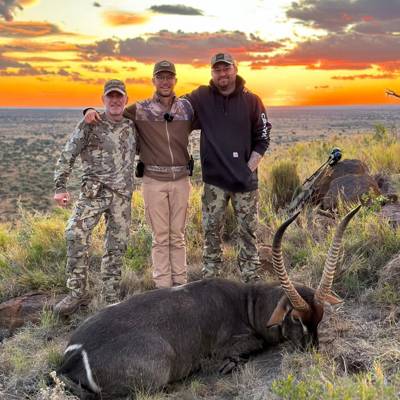 Verified review
This review comes from a verified BookYourHunt purchase
31 May 2023
top notch
everything....game ... food and especially the staff and ph's....would and will highly recommend wintershoek to everyone 👍
n/a
9.9
Review score Based on 28 reviews
Accomodation and hospitality
10.0
Professional hunters / staff
10.0