Online Hunting Show

14 Jan - 13 Feb.

Best deals for 2022-2023!
2 hunts
21 animals
7338

mi
to the nearest trip
Welcome from Baobab Game Ranch CC and Safaris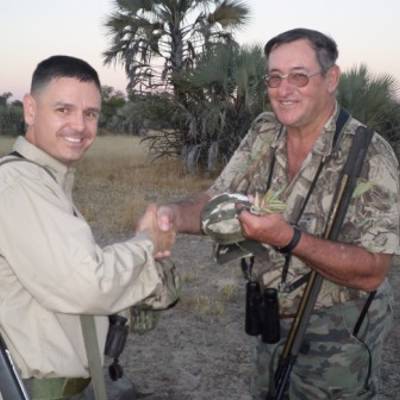 Helmuth, Frank and Margaret Baobab Game Ranch CC and Safaris
Discover the secrets of the African bush. Hunt with the San and the San specialists on our ranch! Bushmen (San people) are known for their excellent tracking skills and fine craftsmanship. Hunt with a true San Specialists! Game species found on the ranch are Greater Kudu, Oryx, Eland, Zebra, Hardebeest, Blesbok, Warthog, Steenbok, Duiker, Damara Dik-Dik, and the Jackal.
Baobab Game Ranch CC and Safaris on map
Accommodation
{{model.accommodation.name}}
{{model.accommodation.description}}
Facilities: {{facility}}
Baobab Game Ranch CC and Safaris
Interested in hunts from this outfitter? Create a subscription to get new offers right to your inbox