Red Stag Hunt in Patagonia
Package price
Package price
$
6,999
$

7,500
for 4 days, 1 hunter,
with

Red deer

included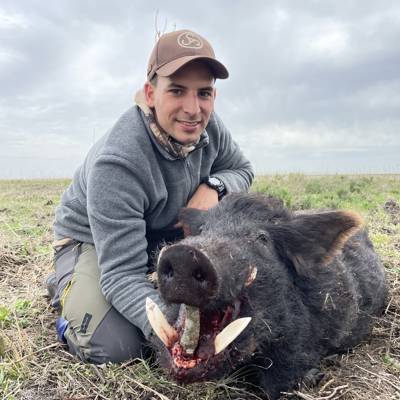 Gaston Orru Argentina

Response rate: 100 %

Response time: within a day
More about us
Our company was established in 2002 and operates in 5 territories.
Our company offers the best private areas in Argentina for big game hunting and wingshooting. We have a beautiful lodge in Buenos Aires province, two hours by car from Buenos Aires city with excellent trophies of Blackbuck, Axis Deer, Water Buffalo, Four Horned Sheep, Wild Goat, Wild Boar and Fallow Deer.
In Patagonia we have 95.000 accres for Red Stag hunting, Wild Boar and Mountain Lion, four differents fly camps and base camp are strategically located in the mountains, horseback hunting its a unique experience in Andes mountains.
About this hunt
4 Full Hunting days for Red Stag Hunt In Patagonia in 25.000 acres free range. Our Lodge is located in Collon Cura River. Include 1 Red Stag Trophie.
Guided (Easy trip)
Rifle Hunting Stalking Bow Hunting Calling Mountain Hunting Horseback Hunting Crossbow Hunting
Hunting season: 18 Sep 2023 - 31 May 2024
Best time for hunting: 1 Mar 2024 - 30 Apr 2024
Success rate
100%
OTC Tag available
Where you will hunt
Territory
100% free range area in the Andes Mountains.
Fence type: Not fenced
Territory size: 30 000 ha
Languages spoken by staff: English Spanish
Structure by elevation
Hills: 20%
Mountains: 80%
Structure by landscape
Fields/Bush: 50%
Forest: 50%
Where you will stay
Hunting lodge
We will accommodate you in a comfortable hunting lodge.
Facilities: Ensuite shower Mobile network coverage
How to get there
Navigation guidelines
We will meet you in the airport of Buenos Aires
Nearest airport: San Carlos de Bariloche
Distance from airport: 100 km
Transfer from airport: Yes
Transfer from railway: No
Other information
Gun rental: Yes
Vaccination required: No
Terms
Price Includes
Accommodation
Transport on territory
Transfer from/to airport
Ammunition
Guiding by PH
Field trophy preparation
Hunting license
Gun permits
Gun rental
Breakfast
Lunch
Dinner
Laundry
Snacks
Beverages/soft drinks
Alcoholic drinks
Gratuities
1 Red Stad Trophie
Cancellation
Price DOES NOT include
Trophy measurement
Insurance
Wounding
Price Includes
Accommodation
Transport on territory
Transfer from/to airport
Ammunition
Guiding by PH
Field trophy preparation
Hunting license
Gun permits
Gun rental
Breakfast
Lunch
Dinner
Laundry
Snacks
Beverages/soft drinks
Alcoholic drinks
Gratuities
1 Red Stad Trophie
Price DOES NOT include
Trophy measurement
Insurance
Cancellation
Wounding
Payment
Deposit
No deposit required
Payment options provided by outfitter:
Final payment
Paid Onsite
Payment options provided by outfitter:
Interested in this hunt? Create a subscription to get offers with the same destination and species
{{ onboarding.step }}
/{{ onboarding.stepsCount }}
{{ onboarding.title }}
{{ onboarding.text }}