Capercaillie hunt in Norway
Package price
Package price
$
2,146
for 4 days, 1 hunter,
with

Capercaillie

included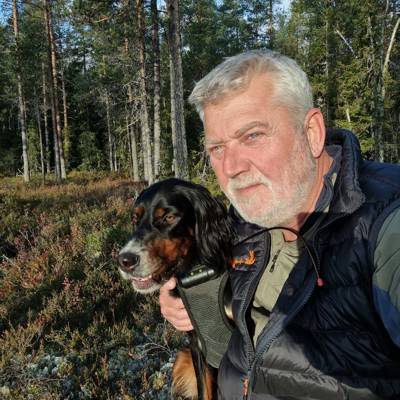 Steinar, owner Norway

Response rate: 75 %

Response time: within a week
More about us
Our company was established in 2014 and operates in 2 territories.
Welcome to Capercaillie hunt in Norway! A wonderful place in Elverum, located only 1.5 hours from Oslo airport. We are known for our knowledge of the hunt for capercallie, black grouse, Hazel grose and wood cook. We hunt on private land, so it is you and your group who hunt and no one else.
We are family company that puts product quality first. Our guides are locally known and we can guarantee that you will get close contact with Capercallie. This is an exclusive hunt that we only offer to 4 groups per year.
*This is an approximate price in the selected currency. Actual price of the trip is
€

1,995
About this hunt
Hunting for Capercaillie and forest birds is probably the most difficult hunting Scandinavia can offer, which is probably why a capercallie is high on the wish list of many. For all our birds hunts we are offering a full guiding service at 2 (3)x1 basis. A full guiding service means that the guide takes care of the hunters for the entire trip. The guide is always with the clients. We have had a good season this autumn with many hunters shooting their first forest bird. The price applies to a group of a minimum of 4 people and a maximum of 5 - please inquire on availability. Clients can shoot several Capercaille, but only 1 adult bird per hunter, female birds are not allowed to shoot.
Guided (Easy trip)
Shotgun Hunting
Hunting season: 10 Sep 2023 - 10 Nov 2023
Where you will hunt
Territory
Fence type: Not fenced
Territory size: 5 000 ha
Languages spoken by staff: English
Structure by elevation
Plains: 50%
Hills: 50%
Structure by landscape
Forest: 100%
Where you will stay
Hunting Lodge
You live in the hunting area in a cabin built in 2010 where we are sure you will be satisfied. We look forward to seeing you in Norway and making sure that your dreams come true.
Facilities: In-suite shower Electricity
How to get there
Navigation guidelines
You can rent a car at the airport to reach the lodge.
Nearest airport: Oslo
Distance from airport: 1.5 hours drive
Transfer from airport: No
Transfer from railway: No
Other information
Gun rental: Yes
Vaccination required: No
Terms
Price Includes
Accommodation
Guiding by PH
Field trophy preparation
Breakfast
Lunch
Dinner
Beverages/soft drinks
Cancellation
Deposit is non-refundable
Price DOES NOT include
Transport on territory
Transfer from/to airport
Gun rental (30 euro/day) & ammunition (200 euro refundable deposit is required in case of any damage, paid onsite in cash)
Soft drinks
Alcoholic drinks
Tips 10 eur pr day
Hunting license 100 Eur
Insurance
Wounding
Price Includes
Accommodation
Guiding by PH
Field trophy preparation
Breakfast
Lunch
Dinner
Beverages/soft drinks
Price DOES NOT include
Transport on territory
Transfer from/to airport
Gun rental (30 euro/day) & ammunition (200 euro refundable deposit is required in case of any damage, paid onsite in cash)
Soft drinks
Alcoholic drinks
Tips 10 eur pr day
Hunting license 100 Eur
Insurance
Cancellation
Deposit is non-refundable
Wounding
Payment
Deposit
50% based on trip price
Deposit deadline: 10 days after booking
Final payment
Paid 60 days Before hunt
Interested in this hunt? Create a subscription to get offers with the same destination and species
{{ onboarding.step }}
/{{ onboarding.stepsCount }}
{{ onboarding.title }}
{{ onboarding.text }}