Package price
Package price
$
8,000
for 3 days, 4 hunters,
with

Gould's turkey

included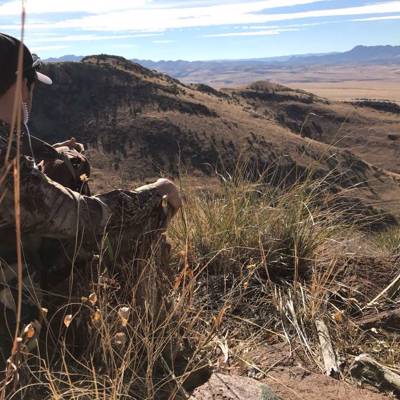 LUIS MARLO, OWNER Mexico

Response rate: 100 %

Response time: within a week
More about us
Our company was established in 2014 and operates in 1 territory.
Desert Valley Hunting is a hunting license provider in Chihuahua, Mexico, where we can bring foreign hunters the best hunting experience they can get and all the info available about hunting in the local area. We are located in northwestern part of Chihuahua, State, and we are Mexican outfitter, where our private land ranches are register for hunting.
Some of the animals that they can be hunt are Mule deer, Coues deer, Gould turkey, Mountain lion, Collared Peccary javelina, Montezuma Quail, Scaled Quail, ETC.
About this hunt
3 FULL DAY HUNT AND 2 DAYS OF TRANSPORTATION AND ACCOMMODATION. 100% SUCCES RATE ON THE HUNTS USING DECOYS AND CALLING FOR THE HUNT.
Guided (Easy trip)
Calling Shotgun Hunting
Hunting season: 1 Apr 2024 - 1 Jun 2024
Best time for hunting: 15 Apr 2024 - 15 May 2024
Success rate
100%
Where you will hunt
Territory
Fence type: Not fenced
Territory size: 300 000 Acres
Languages spoken by staff: English Spanish
Operating since: 1961 year
Where you will stay
No accommodation provided
Recommendations:
CABINS NEAR CASAS GRANDES CHIHUAHUA MEXICO.
How to get there
Navigation guidelines
The closest major airport to Chihuahua, Mexico is General Roberto Fierro Villalobos International Airport (CUU / MMCU). This airport is 18 km from the center of Chihuahua, Mexico. If you're looking for international or domestic flights to CUU, check the airlines that fly to CUU.
Nearest airport: General Roberto Fierro Villalobos International
Transfer from airport: No
Transfer from railway: No
Other information
Gun rental: No
Vaccination required: No
Terms
Price Includes
Transport on territory
Transfer from/to airport
Ammunition
Guiding by PH
Field trophy preparation
Hunting license
Gun permits
Gun rental
Breakfast
Lunch
Dinner
Beverages/soft drinks
Cancellation
CANCELLATION REFUNDABLE
TRANSFER HUNT TO OTHER HUNTER
Price DOES NOT include
Alcoholic drinks
Snacks
Gratuities
Wounding
Price Includes
Transport on territory
Transfer from/to airport
Ammunition
Guiding by PH
Field trophy preparation
Hunting license
Gun permits
Gun rental
Breakfast
Lunch
Dinner
Beverages/soft drinks
Price DOES NOT include
Alcoholic drinks
Snacks
Gratuities
Cancellation
CANCELLATION REFUNDABLE
TRANSFER HUNT TO OTHER HUNTER
Wounding
Payment
Deposit
50% based on trip price
Deposit deadline: 7 days after booking
Final payment
Paid 60 days Before hunt
Payment options provided by outfitter:
Interested in this hunt? Create a subscription to get offers with the same destination and species
{{ onboarding.step }}
/{{ onboarding.stepsCount }}
{{ onboarding.title }}
{{ onboarding.text }}