SPECIAL! Alberta Archery Whitetail Hunt
Pauschalpreis
Pauschalpreis
$
3,200
$

4,000
für 7 Tage, 1 Jäger,
with

Weißwedelhirsch

included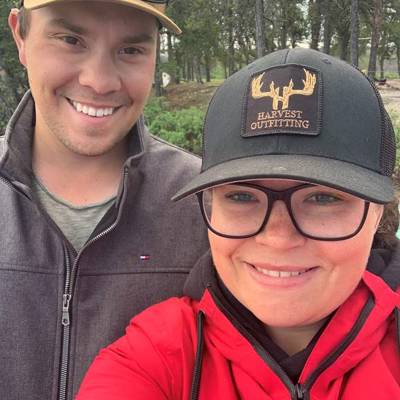 Mattias knuttila. Owner operator Kanada

Antwortet: 100 %

Antwortzeit: innerhalb eines Tages
More about us
Unser Unternehmen wurde 2019 gegründet und betreibt 1 Revier.
We offer hands down some of the best whitetail hunting in the world! We are lucky enough to operate in an area where there is thousands of acres of forest bordering farmland. This exceptional habitat holds and maintains huge deer populations. With some great genetics, most of these deep bush bucks have little to no human contact and grow to maximum potential before dying of old age and harsh winter conditions.
At harvest outfitting we put you in the best possible situations to make contact with these mature bucks. With our six day hunt you can expect to have an opportunity at a whitetail of 150+inches with many exceeding 170+ inches. We offer great home cooked meals, a nice cozy farm home, or even camping on the lake with morning fishing trips before you hit the stand. Give us a call and you won't be disappointed!
Membership of associations

Über diese Jagd
I offer archery hunts in a zone of 100,000+ acres consisting of private farmland and lease land. We hunt heavy forest, cropland and river valleys. Archery hunts can be booked anywhere from sept 1- oct 31 consisting of pre rut to full rut hunts. Guest additional 500.00 USD
Geführt (normale Jagdreise)
Ansitzjagd Pirschjagd Tarnjagd Bogenjagd Lockjagd (Ruf)
Jagdsaison: 18 Okt 2023 - 31 Okt 2023
Wo werde ich jagen
Jagdgebiet
This zone is huge! It's got farmland, Tons of water and sloughs, big timber full of poplar and spruce trees. Low lying lands and big hills. This is fun country to hunt.
Umzäunung: Freie Wildbahn
Reviergröße: 100,000+
Jagdbetrieb seit: 2019 Jahr
Gelände
Ebene: 60%
Hügelland: 40%
Landschaft
Grasland/Buschland: 15%
Wald: 50%
Landwirtschaftliche Nutzfläche: 35%
Wo werde ich wohnen
Lodge
Lake home (lodge) with the comfort of home cooked meals and everyday amenities. With evenings around the fire or watching the game on tv. As well as a private cabin that sleeps 3.
Nicht im Revier, 10- 45 min
Einrichtungen: Wi-Fi Internet Bad Dusche im Zimmer Kühlschrank Wäscheservice Elektrizität Sauna, Exkursionen, Sightseeing-Touren zu Kulturdenkmälern und archäologischen Stätten, naturheilende Thermalquellen zur Reinigung von Körper und Geist Quadausfahrten
Anreise
Wegbeschreibung
Please contact and we will make sure that arrangements are made to fully accommodate the hunter to ensure the best possible experience.
Nächstgelegener Flughafen: Edmonton international airport
Entfernung vom Flughafen: 300km
Flughafentransfer: Nein
Bahnhofstransfer: Nein
Weitere Informationen
Waffen-Verleih: Nein
Schutzimpfung erforderlich: Nein
Bedingungen
Im Preis inkludiert
Unterkunft
Transport im Revier
Pirschführung
Trophäenvorbehandlung
Trophäen-Vermessung
Frühstück
Mittagessen
Dinner
Wäscheservice
Snacks
Getränke und Erfrischungsgetränke
Stornierung
Die Anzahlung wird nicht zurückerstattet
NICHT im Preis inkludiert
Flughafentrasfer
Alkoholische Getränke
Trinkgeld
Waffen-Verleih
Transport of meat/trophy across borders, taxidermy, butchering/packaging of meat, transport from airport to lodge unless previously discussed.
Jagdlizenz
Anschweißen
In the event of a wounded deer, the hunters hunt will be finished, unless it's pursuing the wounded animal
Im Preis inkludiert
Unterkunft
Transport im Revier
Pirschführung
Trophäenvorbehandlung
Trophäen-Vermessung
Frühstück
Mittagessen
Dinner
Wäscheservice
Snacks
Getränke und Erfrischungsgetränke
NICHT im Preis inkludiert
Flughafentrasfer
Alkoholische Getränke
Trinkgeld
Waffen-Verleih
Transport of meat/trophy across borders, taxidermy, butchering/packaging of meat, transport from airport to lodge unless previously discussed.
Jagdlizenz
Stornierung
Die Anzahlung wird nicht zurückerstattet
Anschweißen
In the event of a wounded deer, the hunters hunt will be finished, unless it's pursuing the wounded animal
Payment
Anzahlung
$
{{model.tourPrice.deposit | currency:"":0}}
Anzahlung: 5 Tage nach der Buchung
Payment options provided by outfitter:
Restzahlung
bezahlt vor Ort
Payment options provided by outfitter:
Interessiert Sie diese Jagd? Erstellen Sie ein Abo um Angebote für die gewünschte Wildart und das Reiseziel zu erhalten
{{ onboarding.step }}
/{{ onboarding.stepsCount }}
{{ onboarding.title }}
{{ onboarding.text }}