51 hunts
4 countries
2419

km
to the nearest trip
Where to hunt Mountain Lion Puma
Mountain Lion, also known as puma, cougar, and under many other names, inhabits a wide variety of habitats throughout western Canada, the western United States, and in some areas of Mexico, Central America, and into South America. Mountain lion hunting seasons are open in Washington, Oregon, Nevada, Arizona, Utah, Idaho, Montana, Wyoming, Colorado, New Mexico, South Dakota, North Dakota and Texas, and the Canadian provinces of British Columbia and Alberta. There's also some puma hunting in Mexico and Argentina.
Price distribution
Mountain lion hunts may sound expensive, but considering how much goes into preparation of the hunt - keeping and training a pack of hounds is a hard job - they are relative bargains. The prices start at about $3,500, and on the average cost $7,500-$8,000, depending on the area's and the outfitter's reputation for producing quality trophies. Mountain lion hunts can be combined with hunts after other felines, such as bobcat and lynx.
Learn more from our blog story
There are lots of misconceptions about hunting cougar in general, and hunting the cats with packs of hounds in particular. It's not much of a stretch to say there are two kinds of hunting: those who have reservations about hunting mountain lion over hounds, and those who participated in it. Our blog story tells you why it is an exciting and 100% ethical pursuit.
August 10, 2017 Cats, Dogs and Mixed Emotions: Hunting Mountain Lions with Hounds.
When to hunt Mountain Lion Puma?
The season for mountain lion hunting may start as early as August, and last until January or February. Some states which believe to have an overpopulation of cougars have an additional hunting season in the spring as well. The length of the season often depends on whether the harvest quota has been met. Mountain lion hunts often depend on the snow. It is more difficult to see the tracks on dry grounds, and only the best hounds and houndsmen can shot consistent success without snow. Where snow cover is an uncertain thing, "on-call" hunts, when the client waits for the outfitter's message to come and hunt are sometimes a good option.
There aren't many options available for a cougar hunter. Baiting is impossible, as as they prefer the animals they killed themselves. The puma is too secretive and nocturnal to allow spot-and-stalk hunting. Calling is possible but success is very rare and even if a cat is enticed to come in you will have a hard time determining the size. By far the most efficient, and the most exciting way of hunting mountain lions is with packs of hounds. Hunters scout until a fresh track is found, and then a pack of dogs is released. The hounds will typically chase the cat until it trees, where they hold it at bay until the hunters arrive. The hunt is not a sure thing; the terrain is often extremely challenging and it is not always possible to get to the treed cat, and sometimes the lion gives the dogs the slip.
Why hunt Mountain Lion Puma?
All hunts (51)
Mountain lion is the fourth largest feline in the world, much larger than leopards. And yet, in spite of a dramatic increase in attacks on people, for its size, ability and distribution, the mostly shy and elusive cougar kills or maims a surprisingly small number of people. This is probably due to the fact that the pumas have never met with humans who wouldn't be well-armed and competent hunters. To maintain the perception of people as not acceptable food, some degree of hunting pressure must be maintained. This concept is not easy to grasp for many people, because large felines raise a lot of emotions in humans. But this very fact ensures that hunting mountain lions, a time-honored tradition in the West, is also an extremely exciting (and very demanding physically) pursuit. Watching the hounds work and following mountain lions through rugged canyons is a one-of-a-kind experience.
Spring Mountain Lion Hunt '20
United States
This hunt is primarily conducted off horses and mules. We ride deep into cougar country following travel ways and scrape lines left behind by giant toms as they roam around in search of promising females. A scrape is a way cougars use to communicate to one another about each others territory and boundaries. Scrapes are also used as a calling card to bring breeding pairs closer together. Not an activitity that happens as regularly during winter months. Having keen knowledge of these special behaviors and the areas they take place, gives us huge advantages in locating and harvesting these magnificent creatures.It is hard to describe the pleasure one gets watching his hounds learn and progress. Nothing puts their skills to the test like free casting them off horse back in bare ground condition. They learn to work as a team by fanning out and individually searching for the smallest amount of cougar scent. Then they ban together, noses to the ground helping each other move the track forward as fast as they possibly can without making mistakes. Often times this happens in conditions where there is no visible sign for man to see. This leaves us nothing to rely on but the narutal instincts of their noses. No other time of the year can you experience this type of spectacular hound work. Please note that education course is obligatory for this hunt.
Trip duration: 5 days
Trip available on: 15 February 2020 15 May 2020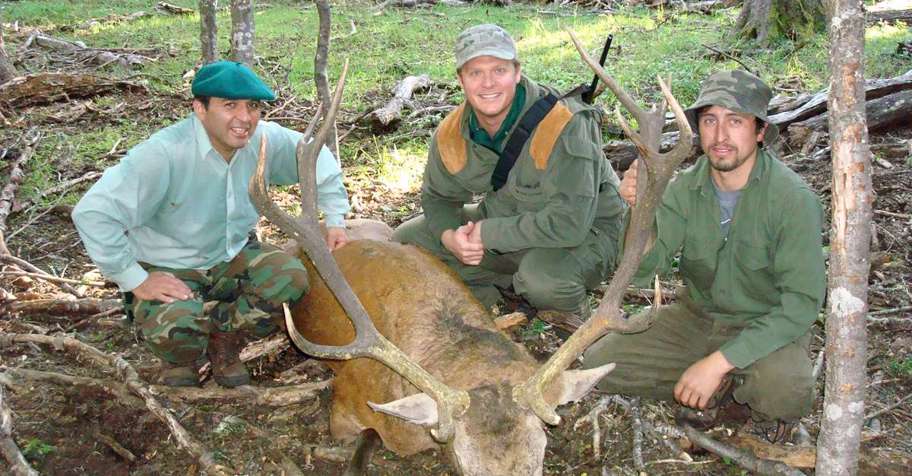 Big game hunt in La Pampa/Patagonia
Argentina
The big hunting ranch is located in the Southeast of La Pampa province, Argentina. Has an extension of 37.500 non-fenced acres, of which 25.000 acres are covered with bush. The hunting days are depend on the species that you choose. Hunting hour for red stag are from early in the morning to midday, and from mid-afternoon until dark. The hunt can take place by stalking and also lying in wait. Wild boars are usually hunted by waiting in a hunting tower at night during full moon. Puma is hunted by lying in wait, stalking or by using dogs to track them through the bushes. For all other species a guide will be ever present to track the animal down in the bushes and instruct the hunter which animal will be a good trophy. Possible program: Day 1: Reception at Ezeiza International airport in Buenos Aires city custom cleaning and transfer to Domestic airport to take a flight to Bahia Blanca city (2 hours flight). Reception at Bahia Blanca airport and transfer to hunting Lodge (2 hours drive). Reception at lodge, distribution of rooms, quick snack and enjoy a half day of Big Game Hunt. Day 2-3-4: Full Big Game Hunt Day 5: Half Big Game Hunting day, lunch and transfer to Bahia Blanca airport. Reception at Domestic airport in Buenos Aires and transfer to Ezeiza International airport. End of our services. Please take the hunting seasons into consideration while choosing species from the trophy list. For Red stag: March 1st to May 31th – Rut season during end of March till middle of April For Puma : February 15th to September 30th For all other species offered : The season is open ALL YEAR ROUND The reception and the assistance in the airport and a bilingual guide included in the price as well.
Trip duration: 5 - 10 days
Trip available on: 1 March 2019 31 August 2019
Cougar Hunts with Dogs 1x1
United States
The cougar hunting here in Southern Utah is great fun. We run some very experienced and seasoned dogs, who come through for us under some of the toughest conditions. We cover ground each day looking for tracks, either by horseback, ATV, or truck. Once tracks are cut and look promising, we're off for what might prove to be a very physically demanding hunt. Quite often, we're hunting steep, snow covered mountains ...it's an experience of a lifetime! Season dates vary from unit to unit. Give us a call and we can provide suggestions. We'll be there with you until the cougar hunting season ends, or you take an animal! All prices include food, lodging, packing out of animals, scouting, and a 1x1 ratio of hunter to guide. We hunt cats in several different units. Please, give us a call and we'll give you more details on buying quota tags over-the-counter or applying for limited entry tags. Additional days $400 a day Additional guests $100 a day.
Trip duration: 5 days
Trip available on: 1 January 2019 31 December 2019
Interested in this animal? Create a Mountain Lion Puma subscription to get offers right to your inbox