Anatolian Bezoar Ibex Any Size
Pauschalpreis
Pauschalpreis
$
23,918
für 9 Tage, 1 Jäger,
with

Bezoar Steinbock

included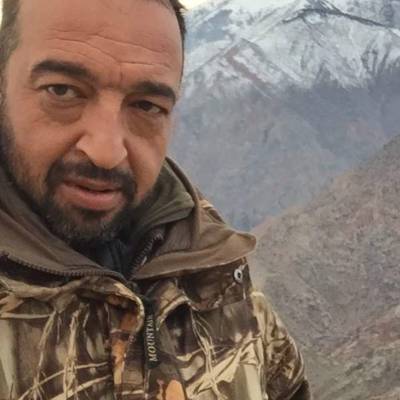 Osman Kindir Türkei

Antwortet: 100 %

Antwortzeit: innerhalb eines Tages
More about us
Unser Unternehmen wurde 2006 gegründet und betreibt 1 Revier.
Dear Hunters and Sportsmen,
We would like to accompany you in Turkey on your hunting for wild boar, bezoar ibex, Anatolian sheep, Anatolian red deer, Anatolian reo deer, Anatolian chamois, Armenian sheep, Anatolian bear and wolf.
*This is an approximate price in the selected currency. Actual price of the trip is
€

22,500
Über diese Jagd
Your Professional Hunter and Interpreter drives you to the hunting area and the hunt starts with a test shooting for your rifle. We do pre scouting before the hunters come at several different areas to locate best trophies. The hunt will take place in forest and rocky areas with shooting distance between 250 and 350 meters a, which is a common distance (sometimes even longer distance) for harvesting a Bezoar ibex. This package includes Bezoar Ibex trophy of any size! We operate in several hunting areas so can find suitable dates for every client!
Geführt (normale Jagdreise)
Büchsenjagd Pirschjagd Bergjagd
Jagdsaison: 1 Aug 2023 - 31 Mrz 2024
Die beste Zeit für die Jagd: 1 Dez 2023 - 20 Jan 2024
Wo werde ich jagen
Jagdgebiet
Most of the hunting areas are located in the West, South, Southeast, North and Northeast of Turkey on the Taurus and Kaçkar Mountains. Depending of the hunting area the altitude is around 1.000 – 2750 meters. For your physical conditions we choose the best hunting area. We inform you before the hunt about the needed equipment's.
Umzäunung: Freie Wildbahn
Reviergröße: 100 000 sq km
Gesprochene Sprachen: Englisch Deutsch
Jagdbetrieb seit: 2006 Jahr
Gelände
Ebene: 20%
Hügelland: 30%
Gebirge: 50%
Landschaft
Grasland/Buschland: 50%
Wald: 40%
Landwirtschaftliche Nutzfläche: 10%
Wo werde ich wohnen
Bezoar Ibex area accommodation
We stay at the closest and the best hotel, lodges, villager guest houses or fly camps.
Einrichtungen: TV Internet Ensuite shower Kühlschrank Safe Telefonverbindung Elektrizität
Anreise
Wegbeschreibung
You will fly via Istanbul to hunting Area depending which region you will be taken for the hunt. We suggest Turkish Airlines for your Trip. They are very assisting and helpful to your rifle caring and trophy shipment. Our Team will assist you for all kind of custom formality's and the paper work at the airport. Depending of hunting area the drive takes between 45 min. and 2 hours to the hunting Area.
Nächstgelegener Flughafen: Istanbul
Entfernung vom Flughafen: 100-250 km
Flughafentransfer: Ja
Bahnhofstransfer: Nein
Weitere Informationen
Waffen-Verleih: Nein
Schutzimpfung erforderlich: Nein
Bedingungen
Im Preis inkludiert
Unterkunft
Transport im Revier
Flughafentrasfer
Pirschführung
Trophäenvorbehandlung
Jagdlizenz
Frühstück
Mittagessen
Abendessen
Snacks
Getränke und Erfrischungsgetränke
Stornierung
Anzahlung ist nicht rückerstattungsfähig
If there is no chance for Ibex shooting - 20% refund
NICHT im Preis inkludiert
Trophäenbehandlung und Versendung
Versicherung
Waffenbesitzkarte
Trophäen-Vermessung
Trinkgelder
Alkoholische Getränke
Hotel and meals before and after the hunt
Spezielle alkoholische Getränke
Anschweißen
Im Preis inkludiert
Unterkunft
Transport im Revier
Flughafentrasfer
Pirschführung
Trophäenvorbehandlung
Jagdlizenz
Frühstück
Mittagessen
Abendessen
Snacks
Getränke und Erfrischungsgetränke
NICHT im Preis inkludiert
Trophäenbehandlung und Versendung
Versicherung
Waffenbesitzkarte
Trophäen-Vermessung
Trinkgelder
Alkoholische Getränke
Hotel and meals before and after the hunt
Spezielle alkoholische Getränke
Stornierung
Anzahlung ist nicht rückerstattungsfähig
If there is no chance for Ibex shooting - 20% refund
Anschweißen
Payment
Anzahlung
30% basierend auf die Jagdreise
Anzahlung: 10 Tage nach der Buchung
Restzahlung
Paid 30 days vor Jagdantritt
Interessiert Sie diese Jagd? Erstellen Sie ein Abo um Angebote für die gewünschte Wildart und das Reiseziel zu erhalten
{{ onboarding.step }}
/{{ onboarding.stepsCount }}
{{ onboarding.title }}
{{ onboarding.text }}