Duck Shoot in Argentina
San Luis Province, Argentinien
Preis ab
Preis ab
$
3,270
für 3 Tage, 1 Jäger,
with

Ente

included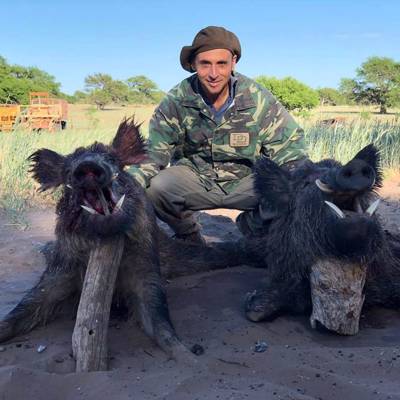 Gustavo, owner Argentinien

Antwortet: 75 %

Antwortzeit: innerhalb eines Tages
More about us
Unser Unternehmen wurde 2018 gegründet und betreibt 1 Revier.
I'm bringing 20+ year of experience acquired from other ranches and companies important in the hunting industry.
Über diese Jagd
Waterfowl shoot can be combined with pigeons and big game hunts.
Geführt (normale Jagdreise)
Flintenjagd
Jagdsaison: 1 Mai 2024 - 31 Aug 2024
Wo werde ich jagen
Jagdgebiet
Umzäunung: teilweise umfriedet
Umfriedetes Gebiet: 1,250 acres
Reviergröße: 56,250 acres
Gesprochene Sprachen: Englisch Spanisch
Landschaft
Grasland/Buschland: 50%
Wald: 50%
Wo werde ich wohnen
Jagdhaus
Our accommodations are simple, no luxury, but You´ll find friendly atmosphere, comfortable beds, VERY GOOD FOOD AND WINES, and my family dedicated to make your stay unforgettable.
Einrichtungen: TV Internet Bad Wäscheservice Weinverkostung
Anreise
Wegbeschreibung
We will meet you at the local airport.
Nächstgelegener Flughafen: San Luis or Santa Rosa
Entfernung vom Flughafen: 250-280 km
Flughafentransfer: Ja
Bahnhofstransfer: Ja
Weitere Informationen
Waffen-Verleih: Ja
Schutzimpfung erforderlich: Nein
Bedingungen
Im Preis inkludiert
Unterkunft
Transport im Revier
Pirschführung
Trophäenvorbehandlung
Trophäen-Vermessung
Frühstück
Mittagessen
Dinner
Snacks
Getränke und Erfrischungsgetränke
Alkoholische Getränke
Transfer from San Luis/ Santa Rosa airport
Double-occupancy accommodation
Assistance to obtain Hunting and/or Fishing licenses
Assistance to obtain gun & ammo licenses and permits
Assistance with Visas or other requirements
Stornierung
Die Anzahlung wird nicht zurückerstattet
NICHT im Preis inkludiert
Single Occupancy supplement - $100/day
International or Domestic Airfare
Air or ground charters and transfers from BA
Gun rental ($50 - rifle, $80 - shotgun) & Ammunition / cartridges
Taxidermy and trophy shipment
Persönliche Ausgaben
Hunting and Fishing licenses costs
Waffenbesitzkarte
Versicherung
Gratuities
Anschweißen
Im Preis inkludiert
Unterkunft
Transport im Revier
Pirschführung
Trophäenvorbehandlung
Trophäen-Vermessung
Frühstück
Mittagessen
Dinner
Snacks
Getränke und Erfrischungsgetränke
Alkoholische Getränke
Transfer from San Luis/ Santa Rosa airport
Double-occupancy accommodation
Assistance to obtain Hunting and/or Fishing licenses
Assistance to obtain gun & ammo licenses and permits
Assistance with Visas or other requirements
NICHT im Preis inkludiert
Single Occupancy supplement - $100/day
International or Domestic Airfare
Air or ground charters and transfers from BA
Gun rental ($50 - rifle, $80 - shotgun) & Ammunition / cartridges
Taxidermy and trophy shipment
Persönliche Ausgaben
Hunting and Fishing licenses costs
Waffenbesitzkarte
Versicherung
Gratuities
Stornierung
Die Anzahlung wird nicht zurückerstattet
Anschweißen
Payment
Anzahlung
30% basierend auf Tagesrate
Anzahlung: 10 Tage nach der Buchung
Payment options provided by outfitter:
Restzahlung
bezahlt vor Ort
Payment options provided by outfitter:
Interessiert Sie diese Jagd? Erstellen Sie ein Abo um Angebote für die gewünschte Wildart und das Reiseziel zu erhalten
{{ onboarding.step }}
/{{ onboarding.stepsCount }}
{{ onboarding.title }}
{{ onboarding.text }}