Partridge hunt 100 birds package
Pauschalpreis
Pauschalpreis
$
2,989
für 1 Tag, 1 Jäger,
with

Rebhuhn

included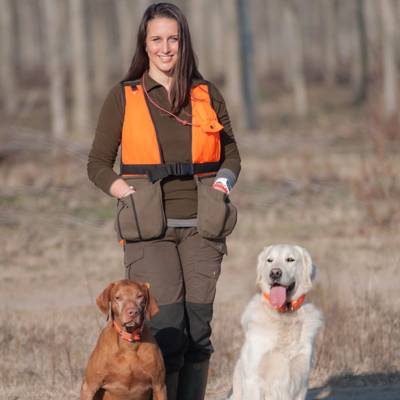 Orsolya Nagy Ungarn

Antwortet: 20 %

Antwortzeit: within a week
More about us
Unser Unternehmen wurde 1999 gegründet und betreibt 1 Revier.
Partridge shooting has always been a very elegant a noble way of hunting in our country, but unfortunately due to habitat loss there is only a very few areas where you can still hunt for this challenging bird. We have professionally trained gundogs, and our professinal hunter has decades of experience.
*This is an approximate price in the selected currency. Actual price of the trip is
€

2,800
Über diese Jagd
Walk up shooting on lovely fields with well trained pointing dogs.
Geführt (Leichte Jagdreise)
Niederwildjagd Jagd mit Hunden
Jagdsaison: 1 Okt 2023 - 31 Dez 2023
Wo werde ich jagen
Jagdgebiet
Umzäunung: Freie Wildbahn
Reviergröße: 6300 ha
Gesprochene Sprachen: Englisch
Jagdbetrieb seit: 1999 Jahr
Gelände
Ebene: 70%
Hügelland: 30%
Landschaft
Grasland/Buschland: 30%
Wald: 20%
Landwirtschaftliche Nutzfläche: 50%
Wo werde ich wohnen
Unterkunft wird nicht bereitgestellt
Empfehlungen:
We do not have YET a hunting lodge, but we can help in booking accommodation at the following places: https://aquarellhotel.hu/ http://cegledfurdo.hu/apartmanpark-es-kemping/
Anreise
Wegbeschreibung
The hunting area is located close to Budapest
Nächstgelegener Flughafen: Budapest
Entfernung vom Flughafen: 55 km
Flughafentransfer: Nein
Entfernung Bahnhof: 79 km
Bahnhofstransfer: Nein
Weitere Informationen
Waffen-Verleih: Ja
Schutzimpfung erforderlich: Nein
Bedingungen
Im Preis inkludiert
Transport im Revier
Pirschführung
Jagdlizenz
Waffenbesitzkarte
Versicherung
Snacks
Getränke und Erfrischungsgetränke
professionally trained gundogs
handling fee
Stornierung
Deposit will not be refunded, but in case the whole hunting fee is transfered in advance we can refund the rest (excluding the transfer costs)
NICHT im Preis inkludiert
Transfer from/to airport €50 per person (up to 4 persons)
Munition
Gun rental €20
Trophäenvorbehandlung
Trophäen-Vermessung
Wäscheservice
Frühstück
Mittagessen
Abendessen
Trinkgeld
Alkoholische Getränke
Anschweißen
Im Preis inkludiert
Transport im Revier
Pirschführung
Jagdlizenz
Waffenbesitzkarte
Versicherung
Snacks
Getränke und Erfrischungsgetränke
professionally trained gundogs
handling fee
NICHT im Preis inkludiert
Transfer from/to airport €50 per person (up to 4 persons)
Munition
Gun rental €20
Trophäenvorbehandlung
Trophäen-Vermessung
Wäscheservice
Frühstück
Mittagessen
Abendessen
Trinkgeld
Alkoholische Getränke
Stornierung
Deposit will not be refunded, but in case the whole hunting fee is transfered in advance we can refund the rest (excluding the transfer costs)
Anschweißen
Payment
Anzahlung
30% basierend auf die Jagdreise
Anzahlung: 7 Tage nach der Buchung
Restzahlung
Paid 1 day vor Jagdantritt
Payment options provided by outfitter:
Interessiert Sie diese Jagd? Erstellen Sie ein Abo um Angebote für die gewünschte Wildart und das Reiseziel zu erhalten
{{ onboarding.step }}
/{{ onboarding.stepsCount }}
{{ onboarding.title }}
{{ onboarding.text }}