141 hunts
16 countries
5599

km
to the nearest trip
Where to hunt Roe Deer
Roe deer is a small and graceful deer that inhabits the moderate climate belt of Eurasia from the Atlantic to the Pacific coasts. Three main subspecies are recognized among hunters. The European roe deer is to be found in European countries from Great Britain and Ireland to Poland and Russia west of the Urals. Asia is home of the slightly bigger Siberian roe deer. Siberian roe deer can be hunted in Kazakhstan, Russia east of the Urals, and other Asian countries, except the Pacific coast south to the Amur, which is the domain of the third subspecies, the Chinese roe deer.
Price distribution
Roe deer hunting starts from about $200 for cull and management hunts in Europe. When you include the trophy fees, a trophy European hunt may total $1,500-$2,000. Roe deer hunts in remote wilderness of Asia start at about $2,000 and may go up to $5,000 depending on accommodation, difficulty of access, and potential trophies.
Special offers
Learn more from our blog story
There are many kinds of deer all over the world. In North America alone there are so many different species that can be identified as "deer" that even experienced hunters may not find the question "how many kinds of deer are there" too easy to answer. How about you? Read our blog story and check yourself!
26 Apr 2018 How Many Kinds of Deer Are There in North America?
When to hunt Roe Deer?
Roe deer hunting begins with the early summer stalking season in late May or early June, as the bucks' antlers are out of velvet. The next good time for roe deer hunting is during the rut, which may take place between mid-July and mid-September, depending on the area. European roe deer begin and end the rut earlier than Siberian roe. By October trophy hunts for roe deer are mostly over, because the bucks begin to drop their antlers, but any-sex driven hunts continue until December, and herd management and cull hunts may be still carried out in January.
In the early season most people hunt roe deer either by stalking, or by waiting on ground or elevated blinds near the places where the animals feed. Alternatively, a hunter (and a guide or gamekeeper) may go still hunting along the forest edge, now stopping in a likely place and wait for the buck to come out of the thicket, then stalking the animals they spot across the field or meadow. Calling is a very effective way of roe deer hunting. Buck alarm calls are used early in the season, when the bucks are fighting over territory. Doe calls are very effective during the rut, especially late in the season, when most does are already out of heat, but the bucks are still active. Calf in distress call is used to attract a doe, either for management hunts, or in hope that the buck that is with the doe will follow her. Driven hunts, with or without dogs, are practiced late in the season, and management and cull hunts are mostly spot-and-stalk.
Why hunt Roe Deer?
All hunts (141)
The little roe deer may not be the first animal that you think about when you think about hunting in Europe. But visit any German hunting lodge or tavern, and you'll see rows and rows of the little antlers, mounted shield style. The antlers are often difficult to measure by length and number of points, and many European trophy clubs use weight- or displacement-based scoring systems. But it's not only about antlers. From the vineyards of France to the frozen forest-steppes of Kazakhstan, roe deer is the staple food for local hunters, and a delicacy at that. Last but not the least, roe deer provides an affordable opportunity to experience the ultimate European hunt, exploring much the same traditions, techniques and environments as for the bigger deer hunting, but without spending a small fortune.
Siberian Roe deer hunt in the Rut
Russia
The Siberian roe deer is a moderately sized metacarpalian deer, with a long neck and large ears. In winter the northern populations exhibit light gray coloring, but their southern counterparts are grayish brown and ochraceous.The belly is creamy and the caudal patch is white. In the summer, their coloring is reddish. Young have a spotted coat. Males are larger and have three-tined antlers, widely spaced and slanting upward, which are shed in the autumn or early winter and begin to regrow shortly thereafter. Mating occurs in August and September, and female roe deer are the only ungulates to undergo embryonic diapause. Males mark their territory with olfactory marks, using secretion glands on the head skin, which they rub against trees, shrubs, and high grasses, or with visual marks, by fraying trees with their antlers. Vocal signals are also a form of communication in Siberian roe deer. They have six signals: squeaking or whistling, rasping, barking, whining, screaming, and nonvocal sounds.
Trip duration: 7 - 10 days
Hunting season: 25 Aug 2020 5 Sep 2020
Roe Buck Hunting in Sokołów Podlaski
Poland
We guarantee great trophies, top services and full-time care during the whole stay. All members of our Team are experienced hunters, who know how a satisfactory hunting should look like. Every Client from abroad has at his disposal his own expirenced hunting guide with 4x4 car. Every detail of your stay is arranged in a way to make the hunting the advenure of your life. The average weight of the trophy: 250-400g Observers are welcome, though we strongly recommend for them to enjoy hotel facilites rather than participate in the hunt as that would increase the hunter's chances for a successful hunt. Package include 5 days / 4 night and 3 days hunting (6 outings) or more.
Trip duration: 5 - 8 days
Hunting season: 11 May 2019 30 Sep 2020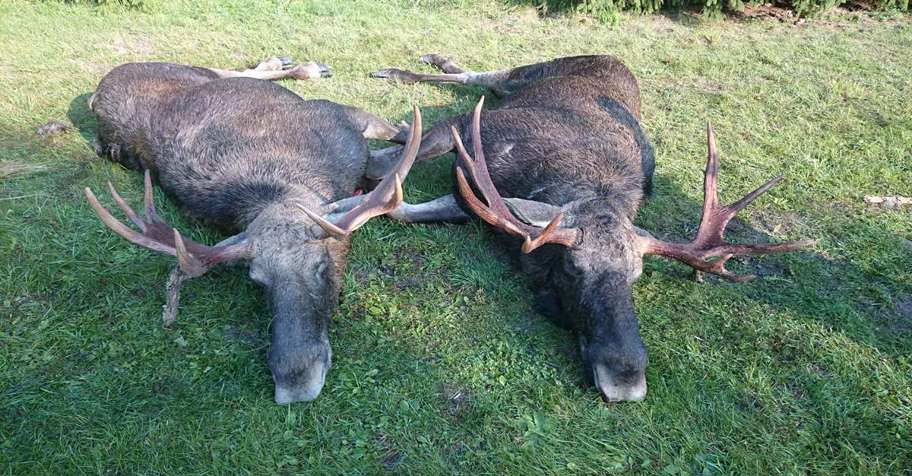 4 Day Moose Driven Hunt '19
Estonia
Our moose hunt is done in one of the best moose hunt region in Estonia near Matsalu National Reserve park. This is a group hunt for a minimum of 10 hunters. Day 1 • Arrival • Accommodation, dinner Day 2 • At daytime driven hunt with dogs and human workforce • Dinner Day 3 • At daytime driven hunt with dogs and human workforce • Dinner Day 4 • Breakfast, departure Allowed to hunt: moose - bull w. any size antlers, cow, calf; roe deer, buck w. any size antlers, doe and kid; boar - keiler male w. any size tusks, piglets, yearlings and sows; mink, marten, polecat, raccoon dog, fox, badger, beaver. Forbidden to hunt lynx, wolf and bear.
Trip duration: 4 days
Hunting season: 1 Oct 2019 15 Dec 2019
Interested in this animal? Create a Roe Deer subscription to get offers right to your inbox