Все отзывы о 'Trail End Camp & Outfitters' (26)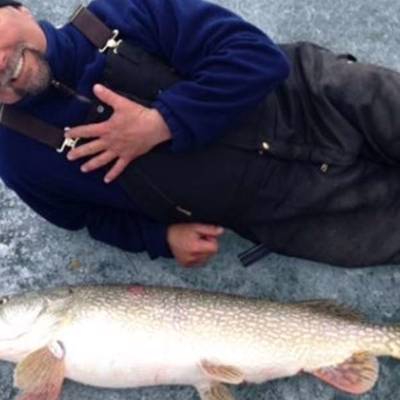 Trail End Camp & Outfitters
Канада
9.8
Рейтинг Основано на 26 отзывах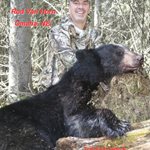 Rod
Соединённые Штаты Америки
10.0

из
Bear Hunting and Fishing
Hospitality is outstanding. Communication prior to the hunt was excellent. They work hard at their hunting sites to ensure you will see bears. Saw bears everyday. Meals were amazing and plenty of food. The cabins we stayed in are very comfortable. To top it all off to include unlimited fishing. Wow!
I have been there more than once, and each time they met my expectations and then some. There was nothing not to like and enjoy. I have hunted with several outfitters and this is one of the best.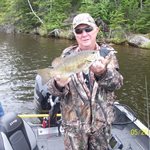 Willie
Соединённые Штаты Америки
9.3

из
By yourself, family or friends, A Great place to Bear Hunt and Fish
Everything done in a professional, yet friendly environment
Nothing to note about, if you have a problem, take it to Vance and he will fix it if he can
Dan
Соединённые Штаты Америки
10.0

из
Ready to book again for next year.
Everything,
nothing
Tom
Соединённые Штаты Америки
10.0

из
Excellent hunting experience
Mike
Соединённые Штаты Америки
10.0

из
I have Black Bear hunted in Ontario, New Brunswick, Qubec,and Alaska. This is the most enjoyable hunt I have had in many years. The accomdations were very good, the meals were outstanding, the guides were helpful and informative with very good cridentials. The best thing was the Bear Hunting. I have been there twice and have been successful both times, once with a Bow and Arrow, and this year with a Muzzle Loading Rifle. I had multiple opportunities to take a Bear and decided to wait for the big one. On the last day I took a good example of a Black Bear, I had just blew the chance at a very large Bruin just 30 minutes before settleing for the last Bear I would have a chance for the hunt. I spent thousands of dollars hunting all over Canada on at least 8 different hunts. I was lucky to take a Bear only once of those 8 times. When I went with Lance I had multiple opportunities at good Bear and have been sucessful each time I hunted with them.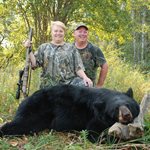 Steve
Соединённые Штаты Америки
10.0

из
Manitoba's best value Bear hunt!
Vance works very hard to ensure the hunter's success long before the hunter arrives by baiting the stands diligently weeks before the start of the season. He has a great team of guides that see to your every need and are very knowledgeable about the area. The fishing is fantastic and is a great bonus to the hunt. Accommodations are clean and comfortable and the food is outstanding! I have hunted all over the world and they are one of the best run outfits that I have been to.
Sometimes I have had issues at the border entering into Canada....just make sure your paperwork is in order and you follow their rules.
Chuck
Соединённые Штаты Америки
10.0

из
Great Hunt with professionals
All around, hunt, guides and accomodations with superb faacilities
No dislikes
Blaine
Соединённые Штаты Америки
10.0

из
'Corker' Bear Hunt
I harvested a very nice 6' 8" boar, the seventh bear that came in to my stand on the second day of a six day hunt. My son harvested a 7' 2" giant boar or a 'Corker' as Vance puts it on the third day of the hunt. Vance, Maureen, the guides, the cooks all work hard to make your stay friendly, comfortable and enjoyable. Fishing and shore lunches were fabulous as well.
My son and I had to quit hunting too early as we filled our bear tags on the 2nd and 3rd day of a six day hunt. The full days of guided fishing after the hunt made up for it.
Robert
Соединённые Штаты Америки
9.7

из
A great outfit for hunting and fishing in Manitoba Canada
Excellent Bear and Deer hunting and great fishing too. Wonderful guides and an extremely hardworking outfitter.
Excellent hunting experience
Michael
Соединённые Штаты Америки
9.7

из
Outstanding Bear Hunt
All of it... fishing and shore lunch during the day, terrific meals at night, great quality of the hunt, professionalism of the guides, I couldn't say enough good things about the hunt and the staff
Leaving and going back to the real world :)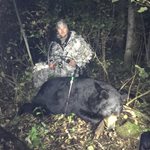 Nic
Соединённые Штаты Америки
10.0

из
Pope and Young on my first trip out
Hunting was incredible. Saw bears in every sit and had some wild experiences too. Saw a boar run a sow and Cubs 100ft up a tree, good mix between mature and young bears, and two monsters. Ended up with a 600+ lb, 7' tall pope and young boar. My uncle got a nice boar and one guy in camp got a cinnamon. We fished every morning and every day (all day) after tagging out. Pike, huge walleye, and even a few good smallies. Accommodations were great. Significantly better than most hunt camps. Clean rooms and bedding, housekeeping, nice hot showers, and an unreal view. Food was incredible. Lots of game, local meats, and produce. Home cooked meals and we never went hungry. Everyone around camp is friendly, knowledgeable, and serious about your hunt and experience.
Honestly have zero complaints.
Rick
Соединённые Штаты Америки
10.0

из
My nephew said "Best man week of my life '
Saw lots of animals. Ate like kings ! I actually gained wheigh that week. Killed a great bear. Then slept ate and blood trailed bears. The staff made me feel like family. Had a absolute ball all week.
Can't say I did not like anything. The week was wonderful. Had a day of slow fishing. But it was more than made up for by a day of fantastic Small mouth fishing. Boated 29 in 4 hrs.
Anonymous review
Соединённые Штаты Америки
9.0

из
Проверенный отзыв
Это отзыв о проверенном бронировании на BookYourHunt
Great bear hunting
Very organized
Fishing was slow but a nice way to spend the off hours of hunting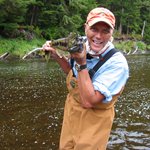 Brian
Соединённые Штаты Америки
10.0

из
Проверенный отзыв
Это отзыв о проверенном бронировании на BookYourHunt
Spring Bear Hunt 2018
Vance, his family and staff, provided an unparalleled and unique hunting experience. Vance and the other guides work tirelessly to ensure that you are presented with the opportunity (actually multiple opportunities) to harvest a black bear. The cabin accommodations were spacious, clean, with amazing views of the Winnipeg River. The food is amazing and the entire staff works the hunter's hours and does not leave until all the hunters have been taken care of. Sometimes not until after midnight. The staff are there to start early the next day. Not only would I highly recommend them, but I have already booked my next hunt with them!
Jouni-Matti
Германия
10.0

из
Проверенный отзыв
Это отзыв о проверенном бронировании на BookYourHunt
Spring bear 2018
Everything was exactly as discussed and expected. Very nice personal and friendly, family like atmosphäre.
-
Jill
Соединённые Штаты Америки
10.0

из
Проверенный отзыв
Это отзыв о проверенном бронировании на BookYourHunt
Excellent hunting experience
Doug
Соединённые Штаты Америки
10.0

из
Проверенный отзыв
Это отзыв о проверенном бронировании на BookYourHunt
Absolutely the best experience i have ever had. Accomidation were outstanding and the food was unbelievable. Vance, Maureen, Brad, Dave, and George were the best host anyone could ever hope for. The weather was not the best but they went did every thing possible to get us on bears. Six out of the seven got theri bear, with all seeing bears.
Steve
Соединённые Штаты Америки
10.0

из
Проверенный отзыв
Это отзыв о проверенном бронировании на BookYourHunt
Excellent hunting experience
Feng
Соединённые Штаты Америки
10.0

из
Проверенный отзыв
Это отзыв о проверенном бронировании на BookYourHunt
Very happy and impressed
Vance and his guides are professional, hard working and competent. They go out of their way to ensure successful hunts and enjoyable stays for the clients. This includes diligent maintenance of a large number of baits sites to ensure high success rates; and entertaining clients with great meals (often prepared with wild game) and great conversations. These are stand-up folks who earned my respect and admiration. The bear population here is exceedingly healthy. I saw 7-8 bears on the second evening, all except 2 are good shooters. I ended up taking mine on the third evening, the largest one I saw thus far. Raw hide measured 7 feet nose to tail, with great fur. Certainly a superb choice if you want to hunt black bear. My only advice is to not jump the the gun and shoot the first bear that comes along, or your trip would be very shoot and you end up wondering what you have missed out on.
Casey
Соединённые Штаты Америки
10.0

из
Проверенный отзыв
Это отзыв о проверенном бронировании на BookYourHunt
Excellent
Everyone was Amazing! They really cared that you were comfortable and taken care of. Vance and Maureen made us feel like a part of the family. They worked really hard to make sure our hunt was a success before and while were there. Our guides were professional and knowledgeable. Great place to book a hunt!
Having to leave the amazing people and her amazing cooking.
Nathan
Соединённые Штаты Америки
8.3

из
Проверенный отзыв
Это отзыв о проверенном бронировании на BookYourHunt
May 2019 black bear hunt
Saw bears all 3 evenings I hunted (7 one evening) Great lodging and meals. Plenty of bears. Liked the transport to stands via boat much better than the ATVs used by many outfitters.
Clint
Соединённые Штаты Америки
10.0

из
Spring Bear hunt 19
The entire hunt Vance and company delivered as promised. Guides work hard to create a world class experience! Our group of 4 shot bear ranging from 6'0 to 6'7.
Thomas
Соединённые Штаты Америки
10.0

из
Never Quit
Even with the weather playing all kinds of unusual hell for this time of year, our guides were positive and really enjoyable company. They were 100% focused on our enjoyment and satisfaction and harvest. Vance and his staff were professional, courteous and hospitable. Enjoyed every second of the hunt, (even when I shot over the back of my first attempt 😂)
The weather was pretty much the only thing not to like.
Doug
Соединённые Штаты Америки
10.0

из
Проверенный отзыв
Это отзыв о проверенном бронировании на BookYourHunt
Best experience any hunter could have, best hosts and guides anywhere in North America.
everything extremely well ran and managed.
nothing, everything is perfect and an experience every outdoors person should have.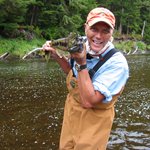 Brian
Соединённые Штаты Америки
10.0

из
Проверенный отзыв
Это отзыв о проверенном бронировании на BookYourHunt
The Best Bear Hunting and Fishing Experience in North America
Absolutely the best hunting and fishing experience you can have in North America. No detail is overlooked. Every aspect of the time spent there is superb. I have been there twice and there is no other outfitter that I have been to in North America that can compare with them. The guides and the staff is phenomenal.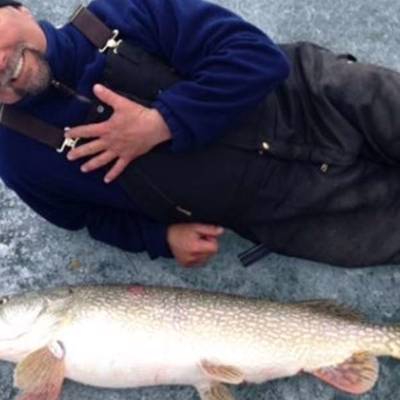 Trail End Camp & Outfitters
Канада
9.8
Рейтинг Основано на 26 отзывах
Размещение и гостеприимство
10.0
Профессиональный охотник / персонал
9.8
Соответствие стоимости
9.8