39 hunts
2 countries
6975

km
to the nearest trip
Where to hunt Blackcock
Blackcock, or black grouse, is a medium sized bird that loves the territories where forests meet clearings or open grounds; if the open grounds are used for agriculture, providing an additional source of food, so much the better (but no mineral fertilizers, please!) Black grouse range covers more or less all Europe and Asia from Scandinavia in the West to the Pacific coast in the East, and from taiga to forest steppes from North to South. For blackcock hunting, check out Russia, Belarus and Scandinavia.
Price distribution
There are very few dedicated blackcock hunting offers. In the most cases, the bird is included in a package deal with capercaillie, other birds (like hazel grouse), and even bear and other predators. The price of such packages starts at $500-$1,000, and may grow in price depending on the species, number of hunters, and number of days included in the hunt.
Special offers
Learn more from our blog story
Blackcock hunting is often viewed as a side-runner to the bigger and more attractive capercaillie, and you will often see Blackcock and capercaillie hunting offered as one package deal. Learn how the two birds differ, and what makes Blackcock hunting an interesting and exciting pursuit in its own right.
4 Jan 2018 The Quiet Call of the Biggest Grouse
When to hunt Blackcock?
The autumn season for blackcock hunting starts in late August and may continue to December. Early season typically works better for hunting over bird dogs, late season is perfect for stalking with a rifle Scandinavian style. The spring hunting season is often open only for ten days or so in Russia, longer in Belarus. The birds' activity at leks is highly influenced by weather (i.e., how fast spring is coming), and the best times for hunting may vary from year to year.
Like its bigger and more famous cousin the capercaillie, black grouse can be hunted over bird dogs in early autumn, by stalking or with special local breed treeing dogs in late autumn in early winter, and at the leks in spring. Unlike capercaillie, though, the spring lek hunt is in most cases done from a blind. This gives a hunter an opportunity not only to harvest a blackock in his prime mating feather, but also to observe the amazing picture of the black grouse lek, and other intimate scenes of spring nature.
Why hunt Blackcock?
All hunts (39)
A black grouse lek is quite a sight to see. The hens remain in their camouflage brown feather, but the cocks are in their best dress. All black, with long lyre-shaped tail feathers that used to remind people of tail-coat evening dress, lily white behind and burning red eyebrows, a black grouse cock is one of the most beautiful game birds ever. Blackcock tend to be more numerous than capercaillies, and their mating ritual is less about the song and more about the fight. Most Russian writers describe it as a big medieval tournament, with numerous knights challenging each other in the name of their belles. It makes an exciting sight from a distance, and tenfold more emotional when you're in a blind located in the thick of the action.
Northern Reindeer (Siberia, lake Baikal)
Russia
The most interesting and effective way of hunting in winter snow, under the wind hunting down the binoculars and carefully concealing the beast. Trekking is possible from 1-6km from base camp. A sound approach to the animal will provide our guides-the Evenki, the experience of hunting which is thousands years old. The approach depends on the weather conditions and the potential for a good shot, usually up to 100m. Winter hunting is the most interesting, dynamic and profitable because in this time is the migration of large forest deer in places they can access and quick snowmobile gives you a sure chance to get a decent copy. Hunting is carried out by the method of stalking the herd and surge hunters exactly exhibited at the rooms. Individual hunting with the approach on skis 1PH/1Hunter. For hunting in a forest reindeer, it is necessary to have rifles of a calibre not less than 7,62х51мм, optical sight. Camouflage color hunting season, warm, not rattling comfortable clothes designed for pace. to -5°C and fall to -30°C in winter.
Trip duration: 7 - 10 days
Hunting season: 1 Sep 2019 28 Feb 2020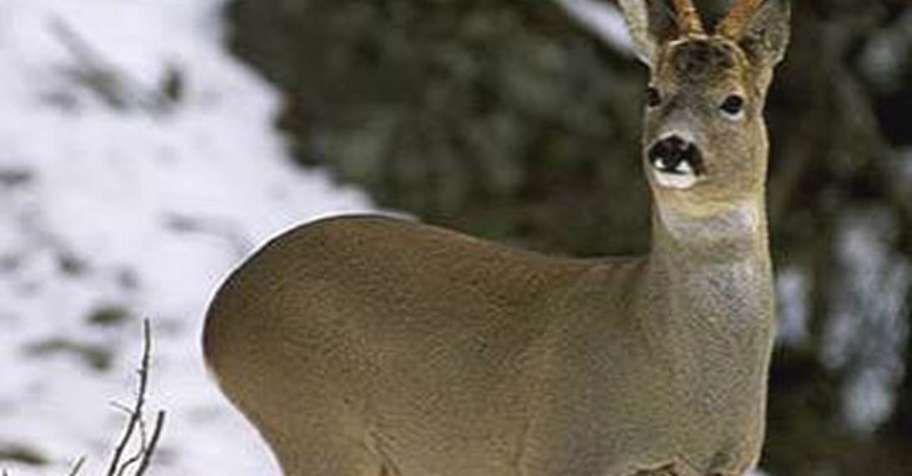 Roe Deer (Siberia, lake Baikal)
Russia
Hunting will occur with the approach, or luring males with semolina. And after a successful hunt, our chefs will prepare delicious Roe deer meat according to traditional Baikal recepies!
Trip duration: 7 - 10 days
Hunting season: 1 Sep 2019 28 Feb 2020
Interested in this animal? Create a subscription to get offers right to your inbox