591 hunt
10 country
8193

km
bis zum nächsten Jagdrevier
Where to hunt Warthog
Warthog's appearance is familiar to everyone, even those who don't care for natural history, thanks to Disney's Pumbaa character from The Lion King franchise. The species is widespread throughout Africa from Ethiopia, Burkina Faso and Cameroon to Namibia, Mozambique and South Africa, and in fact you can hunt warthog in every country in Trans-Saharan Africa where big-game hunting is legal at all.
Price distribution
Warthog is one of the most affordable animals to hunt in Africa, and the shooting fee can be as low as $300-$400. However, few hunters travel as far as Africa to hunt only the Warthog. It is usually included in a "plains game" package along with other popular species as impala, springbok, etc; the price of such packages usually starts at $2,000, and goes into $3,000-$7,000 range, depending on number of days and species.
When to hunt Warthog?
Opportunities to hunt Warthog exist pretty much the year round, especially on game farms. No month is necessarily better or worse for Warthog hunting, especially given the wide distribution of the species, but most people prefer to schedule their plains game hunts for the Southern Hemisphere winter, that is, June to October.
Most plains game hunts in Africa are spot-and-stalk, and if the hunter and the PH spot a good warthog, they might as well try and stalk it. But the most popular, and probably most reliable method of Warthog hunting is from a blind or tree stand over a waterhole. This is the method preferred by bowhunters. If you haven't ever hunted any members of the pig family before, take your time to learn their anatomy and the best shot placement, as the porcines' vitals are located in slightly different places than with deer.
Why hunt Warthog?
All hunts (591)
You don't become one of the top five most popular species to hunt in South Africa for nothing. Affordable prices, wide distribution, and Walt Disney Studios are only a few of the reasons for the popularity of Warthog. The beast itself is striking, with its dare-devil looks, fly-whisk tail, and enormous tasks, every aspect of the Warthog just screams "Africa!". These tusks aren't ornamental either, so be careful when approaching a wounded Warthog. And waiting in a blind over a waterhole, with the unlimited opportunities to observe the African wildlife, is in itself an experience not to be missed!
African Plains Game Safari 1x1
South Africa
We offer packaged as well as custom made hunting safaris across the entire Southern and Western Africa, which includes countries such as South Africa, Namibia, Zimbabwe and Zambia. We offer fair chase hunting in both fenced and unfenced areas, depending on the hunter's needs.
Trip duration: 5 - 10 days
Trip available on: 1 April 2019 31 October 2019
$

1,940
for 1 hunter and 1 guest
7 day Smaller Antelope Safari 1x1
Cameroon
Since 1995 hunting has been selective and very conservative, which resulted in a dense game population and record-able trophies. The trophy lengths of the collected Derby elands all exceed 461/2 inches or 118 cm (Rowland Ward: spiral measurement) with a record, shot in 1997, of 531/4 inches or 137 cm. (Cameroon n° 1 (Rowland Ward ed. 2002)). The length of the lions varies from 1121/2 to 1196/8 inches (285 to 303 cm). The trophies of the western roans are between 24 and 299/8 inches (61 and 76 cm) and those of western Bushbuck 99/8 and 15 inches (25 and 38 cm). This safari is 7 days long and includes 4 different species from group II. and group III. Group II.: Western hartebeest, Waterbuck, Bohor reedbuck, Western kob, Red river hog, Warthog Group III.: Western bush duiker, Red Flanked duiker, Oribi, Baboon, Civet, White-tailed mongoose, Genet, Ichneumon (Egyptian mongoose), Python, Viper, Spotted hyena One single animal per species and only males can be shot.
Trip duration: 7 days
Trip available on: 1 March 2020 31 May 2020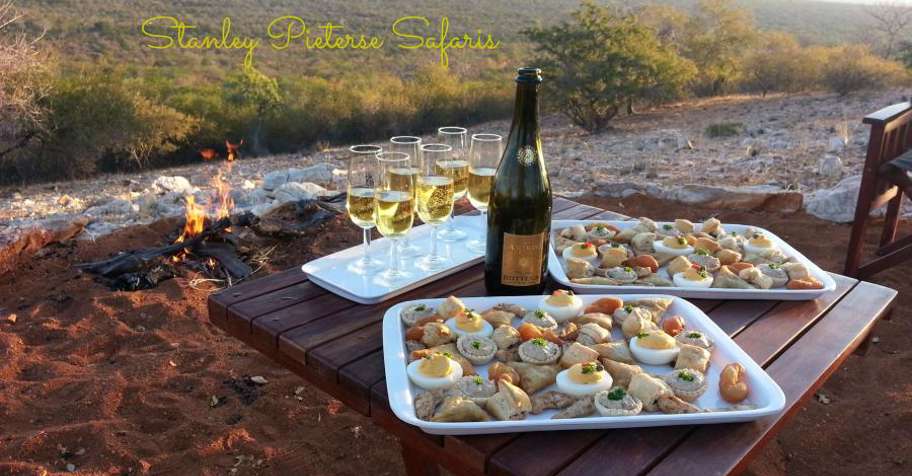 Plains Game Safari 1x1 '19
South Africa
Our team of dedicated, licensed and highly experienced Professional Hunters, trackers and skinners, will guide, assist and attempt to educate you every step of the way. Together, the team has guided clients armed with rifle and bow to more than 50 species of game. You will arrive as a client and you will leave as a friend, with memories that we will all treasure forever. We utilize a fleet of new, well-maintained, fully equipped 4x4 hunting and utility vehicles. Our vehicles all have radio communication to keep in contact with the camp and each other. The majority of shots are taken between 100-200 yards.
Trip duration: 3 - 14 days
Trip available on: 1 March 2019 30 November 2019
Interested in this animal? Create a Warthog subscription to get offers right to your inbox