Все отзывы о 'Udell's Guiding & Outfitting' (20)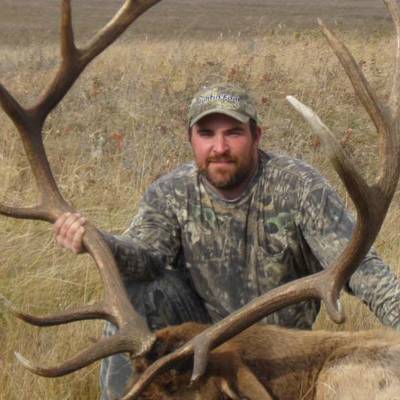 Udell's Guiding & Outfitting
Канада
9.3
Рейтинг Основано на 20 отзывах
Roger
Соединённые Штаты Америки
8.7

из
Проверенный отзыв
Это отзыв о проверенном бронировании на BookYourHunt
Safari style Winter hunt.
Area hunted is remote, low mountainous bush with many gas & oil wells with lots of cut roads to glass. Only saw 4 other hunters for the week. Temperature was ~ 0F in the morning and 20 F hi during the day. Spent most of time in warm truck driving/glassing meadows and cut roads. A few times where we saw fresh moose tracks, we walked ~ 2 miles round trip to remote basins. Saw 8 cows & 1 small bull moose for the week in the hunting area. Shot the small 26" bull on 2nd last day. Guide hunted hard from dawn to dusk. Motel accommodations were good. Evening Meals in local sports bar restaurant were good. Breakfast was fruit/coffee/snacks in your room & a good packed lunch in truck while hunting. Would have like a hot breakfast.
Glen
Соединённые Штаты Америки
10.0

из
Проверенный отзыв
Это отзыв о проверенном бронировании на BookYourHunt
Spring Black Bear Hunt
This hunt is spot and stalk only. We did not hunt over baits. I personally saw 25 bears in 5 days of hunting. Our group saw 41 and the other members of the party hunted an additional day so the total may have been higher. Of the bears I saw 3 were sows each with two cubs for a total of 9. The remaining 16 bears were all legal shooters with at least 4 of them being large for spring bears! I would classify the guides as experts. I will definitely return to hunt with them again in the future. Kelly and Erik were true professionals who pay attention to every detail of the hunt and experience so that you will leave Alberta satisfied!
Louis
Соединённые Штаты Америки
9.7

из
Kelly provides a good quality hunt. He is good to his word and will be honest with you about expectations. He does everything he can to see you have a good hunt.
Friendly atmosphere. Knowledgeable guides. Ample game.
The hunt ended too soon.......just like all good hunts do.
Spencer
Соединённые Штаты Америки
10.0

из
Great hunt great value
Excellent outfitter. Very knowledgeable on game and hunting area. Saw lots of game. Food was excellent. Excellent hunt and experience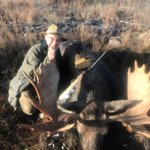 Jeff
Соединённые Штаты Америки
10.0

из
Alberta is great and this family is some of its greatest.
My wife and I meant these folks in Fairview , north of the Peace River. Quickly we were all becoming friend as I also meant three other hunters whom I'm still in contact with. Next I left the wife in town and headed 75 miles north to a comfortable hi-walled tent camp with a great kitchen deep in the forest. First morning a moose came to our call but just scrap little trees in the scrub without showing itself, that night we didn't see anything except a beautiful beaver pond deep in the forest. Lorey my guide started us in the same place as yesterday morning and after an hour of a couple of cow calls my Bull showed up busting branches and looking like it was boss. It entered an old oil-well cut and Lorey made the only grunt call I'd heard, that Moose froze staring not to move again until my 9.3 barked. That 42" Bull was hanging in a butchers shop 6 hours later. What is not to like?
I had to drive 2,700 miles each way, boohoo. I have to wait until 2020 to do it again with the Udells.
Ron
Соединённые Штаты Америки
9.3

из
Fall 2017 Rut Moose Hunt plus Bear
Outfitter is more of a smaller family operation that treats you like family. They know the area well and work hard to put you on game. Three of the four hunters in our camp scored on moose plus I shot a bear. One of the hunters was handicapped (missing arm and leg due to an accident) and they had him on a moose the second day. Good food and accommodations. Once an animal is harvested, they'll do whatever is necessary to b ensure it is handles properly. Fun people to hunt with.
The lack of game movement which was due to the warmer weather during our hunt. This was beyond the outfitter's control and they did the best they could. Jusy happen to hit a warm spell the last of part September.
Mick
Соединённые Штаты Америки
10.0

из
Excellent hunting experience
Bob
Соединённые Штаты Америки
10.0

из
Very good hunt we rebooked for next year half way through the trip
Kelly did everything he could possibly do to make our trip a success
The was bit warm but nobody can control that otherwise fantastic hunt
Carl
Соединённые Штаты Америки
9.3

из
Excellent hunting experience
Roger
Соединённые Штаты Америки
10.0

из
Проверенный отзыв
Это отзыв о проверенном бронировании на BookYourHunt
Good hunt
Nice country . Great guides
Anonymous review
Соединённые Штаты Америки
8.0

из
Проверенный отзыв
Это отзыв о проверенном бронировании на BookYourHunt
Good hunting experience
Tom
Соединённые Штаты Америки
10.0

из
Great hunting
I actually liked everything. The camp was great. Just what you expect at a hunting camp. Just a lot of fun with good people as if you knew them all your life. They always put out the extra effort to get in a good hunt. Country that I never would of seen with out a guide.
Need to bring your own Tabasco
Dave
Соединённые Штаты Америки
9.3

из
Great trip
The owners and my guide were very knowledgeable of the area and how to get you a good chance at harvesting a great animal. The food was excellent. Even asked for the recipes which i have made several times now with my moose.
Shane
Соединённые Штаты Америки
10.0

из
Choosing an Outfitter
When looking into a Canadian hunt you really want to make the best choice possible (especially if you are traveling to Canada from another country). Usually more weight is given to an outfitter if you know someone who has been there, or you can find reliable information regarding the operation and past experience. I originally did my research in the same way making telephone calls and looking online but after a while you have to have good faith and make a choice. My suggestion would be to seriously look at this outfitter based on my past experiences. I have enjoyed the hunting experience(s) with Kelly enough to encourage my friends to travel with me to explore the many opportunities Alberta has open. My friends and I have hunted a mix of Moose, Bear, Whitetail and Mule Deer (with both success and missed opportunities...it's hunting). One of the best indicators after a guided hunt is...would you go again...yes, I'm planning a November Moose hunt with Kelly and another friend of mine.
Having to change my own brains way of thinking to a new hunting geography. Kelly hunts in a way best suited for the large area, terrain and animal density...so I had to alter from the classic Western US Mountains to the Canadian Bush.
Nathan
Соединённые Штаты Америки
10.0

из
Hunting Vacation
Extremely high numbers of game, Clean well set up camp, Beautiful country, Very low stress hunt, Kelly has very high quality equipment, Great Food, You will leave as a friend with many laughs and memories.
Having to wait a whole year to return.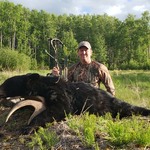 Kerry
Соединённые Штаты Америки
10.0

из
Excellent Outfitter
I give Kelly and his staff high scores in every category. Genuinely good, honest guys who know what they are doing. No frills, great food and clean camp. They will do what it takes to make your hunt successful. Great hunt unit with lots of bears!
Kris
Соединённые Штаты Америки
10.0

из
Excellent guide and guiding service
This week long two Spring Bear hunt was WONDERFUL! I can't not say enough good things about Kelly Udell and his outfitting service. Kelly and Bodie Scrupps (one of his guides) were top notch guides, cooks and hosts. These are the type of guys you want as guides and hope to have as friends! I was amazed at the amount of bear we saw in a days time. Was even more surprised at the color phase bear we saw. The land ranged from flat farm ground to the super thick Boreal Forest. It provided amazing scenery between bear sightings. Plenty of bear to glass over and select what your looking for. Also saw moose, mule deer, whitetails and coyotes. Very nice wall tents with wood burners. The quality and quantity of the food was more than I ever expected. This was the first hunt that I did not lose weight while I was on! Moose steaks and moose sausage.... I'll be hunting moose with Udell's next! Look no farther then Udell's for your guiding service for your next hunt!
Travis
Соединённые Штаты Америки
10.0

из
Awesome hunt- great trip and good memories
the food and rustic accomodations created an atmosphere and trip that made the hunt experience memorable and enjoyable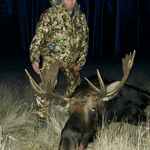 Dan
Соединённые Штаты Америки
8.0

из
Проверенный отзыв
Это отзыв о проверенном бронировании на BookYourHunt
Good hunting experience
Проверенный отзыв
Это отзыв о проверенном бронировании на BookYourHunt
don't book with this guy
said on website meals in local restaurants total lie breakfast was gross bagel sandwich i ended up getting my own breakfast paying for it with my own money supper was below average also ate late because guides were cooking meals preformed hamburgers out of a box this is what i spent me $7,500.00 on too many hunters not enough guys even though he said i probably won't get anything blind hunting that's where he put me all day and he had no other options due to the fact he had no other guides i won't be sending anyone who asks to go there booked this hunt though BYH seems he forgot to tell them this this only goes to show you the character of this outfitter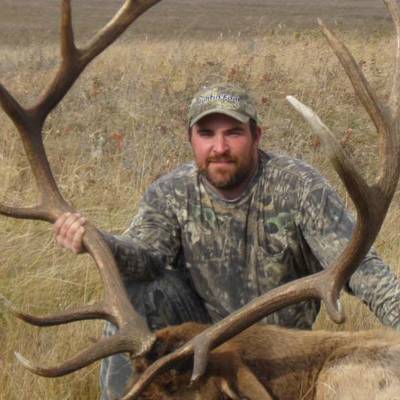 Udell's Guiding & Outfitting
Канада
9.3
Рейтинг Основано на 20 отзывах
Размещение и гостеприимство
9.4
Профессиональный охотник / персонал
9.5
Соответствие стоимости
9.4