20 Jagden
2 Länder
8020

km
bis zum nächsten Jagdrevier
Where to hunt Four Horned Ram
The uncommon looking four-horned sheep originated among domestic sheep many centuries ago. Their precise origin is unknown; different four-horned sheep are found in Iceland, the Hebrides, Spain, and the British Isles. Valued for lean meat, sturdiness and resistance to disease, but above all for their strange appearance, four-horned rams were introduced to many countries, where escapees formed wild feral populations. Four-horned ram hunting is offered in such countries as Argentina, Ireland, and South Africa.
Preisverteilung
The most affordable four-horned ram hunting options are found in South Africa, where the daily rates can be as low as $250, and the shooting fee - $1,000. On the average, however, expect to pay $400 a day in daily rates and $1,500 as the shooting fee. In included Argentina four-horned ram hunting can be a part of a package deal that may cost up to $20,000, depending on what other species (water buffalo, red deer, etc.) are included in the offer.
When to hunt Four Horned Ram?
As a feral/exotic animal the four-horned ram can be hunted all year, and the best time for hunting is dictated by factors such as weather, and seasons for other animals that the hunter is after. In Ireland, for instance, the stag season runs from September to December, and the hind season from November to February. The prime time to visit Argentina is the red stag rut that proceeds from the end of March to the middle of April.
The most common method of hunting four-horned ram is spot and stalk. Often, the spotting part is opportunistic – if the hunter and the guide notice a suitable trophy ram during an unsuccessful hunt for other species, the hunter may choose to take the opportunity and hunt this animal. Then the hunters make a careful approach to the ram, taking into account the direction of the wind, available cover, and millions of other details. For an extra challenge, choose a short-range weapon, such as a muzzleloader, a handgun, a crossbow or a bow.
Why hunt Four Horned Ram?
Alle Jagden (20)
All four-horned sheep were not bred selectively, that is, in most cases the animals were left to themselves for reproduction. They retained much of their original wilderness, and even on estates where they are kept as ornamental animals are usually highly suspicious of humans and may even be aggressive to them. A few generations in the wild, and they are as difficult to harvest as any wild sheep. Four-horned ram hunting can be a good introduction to sheep hunting in proper habitat. When selecting a trophy, focus on symmetry rather than length, and an unusual and striking "devil sheep" trophy will never fail to attract attention.
Free State Plains Game Hunt
Südafrika
We are a registered, legit company that offers a professional, reliable and dedicated hunting service to all clients. Our mission is to create a remarkable hunting experience to make your Safari a memorable one. We offer a wide variety of plains game, dangerous game as well as bird hunting.
Reisedauer: 3 - 14 Tage
Jagdsaison: 1 Mrz 2020 30 Nov 2020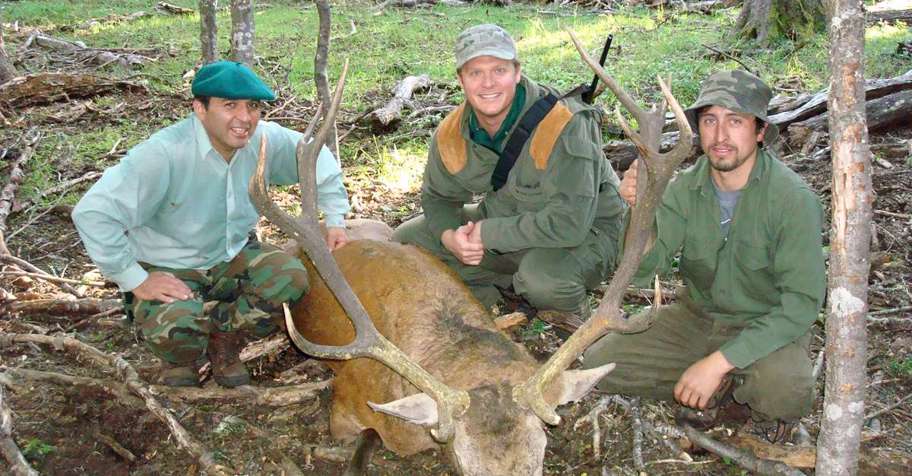 Big game hunt in La Pampa/Patagonia '20
Argentinien
The big hunting ranch is located in the Southeast of La Pampa province, Argentina. Has an extension of 37.500 non-fenced acres, of which 25.000 acres are covered with bush. The hunting days are depend on the species that you choose. Hunting hour for red stag are from early in the morning to midday, and from mid-afternoon until dark. The hunt can take place by stalking and also lying in wait. Wild boars are usually hunted by waiting in a hunting tower at night during full moon. Puma is hunted by lying in wait, stalking or by using dogs to track them through the bushes. For all other species a guide will be ever present to track the animal down in the bushes and instruct the hunter which animal will be a good trophy. Possible program: Day 1: Reception at Ezeiza International airport in Buenos Aires city custom cleaning and transfer to Domestic airport to take a flight to Bahia Blanca city (2 hours flight). Reception at Bahia Blanca airport and transfer to hunting Lodge (2 hours drive). Reception at lodge, distribution of rooms, quick snack and enjoy a half day of Big Game Hunt. Day 2-3-4: Full Big Game Hunt Day 5: Half Big Game Hunting day, lunch and transfer to Bahia Blanca airport. Reception at Domestic airport in Buenos Aires and transfer to Ezeiza International airport. End of our services. Please take the hunting seasons into consideration while choosing species from the trophy list. For Red stag: March 1st to May 31th – Rut season during end of March till middle of April For Puma : February 15th to September 30th For all other species offered : The season is open ALL YEAR ROUND The reception and the assistance in the airport and a bilingual guide included in the price as well.
Reisedauer: 5 - 10 Tage
Jagdsaison: 1 Mrz 2020 31 Aug 2020
World Class Package #5
Argentinien
5 days all inclusive hunt for one hunter. The price includes: 1 Red stag up to 320 sci, 1 Blackbuck up to 47 4/8 sci, 1 Multihorn ram up to 50 sci. 1 Feral goat up to 57 sci, 1 Wild boar up to 5 sci. Please inquire for available dates.
Reisedauer: 5 Tage
Jagdsaison: 1 Mrz 2020 31 Aug 2020
Interessiert an diesem Tier? Erstellen Sie ein Abonnement, um Angebote direkt in Ihren Posteingang zu bekommen