2 hunts
1 animal
2594

km
to the nearest trip
Welcome from Rough Canyon Outfitters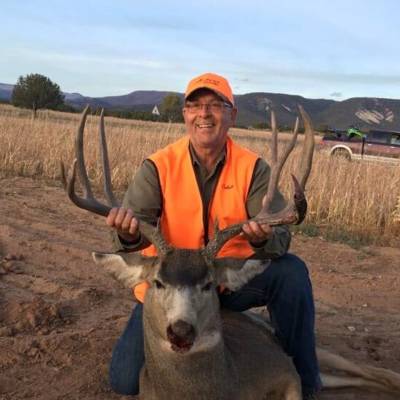 Dusty-Owner/Guide Rough Canyon Outfitters
Elk and Trophy Mule Deer hunts in Western Colorado. We have a variety of hunting options to meet your needs. We have DIY drop camp hunts as well as fully outfitted elk and deer hunts. Our goal is to provide a safe and enjoyable hunt. We pride ourselves on our hospitality, great food, and comfortable lodgings. We go the extra mile to help you have a great experience. We are proud to have very experienced, competent guides for our guided hunts. Just a little bit about the owner; I grew up in southwestern Colorado, I have worked in hunting camps since age 12 and have been guiding hunters since age 14. I grew up working for my uncles and have learned the business from the inside. I have 23 years experience guiding in Utah and Colorado. I have had the chance to work with and around some of the best guides in the business and have learn so much from them. I have a true passion for hunting and for the business. I am excited to be your outfitter of choice
Rough Canyon Outfitters on map
Accommodation
{{model.accommodation.name}}
{{model.accommodation.description}}
Facilities: {{facility}}
Top hunts
DIY Rifle Elk Camp
United States
This is a 1st rifle season elk Cabin camp on 250 acres of private surrounded by national forest that is non-motorized and hard for public hunters to access. This is a draw hunt but is easy to draw for non-residents. Cabin runs on propane and is set up for 3 guys. It is accessible thru 2 locked forest service gates with a 4x4 truck. The price is for the camp for season. The cabin will have everything you should need to camp except your food that is your responsibility. Also all game retrieval is your responsibility. We provide a map of area and our best hunting advice for past season success. This area holds a lot of elk but is steep or rugged. The resident herd is about an hour hike from the cabin but the land owners have shot elk from the cabin. This is the first time this camp has been offered as a rifle hunt, always hunted by owners in the past.
Trip duration: 5 days
Hunting season: 10 Oct 2020 14 Oct 2020
Package price
$

2,000
for 5 days, 1 hunter
Colorado Guided Archery Elk Hunt
United States
This is an amazing area to chase after bugling bulls. We hunt on a public land permit, with historically low hunter pressure due to the remoteness of our camp and areas that we hunt. Over the last 2 years, 70% of our clients have had at least one shot opportunity with several having multiple chances. We pride ourselves on knowing the area and where to focus your hunt. We do our best to make your hunt the best experience it can be. This hunt is in the Grand Mesa National Forest, under Special Use Permit From USFS. This is a tent camp hunt with awesome accommodations. Colorado Outfitters License #2957 GMU 421-ARCHERY SEASON -- Sept. 2-Sept 30 2-1, Guided Archery Deer hunt can be included for an additional $200, Tags must be acquired through the draw.
Trip duration: 5 days
Hunting season: 2 Sep 2020 30 Sep 2020
Package price
$

3,500
for 5 days, 1 hunter
Interested in hunts from this outfitter? Create a subscription to get new offers right to your inbox