27 hunts
3 countries
3514

km
to the nearest trip
Where to hunt Barren Ground Caribou
Barren ground caribou are also known as the tundra caribou. They inhabit the northmost ranges of caribou, and undertake large-scale seasonal migrations from northern calving grounds and pastures to wintering range in the boreal forests and back. Hunting opportunities are mostly concentrated in Greenland and Alaska, with some options in Canada as well.
Price distribution
The most affordable barren ground caribou offers are to be found in Greenland, where they get below $5,000. Barren ground caribou hunts in the USA and Canada start at about $7,500 and most are in the 10,000 USD range. As a large part of the price comes from the cost of travel to remote areas, it's advisable to combine a hunt after caribou with hunting other species such as musk ox or moose. Combination hunts typically are a better value.
Learn more from our blog story
It's amazing how creatures can adapt to living in the harshest of environments. You'd never thought that something as unappetizing and unnourishing as lichen can support tens of thousands of robust and hard-going deer. Yet, here they are, all over the Northern Hemisphere: known as reindeer in Eurasia and as caribou in North America, the Arctic deer is the source of life for many indigenous peoples, and an irresistible attraction for hunters from the developed countries.
4 Oct 2018 Caribou
When to hunt Barren Ground Caribou?
The season in Alaska runs from August to November, but the prime time for hunting is September and October. The same applies to Greenland. In North America success in hunting barren ground caribou often depends on whether the animals migrate to a given area or not. The populations in Greenland hardly ever migrate at all, so hunting is somewhat more predictable there.
Barren ground caribou hunting in Alaska is typically a combination of spot-and-stalk and ambushing a moving herd, especially during migration. In Greenland many outfitters prefer to cruise along the shoreline in motorboat, scouting for a huntable bull; once such is located, the guide and hunter land ashore and begin the stalk. This method is allowed and practiced in some areas of Alaska as well.
Why hunt Barren Ground Caribou?
One person's staple food (clothes, home, tools, and 1001 other use), another person's adventure magnet: the caribou. Like all caribou, barren ground caribou carry large and impressive antlers, that are uniquely shaped and combine palms with points, with a prominent eye guard. But for the true hunter they are only a symbol of the journey into the last frontier, the unique experience of joining the Circle of Life and Death in the rugged and beautiful Arctic, with the sight of thousands of migrating caribou rivalling the famous springbok migrations in Africa.
North West Alaska Trophy Hunt 2021
United States
Based in a comfortable 2-story lodge with solar power & sauna we have vacancies for August & September, 2021 & 2022. Our booking dates are Aug.18-29, Aug. 29-Sept.09, & Sept. 9-21, 2021 & 2022). We could modify those dates. Grizzly, Caribou & Wolf are all open for the entire time of each booking & no drawing permits are required. (Wolverine opens Sept.1) We prefer 2 or 3 guests per booking. Since 1984 our guest hunters have received 65 awards for first, second or third place trophies in the annual (APHA) Alaska Professional Hunters Association/Safari Club International Big Three statewide competition. This is the highest number of awards per number of guests of all guiding outfits in Alaska. We've taken top 3 ranked Grizzly, Black Bear, Dall Ram,Caribou, Moose, Wolf & Sitka Blacktail Deer. 32 of these outstanding animals were caribou, 7 were for Grizzlies & 4 were for wolves. The lodge is located in an ideal hunting area. Most animals are taken within one mile or less from the lodge. The daily rate for non-hunting guests is $600. Our caribou herd is estimated to be over 300,000 animals - groups of 100s or 1,000s are sometimes seen. Wolf populations are at an all time high. Wolverine seen occasionally. First Wolf is for free, starting from the second the trophy fee is applied. We have a license & tag vendorship for your convenience, in case you wish to pursue an extra animal. Unless you specify otherwise, we will have all your licenses, tags & permits ready before you arrive.
Trip duration: 12 days
Hunting season: 19 Aug 2021 10 Sep 2021
Package price
$

12,000
for 12 days, 1 hunter
October Caribou Hunt with Dog Sledge '22
Greenland
This is a 6 day Caribou hunt package with 4 full hunting days and 1 trophy Caribou license included to the price. The hunt is still mainly traditional hunt on foot, but with the dog sledge for transport of meat and trophy back to camp. So you still have to walk a lot, but without the heavy work of carrying meat and trophy back. Depending on the terrain, we can use dog sledge as personal transport, with no guarantee because it depends of snow conditions, but even with no snow the dogs can still pull the meat and trophy back to camp. Transport from Kangerlussuaq is with car the first 20 km until we are at the big lake, from here we sail all stuff over the lake to the camp. If there is heavy wind it might be nescessary to walk around the lake to the camp. October hunts are a bit colder, down to -15 C, but with still long days and not really cold weather as it is just the start of winter. Compound bow hunting is possible only on 1x1 basis (7150 euro per package), crossbow hunting is not allowed. Caribou in our hunting area (sub area 5) is a free-range indigenous north american "Central barren ground caribou". But even though it's documented by the Greenland Nature Institute, not all hunting organisations see it that way, so SCI does not accept it into the SCI 29 Award. But Grand Slam Club Ovis accepts it into the Super Slam award. So please check it with you organisation if you are going for a award. The meat can not be exported according to the EU regulations, but you can bring up to 10 kg with you on your flight out of Greenland (please check meat import rules for your country). All harvested meat is used, either for human consumption, or as dogfood for my dogs depending on the quality. We take max 2 hunters per group on this hunt. Availability 2022: Oct 6-11 - 3 openings Oct 13-18 - 4 openings Oct 20-25 - 4 openings Oct 27- Nov 1 - 4 openings
Trip duration: 6 days
Hunting season: 6 Oct 2022 1 Nov 2022
Package price
$

6,612
for 6 days, 1 hunter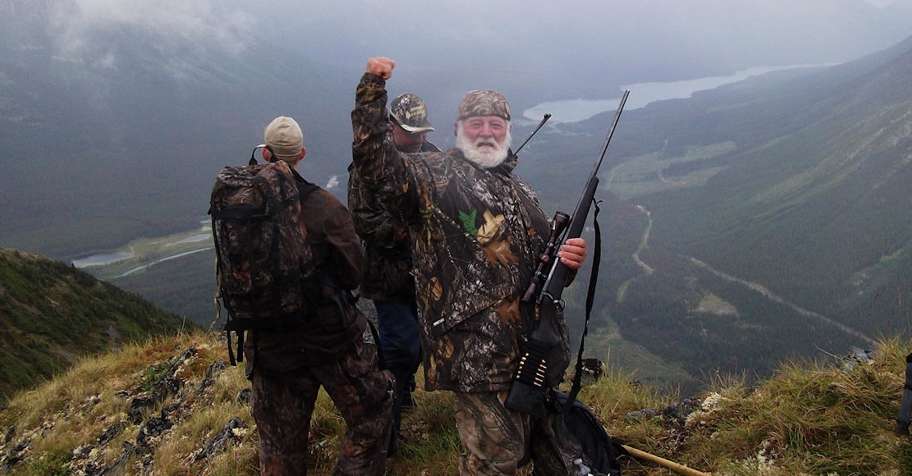 Moose or Caribou 1x1, Includes Wolf '21
Canada
Includes wolf and fishing, $2,000 trophy fee for black bear if added Includes first antlered animal (moose or caribou) $5,000 trophy fee for 2nd antlered animal (moose or caribou) Hunting methods include 4×4 from base camp, horseback or fly-in backpack. Black bear can be hunted on any fall hunt on a trophy fee basis. The average antler spread of our moose is 45-55 inches with the occasional one reaching 60 inches. The vastness of our guide territory allows us to offer several different types of moose hunts without sacrificing the quality of the hunt or the quality of the moose. Out of base camp we can offer hunts for moose from 4×4, riverboat, tree-stand or on foot that can be tailored to anyone regardless of age or physical ability. Our caribou rival any in North America for trophy quality; however, we do not have the density in our area to offer too many exclusive caribou hunts. It is our preference to hunt caribou in combination with other species on backcountry horseback hunt. If you wish to hunt caribou as a single species you have to be prepared to spend a lot of time in the saddle traveling the high plateaus and ridges glassing for that big bull. All caribou harvested must be 5 points or better to ensure trophy quality. In the back country we can hunt for moose as a classic mountain horseback hunt or fly in by float plane and hunt moose from a remote drop camp.
Trip duration: 10 days
Hunting season: 15 Aug 2021 30 Oct 2021
Package price
$

11,950
for 10 days, 1 hunter
Interested in this animal? Create a subscription to get offers right to your inbox