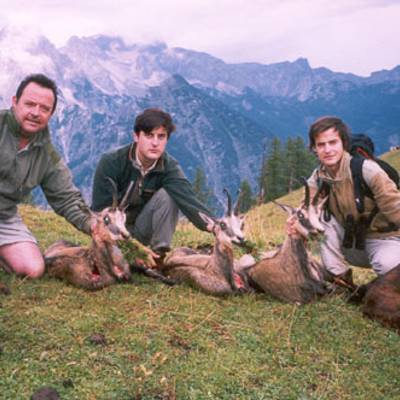 Who is offering this hunt Once you

start a conversation

regarding this hunt the outfitter name will be provided Spain

Response rate: 83 %

Response time: within a day
Giuseppe, owner
Our company was established in 1992 and operates in 10 territories.
We can tailor-make the hunt of your dreams in Spain, and will provide you and your non hunting companion with a most enjoyable time and successful hunt in our Country.
About this hunt
This graceful spotted animal makes a spectacularly beautiful trophy, with really outstanding ones to be found in Spain. Its habitat is the wide-open spaces of our "Sierras".
Guided (Regular trip)
Baiting Driven Hunt High Seat Rifle Hunting Stalking Hunting From a Blind Bow Hunting Muzzleloader Monteria
Hunting season: 1 Sep 2020 - 28 Feb 2021
Best time for hunting: 15 Sep 2020 - 31 Oct 2020
Where you will hunt
Territory
Hunting territory for Iberian Red Deer, European Fallow Deer, Iberian Mouflon Sheep, European Roe Deer & Wild Boar
Fence type: Not fenced
Territory size: 15.000 ha
Languages spoken by staff: English Spanish
Operating since: 1992 year
Structure by elevation
Plains: 40%
Hills: 20%
Mountains: 40%
Structure by landscape
Fields/Bush: 20%
Forest: 50%
Agricultural lands: 30%
Entertainment services
Shooting range Golf
Where you will stay
El Castañar
El Castañar is a beautiful private property, the guest house is known as "Casas Rojas" is a building from the 16th. century, remodeled into a most comfortable hunting lodge, located at only one hour drive south of Madrid, and 20 minutes south of the Imperial City of Toledo. This is amongst the most traditional and prestigious private hunting areas in Spain, with over 30,000 acres, where the Spanish Royal family has hunted for generations.
Facilities: Wi-Fi TV Internet Bathroom In-suite shower Outdoor shower Fridge Laundry Safe Mobile network coverage Electricity Table Games Wine Tasting
How to get there
Nearest airport: Madrid
Distance from airport: 1h
Transfer from airport: Yes
Distance from railway: 20min
Transfer from railway: Yes
Other information
Gun rental: No
Vaccination required: No
Additional services
Rescue travel insurance
Ripcord - we take the worry out of your travel so you can be completely devoted to the things you enjoy...
read more
Terms
Price Includes
Accommodation
Transport on territory
Transfer from/to airport
Ammunition
Guiding by PH
Field trophy preparation
Trophy measurement
Hunting license
Gun permits
Insurance
Tourist tax
Gun rental
Breakfast
Lunch
Dinner
Laundry
Snacks
Beverages/soft drinks
Alcoholic drinks
Paperwork
Pre-scouting of the area before the hunter gets there
21% VAT
Terms of Payment
Deposit: 50% based on trip price
Deposit deadline: 5 days after booking
Final payment: 90 days Before hunt
Cancellation
Six months before the hunt, 50% deposit is retained
Less than six months, 100% deposit is retained unless hunt may be postponed for the fallowing season
Price DOES NOT include
Vet. Certificates required to obtain export permits outside the EU: 170€/trophy
Taxidermist. Professional trophy preparation as per hunter's request
Wounding
Price Includes
Accommodation
Transport on territory
Transfer from/to airport
Ammunition
Guiding by PH
Field trophy preparation
Trophy measurement
Hunting license
Gun permits
Insurance
Tourist tax
Gun rental
Breakfast
Lunch
Dinner
Laundry
Snacks
Beverages/soft drinks
Alcoholic drinks
Paperwork
Pre-scouting of the area before the hunter gets there
21% VAT
Price DOES NOT include
Vet. Certificates required to obtain export permits outside the EU: 170€/trophy
Taxidermist. Professional trophy preparation as per hunter's request
Terms of Payment
Deposit: 50% based on trip price
Deposit deadline: 5 days after booking
Final payment: 90 days Before hunt
Cancellation
Six months before the hunt, 50% deposit is retained
Less than six months, 100% deposit is retained unless hunt may be postponed for the fallowing season
Wounding
*This is an approximate price in the selected currency. Actual price of the trip is
€

4,900
This price includes:
Other services: Hunting License / Hunting Insurance
Interested in this hunt? Create a subscription to get offers with the same destination and species
{{ onboarding.step }}
/{{ onboarding.stepsCount }}
{{ onboarding.title }}
{{ onboarding.text }}