Package price
Package price
$
7,500
for 7 days, 1 hunter,
with

Moose

included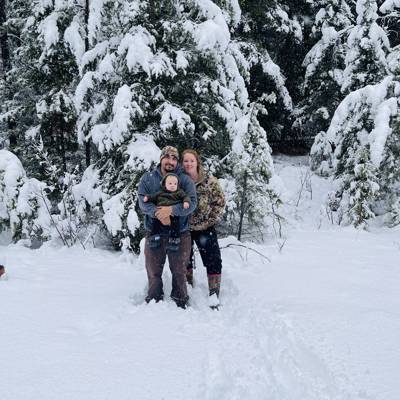 Dylan and Katie outfitters Canada

Response rate: 74 %

Response time: within a week
More about us
Our company was established in 2021 and operates in 1 territory.
Dylan outfitter and his wife Katie would like to join you in the Cariboo Chilcotin of British Columbia for your next dream hunt. This beautiful country gives great opportunities hunting a verity of animals such as mountain lion, lynx, black bear, mule deer moose and goat. We make the best hunt as we possibly can for you whether you're an avid bow hunter fulfilling the true up close and personal hunt or rifle.
Dylan and Katie both are avid hunters with the passion of being in the outdoors whether it's chasing the sound of the hounds, big mule bucks or bull moose in the rut we spend as much time as possible doing what we love.
About this hunt
Moose hunts will be done by pickup or horseback. We will be hunting some high country along with meadows and swamps surrounding the hunting area. PRICE DOES NOT include hotel accommodation in Williams lake prior to or after the completion of the hunt.
Guided (Regular trip)
Rifle Hunting Stalking Bow Hunting Calling Horseback Hunting Crossbow Hunting
Hunting season: 20 Sep 2023 - 31 Oct 2023
Best time for hunting: 1 Oct 2023 - 20 Oct 2023
Where you will hunt
Territory
This 7,500 square mile area is in the west Cariboo Chilcotin it gives great opportunities for cougar, lynx, black bear, mule deer and moose. We work extra hard to cater your needs and make it a great enjoyable hunt.
Fence type: Not fenced
Territory size: 7500 squ miles
Languages spoken by staff: English
Operating since: 2021 year
Structure by elevation
Plains: 20%
Hills: 40%
Mountains: 40%
Structure by landscape
Fields/Bush: 30%
Forest: 60%
Agricultural lands: 10%
Where you will stay
Camp
The main camp is a clean comfortable historic hotel. There will be good home cooked meals by professional cooks. Amenities include power, wifi, tv, cozy bed and nice hot showers.
Facilities: TV Internet Bathroom Ensuite shower Fridge Laundry Electricity
How to get there
Navigation guidelines
From Williams lake it's 3 hrs west on hwy 20. The adventure to our camp through the beautiful historic Cariboo Chilcotin is a well maintained road accessible for all vehicles. Hunters can book flights into Williams lake, BC where they will be picked up and driven to our camp or they can drive.
Nearest airport: Williams lake
Distance from airport: 234 km
Transfer from airport: No
Transfer from railway: No
Other information
Gun rental: No
Vaccination required: No
Terms
Price Includes
Accommodation
Transport on territory
Transfer from/to airport
Ammunition
Guiding by PH
Field trophy preparation
Breakfast
Lunch
Dinner
Laundry
Snacks
Beverages/soft drinks
Cancellation
Hunt deposit to be retained by RunWild Hunting upon cancellation, unless alternative arrangements are made
Price DOES NOT include
Alcoholic drinks
Gratuities
Gun rental
Trophy measurement
Hunting license
Gun permits
Insurance
Wounding
A wounded animal is a harvested animal
Price Includes
Accommodation
Transport on territory
Transfer from/to airport
Ammunition
Guiding by PH
Field trophy preparation
Breakfast
Lunch
Dinner
Laundry
Snacks
Beverages/soft drinks
Price DOES NOT include
Alcoholic drinks
Gratuities
Gun rental
Trophy measurement
Hunting license
Gun permits
Insurance
Cancellation
Hunt deposit to be retained by RunWild Hunting upon cancellation, unless alternative arrangements are made
Wounding
A wounded animal is a harvested animal
Payment
Deposit
50% based on trip price
Deposit deadline: 5 days after booking
Payment options provided by outfitter:
Final payment
Paid 30 days Before hunt
Payment options provided by outfitter:
Interested in this hunt? Create a subscription to get offers with the same destination and species
{{ onboarding.step }}
/{{ onboarding.stepsCount }}
{{ onboarding.title }}
{{ onboarding.text }}