Special! 3 Day Dove and Pigeon Shooting
Price from
Price from
$
1,300
$

1,600
for 4 days, 1 hunter,
with

Dove

Pigeon

included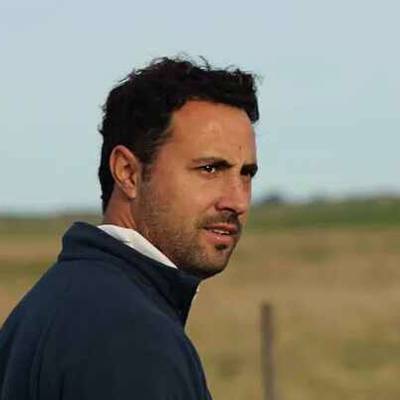 Alejandro - owner Argentina
More about us
Our company was established in 2018 and operates in 1 territory.
We are a hardworking family Business that strives for our guests to enjoy the excellent hospitality and quality of the Argentine hunting.
We make sure every detail is taken care of so that the hunter feels at home.
We have an impeccable team, composed of a punctual, organized and dedicated staff.
Each group will be led by the owners which guarantees a warm and personalized service.
United with common goals: giving the best of ourselves, enjoying the work and improving day by day.
About this hunt
We are located in the north-east of the province of San Luis in the Conlara Valley; bordering the province of Cordoba on the west side of The Comechingones mountain range. The high concentration of doves and pigeons as well as the unbeatable weather conditions make it one of the best places in the world to develop hunt of both species. The different ways of hunting, such as nesting, on passage, and crops, allow us to have fun with a variety of shooting options. A hunter can fire the amount of daily shots that their shoulder tolerates, and still have thousands of pigeons flying above them. We will be shooting at the best migratory routes. These are found near lowland forests or around our exclusive area of peanut, corn and soybean crops with pivot irrigation. The dove hunting season is open all year. Our hunting day begins around 7:00 a.m. with a full breakfast at La Quinta Lodge. We offer a mixed North American and Argentinian breakfast that includes coffee, milk, fresh juice, yogurt, cereal, fruit, toast, cake, homemade marmalades, ham, cheese, bacon and eggs. At about 8:00 a.m. we leave for the short drive to the shooting range. Once in the field, the professional hunting guide assigns an assistant for every two hunters. They provide the cartridges, refreshments, prepare the blind, count the birds, and, if necessary, light a small fire to keep warm in the early winter mornings. Our staff will be available at any time to help you with anything you may need. At mid-morning we offer fruit and cereal. Depending on the distance and time of year, an outdoor camp, a traditional 'Argentine asado' (barbeque), and a 'siesta' (nap) may be offered. Hunting continues until the sun sets! After the shooting day has ended, we return to the lodge for cocktail, appetizers and an early dinner. Package Four nights, three days of hunting Six outings, four dove hunts and two pigeons. We accept a minimum of 4 hunters for this hunt.
Guided (Easy trip)
Shotgun Hunting
Hunting season: 1 Dec 2022 - 1 Dec 2023
Where you will hunt
Territory
We are located in the Conlara Valley at the foot of The Comechingones Mountain Range – naturally bordering the provinces of San Luis and Cordoba. Our lodge is located in the city of Villa de Merlo. Ten acres fully landscaped and framed by native forests and impressive views of the mountains.
Fence type: Not fenced
Territory size: 100 000 acres
Languages spoken by staff: English Spanish
Structure by elevation
Plains: 100%
Structure by landscape
Agricultural lands: 100%
Where you will stay
Hunting Lodge
La Quinta Resort is a beautiful 10 acre estate that is fully landscaped and surrounded by native forests and the Sierras de los Comechingones mountains that are in view from all corners of the complex. La Quinta is a family business that began as a dream. Its owners Bob and Belén with their children Emilia and Julian, and our team provide personalized and warm treatment at all times ensuring you are able to enjoy the intimacy of La Quinta. Services: 2 uncovered heated pools (heated November to March) with waterfalls 1 uncovered heated children's pool (November to March) 1 indoor heated pool with waterfall and views of the mountains (open all year) 1 indoor Jacuzzi 9' x 9' also with views (for adults) (open all year) Poolside BBQ and outside Bar Gym (treadmill, weights, spinning bike) with poolside views and air conditioning Game room with Ping Pong, foosball and a children's game and drawing area Beach volleyball court Tennis court and more!
Facilities: Wi-Fi Bathroom Safe Swimming Pool
How to get there
Navigation guidelines
Arrival at the Valle de Conlara International Airport which is 30 km away by highway from our lodge is by Private Charter flights only. There are private charter flights available from the Pajas Blancas International Airport in Cordoba and from Aeroparque Airport in Buenos Aires. ​If arriving at the Pajas Blancas International Airport, in the city of Cordoba, we are 288 km away which is an average drive of 3:30 hs. If arriving at the Brigadier Mayor César Raúl Ojedala Airport in San Luis City we are 202 km away which is an average drive of 2:10 hs.
Nearest airport: San Luis
Distance from airport: 200 km
Transfer from airport: Yes
Transfer from railway: No
Other information
Gun rental: Yes
Vaccination required: No
Terms
Price Includes
Accommodation
Transport on territory
Transfer from/to airport
Guiding by PH
Hunting license
Breakfast
Lunch
Dinner
Beverages/soft drinks
Alcoholic drinks
Accommodations based on single occupancy
One Field assistant (bird boy) as required per person
Meeting and airport reception
Cancellation
Deposit is non-refundable
Price DOES NOT include
Shells - USD 12 per box.
Gun rental USD 60 per day.
Licenses USD 60 per day.
Late checkout
Gratuities
Airfare
Gun import permit
Phone calls
Laundry/dry cleaning and other items of a personal nature
Reciprocity fee
Wounding
Price Includes
Accommodation
Transport on territory
Transfer from/to airport
Guiding by PH
Hunting license
Breakfast
Lunch
Dinner
Beverages/soft drinks
Alcoholic drinks
Accommodations based on single occupancy
One Field assistant (bird boy) as required per person
Meeting and airport reception
Price DOES NOT include
Shells - USD 12 per box.
Gun rental USD 60 per day.
Licenses USD 60 per day.
Late checkout
Gratuities
Airfare
Gun import permit
Phone calls
Laundry/dry cleaning and other items of a personal nature
Reciprocity fee
Cancellation
Deposit is non-refundable
Wounding
Payment
Deposit
20% based on daily rate
Deposit deadline: 15 days after booking
Final payment
Paid Onsite
Interested in this hunt? Create a subscription to get offers with the same destination and species
{{ onboarding.step }}
/{{ onboarding.stepsCount }}
{{ onboarding.title }}
{{ onboarding.text }}