Red Stag hunting in Carpathian mountains
SOLD OUT
Daily rate fee
Daily rate fee
$
1,539
for 4 days, 1 hunter
Trophy fee is not included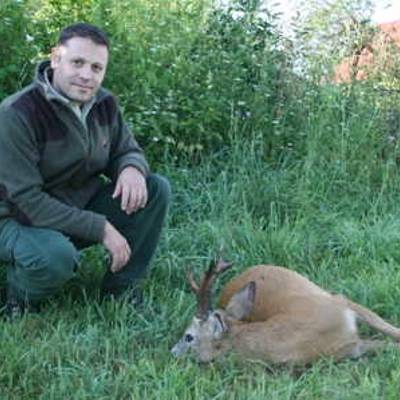 Ioan Banucu Romania

Response rate: 90 %

Response time: within a day
More about us
Our association was established in 2001 and operates in 8 territories.
First of all we are hunters. We want to share our passion and knowledge with all those hunters who want to hunt in the wilderness of the Carpathians. We aim to provide you a unique and unforgettable hunting experience in the last European wilderness.
We have over 10 years of experience in professional hunting in Romania. Our experience and in-depth knowledge of the hunting market guarantees you an unforgettable holiday tailored to meet individual needs. ing tourist attractions, horseback riding, hiking.
*This is an approximate price in the selected currency. Actual price of the trip is
€

1,440
This price includes:
Trophy is NOT included. Please select species from the price list to see the final price.
About this hunt
Dear visitors , We have the pleasure to offer you Carpathian red deer hunting possibility. Most of the trophies that can be found are between 6-9 kg. Accommodation is made in hunting house or small pensions. 3 hunting days with 4 days of full accommodation: * 4 days in lodge /hotel-single room, with three meals a day and soft drinks. * 3 days complete hunting organization (Romanian hunting permits, Trophy cleaning, trophy evaluation and documentation, packaging for shipment) * Transfer between the accommodation and hunting area * Car usage in the hunting area * individual hunting guide on territory (1: 1) * airport transfer For more information please contact us .
Guided (Regular trip)
High Seat Rifle Hunting Stalking
Hunting season: 15 Sep 2023 - 5 Oct 2023
Success rate
95%
Where you will hunt
Territory
Fence type: Not fenced
Territory size: 10000 ha
Languages spoken by staff: English
Structure by elevation
Hills: 20%
Mountains: 80%
Structure by landscape
Fields/Bush: 30%
Forest: 50%
Agricultural lands: 20%
Where you will stay
Hunting lodge
A comfortable hunting lodge near to hunting area.
Facilities: Wi-Fi Bathroom In-suite shower
How to get there
Navigation guidelines
We will meet you at the airport
Nearest airport: Iasi,Bucharest,Sibiu
Distance from airport: 152 km
Transfer from airport: No
Transfer from railway: No
Other information
Gun rental: No
Vaccination required: No
Terms
Price Includes
Accommodation
Transport on territory
Transfer from/to airport
Guiding by PH
Field trophy preparation
Trophy measurement
Hunting license
Gun permits
Breakfast
Lunch
Dinner
Snacks
Beverages/soft drinks
Cancellation
Deposit is non-refundable
Price DOES NOT include
Translator
Ammunition
Alcoholic drinks
Tips
Gun rental
Translator
Insurance
Shipping of the trophies
Missed shoot: € 150
Wounding
Wounding: 1000EUR
Missed shot 150 EUR(stag)
Price Includes
Accommodation
Transport on territory
Transfer from/to airport
Guiding by PH
Field trophy preparation
Trophy measurement
Hunting license
Gun permits
Breakfast
Lunch
Dinner
Snacks
Beverages/soft drinks
Price DOES NOT include
Translator
Ammunition
Alcoholic drinks
Tips
Gun rental
Translator
Insurance
Shipping of the trophies
Missed shoot: € 150
Cancellation
Deposit is non-refundable
Wounding
Wounding: 1000EUR
Missed shot 150 EUR(stag)
Payment
Deposit
$
{{model.tourPrice.deposit | currency:"":0}}
Deposit deadline: 5 days after booking
Final payment
Paid Onsite
Interested in this hunt? Create a subscription to get offers with the same destination and species
{{ onboarding.step }}
/{{ onboarding.stepsCount }}
{{ onboarding.title }}
{{ onboarding.text }}