Dove, Partridge & Hare in La Pampa
Price from
Price from
$
800
for 1 day, 2 hunters,
with

Dove

Partridge

Hare

included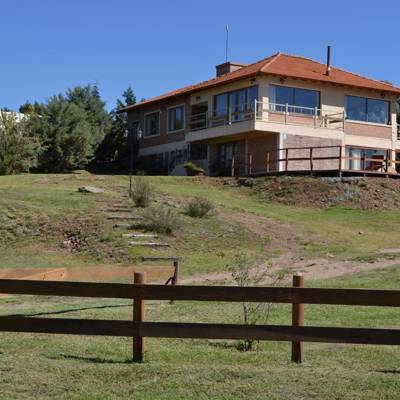 Who is offering this hunt Once you

start a conversation

regarding this hunt the outfitter name will be provided Argentina
Santiago, manager
Our company was established in 1991 and operates in 2 territories.
We have 20+ years of experience at satisfying the most demanding hunters with our immerse hunting experiences. We offer Waterfowl, Wing Shooting, and Small Game in the beautiful Argentinian Pampa.
Our team of experts will help you discover this fascinating region, known you for the quality and plentifulness of its game. We welcome both first-timers and seasoned hunters, as our helpful personnel is committed to making each experience unique, customized to your needs and at your pace.
At the end of the day, you can rest and connect with your fellow hunters at our comfortable rustic accommodations, where our in-house cook prepares homemade, hearty, local meals.
Our agency is registered at the Secretary of Tourism of Argentina. All of our hunting services are approved by the ANMAC (National Agency for Controlled Materials) and all of our vehicles are authorized by CNRT (Commission National of Transport Regulation).
About this hunt
Mountains and plains infinite give life to the Pampa, natural scenery of grassland and valleys. Discover it in our fully- or semi-guided wingshooting (partridges & dove) hunts at the hands of our local experts. A hunting day starts at dawn, with each hunter at our carefully selected fields, ready to partridge hunting, assisted with Pointer and Braco dogs. Our full-immersion experience continues with a homemade lunch prepared by our in-house cooks, followed by afternoon dove hunting. This afternoon hunting is awaiting hunters to enjoy a good bird shooting. The evening winds down at our comfortable, welcoming accommodations, a time to rest and connect with fellow hunters, share experiences, and relax. - Partridge species in this hunt Inamb'u común, Martinetta. - Dove species in this hunt Zendida auriculata y Columbina picui Specifications - Mercedes Benz Sprinter van - Toyota Hilux 4x4 pickup truck - 1 dog (braco or pointer) for every two hunters - 1 experimented guide for every two hunters - Benelli guns
Semi-guided (Regular trip)
Walk Up With Dogs Hunting From a Blind Calling Shotgun Hunting
Hunting season: 1 May 2022 - 31 Jul 2022
Where you will hunt
Territory
The Dry Pampas region, with extensive flat grasslands, is a fantastic terrain for Partridge & Hare Hunting. We work with Pointer and Braco dogs are ideal to locate and flush small game. We offer Dove & Pigeon Hunting across the country. We choose settings with softwood trees and corn and sunflower plantations. In this ideal environment, you are guaranteed an enriching nature-connected experience.
Fence type: Fenced
Territory size: 100 sq km
Languages spoken by staff: English Spanish Italian
Operating since: 1991 year
Structure by elevation
Plains: 20%
Hills: 20%
Mountains: 60%
Structure by landscape
Fields/Bush: 10%
Forest: 20%
Agricultural lands: 70%
Entertainment services
Fishing Excursions
Where you will stay
House Sierra
Elegant and modern big house. 5 large and comfortable double rooms, each with its own dressing room, private bathroom, air conditioning. Rooftop terrace, covered terrace, pool and fireplace. Located inside a natural villa, surrounded by very close mountains, it has very nice views. Our menu was designed by our local chef Diana to delight our culinary mix with the most typical Argentine cuisine. You can also taste a variety of our delicious Malbec wines, one of the most famous in Argentina, or Cabernet Sauvignon.
Facilities: Wi-Fi TV Internet Bathroom In-suite shower Fridge Laundry Mobile network coverage Electricity Swimming Pool Wine Tasting
How to get there
Navigation guidelines
We will meet you at the airport.
Nearest airport: Bahia Blanca
Distance from airport: 100 km
Transfer from airport: No
Transfer from railway: No
Other information
Gun rental: Yes
Vaccination required: No
Terms
Price Includes
Accommodation
Transport on territory
Transfer from/to airport
Guiding by PH
Hunting license
Insurance
Tourist tax
Breakfast
Lunch
Dinner
Laundry
Snacks
Beverages/soft drinks
Paperwork
Terms of Payment
Deposit: 50% based on trip price
Deposit deadline: 10 days after booking
Final payment: Onsite
Cancellation
Deposit is non-refundable
Price DOES NOT include
Shells national 25 per box U$D 13.
Shotgun rental per day U$D 30 w/ gun permits
Alcoholic drinks
Staff Tips per day U$D 60.
Field trophy preparation
Wounding
Price Includes
Accommodation
Transport on territory
Transfer from/to airport
Guiding by PH
Hunting license
Insurance
Tourist tax
Breakfast
Lunch
Dinner
Laundry
Snacks
Beverages/soft drinks
Paperwork
Price DOES NOT include
Shells national 25 per box U$D 13.
Shotgun rental per day U$D 30 w/ gun permits
Alcoholic drinks
Staff Tips per day U$D 60.
Field trophy preparation
Terms of Payment
Deposit: 50% based on trip price
Deposit deadline: 10 days after booking
Final payment: Onsite
Cancellation
Deposit is non-refundable
Wounding
Interested in this hunt? Create a subscription to get offers with the same destination and species
{{ onboarding.step }}
/{{ onboarding.stepsCount }}
{{ onboarding.title }}
{{ onboarding.text }}