Duck Hunting in Humid Pampa
Price from
Price from
$
980
for 1 day, 2 hunters,
with

Duck

Partridge

Pigeon

included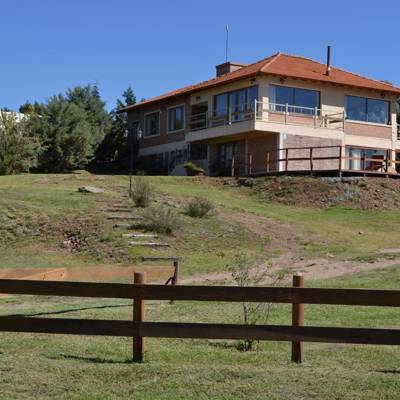 Santiago, manager Argentina
More about us
Our company was established in 1991 and operates in 2 territories.
We have 20+ years of experience at satisfying the most demanding hunters with our immerse hunting experiences. We offer Waterfowl, Wing Shooting, and Small Game in the beautiful Argentinian Pampa.
Our team of experts will help you discover this fascinating region, known you for the quality and plentifulness of its game. We welcome both first-timers and seasoned hunters, as our helpful personnel is committed to making each experience unique, customized to your needs and at your pace.
At the end of the day, you can rest and connect with your fellow hunters at our comfortable rustic accommodations, where our in-house cook prepares homemade, hearty, local meals.
Our agency is registered at the Secretary of Tourism of Argentina. All of our hunting services are approved by the ANMAC (National Agency for Controlled Materials) and all of our vehicles are authorized by CNRT (Commission National of Transport Regulation).
About this hunt
Swamps and lagoons give life to the Humid Pampa, natural scenery of bulrushes and cattails. Discover it in our fully- or semi-guided duck hunts at the hands of our local experts. A typical day starts at dawn, with each hunter at our strategically located blinds, ready to meet the daybreak and enjoy the best hunting hours. Our team prepares the hunting grounds with Italian-style decoys and 2-person blinds. We have 4x4 Toyota pickup trucks, ATVs, and hunting boats to ensure we can reach the ideal hunting spot at each lagoon. There are up to 13 different duck species in the region, each with its distinctiveness for you to discover, at the hands of our experienced personnel. Moreover, every day we switch lagoons in order to ensure a variety of species and sceneries. Our full-immersion experience continues with a homemade lunch prepared by our in-house cooks, followed by afternoon partridge hunting, assisted with Pointer and Braco dogs. These afternoon hunting activities are a relaxing, nature-connecting experience during which to enjoy the varied birds and small game between alfalfa, corn and soybean fields. The evening winds down at our comfortable, welcoming accommodations, a time to rest and connect with fellow hunters, share experiences, and relax. Duck species in this hunt Dendrocygna bicolor, Dendrocygna viduata, Anas sibilatrix, Anas georgica, Anas flavirostris, Anas platalea, Anas cyanoptera, Anas Bahamensis, Anas versicolor, Netta peposaca and Heteronetta atricapilla. Specifications - Mercedes Benz Sprinter van - Toyota Hilux 4x4 pickup truck - Honda 500 Quads - Hunting boats - 2 person blinds - 30 Italian decoys per blind - 1 dog (Braco or Pointer) for every two hunters - 1 experimented guide for every two hunters - Benelli guns
Semi-guided (Easy trip)
Management Hunt Walk Up With Dogs Hunting From a Blind Calling Shotgun Hunting
Hunting season: 15 May 2023 - 31 Jul 2023
Where you will hunt
Territory
Swams and lagoons give life to the picturesque Humid Pampas, in a natural scenery of bulrushes and cattails. Our experts carefully research and select optimal hunting landscapes. Together with our experienced guides, you will enjoy an extraordinary Duck Hunting experience, with strategically located hunting posts.
Fence type: Fenced
Territory size: 100 sq km
Languages spoken by staff: English Spanish Italian
Operating since: 1997 year
Structure by elevation
Plains: 100%
Structure by landscape
Fields/Bush: 30%
Agricultural lands: 70%
Where you will stay
House Pehuajo
Authentic hunting hunting, remodeled, in the middle of the field. 6 spacious and comfortable double rooms, each with its own private bathroom, air conditioning. Park and fireplace. Located in the middle of the Pampas plain, surrounded by lagoons.
Facilities: Wi-Fi TV Internet Bathroom In-suite shower Fridge Laundry Electricity Wine tasting
How to get there
Navigation guidelines
We will meet you at the airport.
Nearest airport: Buenos Aires
Distance from airport: 300 km
Transfer from airport: Yes
Transfer from railway: No
Other information
Gun rental: Yes
Vaccination required: No
Terms
Price Includes
Accommodation
Transport on territory
Transfer from/to airport
Guiding by PH
Hunting license
Insurance
Tourist tax
Breakfast
Lunch
Dinner
Laundry
Snacks
Beverages/soft drinks
Paperwork
Cancellation
Deposit is non-refundable
Price DOES NOT include
Shells national 25 per box U$D 14.
Shotgun rental per day U$D 30 w/ gun permits
Alcoholic drinks
Staff Tips per day U$D 50.
Field trophy preparation
Wounding
Price Includes
Accommodation
Transport on territory
Transfer from/to airport
Guiding by PH
Hunting license
Insurance
Tourist tax
Breakfast
Lunch
Dinner
Laundry
Snacks
Beverages/soft drinks
Paperwork
Price DOES NOT include
Shells national 25 per box U$D 14.
Shotgun rental per day U$D 30 w/ gun permits
Alcoholic drinks
Staff Tips per day U$D 50.
Field trophy preparation
Cancellation
Deposit is non-refundable
Wounding
Payment
Deposit
50% based on trip price
Deposit deadline: 10 days after booking
Final payment
Paid Onsite
Payment options provided by outfitter:
Interested in this hunt? Create a subscription to get offers with the same destination and species
{{ onboarding.step }}
/{{ onboarding.stepsCount }}
{{ onboarding.title }}
{{ onboarding.text }}