Online Hunting Show

14 Jan - 13 Feb.

Best deals for 2022-2023!
4 Day Premium Upland Bird Package
Package price
Package price
$
3,250
for 4 days, 1 hunter,
with

Quail

included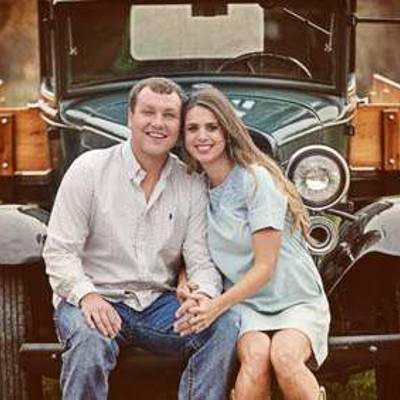 Who is offering this hunt Once you

start a conversation

regarding this hunt the outfitter name will be provided United States

Response rate: 56 %

Response time: within a week
Travis and Abby - Owner Operators
Our company was established in 2014 and operates in 1 territory.
A premiere wing-shooting lodge with 2,500 acres of beautifully, Orvis Endorsed, preserved pheasant & quail hunting grounds. Our family has been working and exploring every piece of this property for over 150 years and we pride ourselves in its care. The Ewing Farm is managed year-round to ensure great habitat for the pheasant and quail, who thrive here in the rolling hills and farm country of southeastern Iowa. The family, along with our experienced and friendly guides, train and hunt top-notch bird dogs including German Shorthaired Pointers, English Pointers, Brittanys, and Labrador Retrievers. Our guides make sure that every hunter who visits - whether a novice or an old pro - leaves happy!
About this hunt
Our Premium Upland Bird Hunting Package is our #1 requested package! This hunting package is for those of you who want us to take care of every detail for you from the minute you book your getaway to the moment you head home. This package is customized to fit your desires. Love whiskey? We'll get you the top shelf. Enjoy your coffee with just cream? We'll make sure it's ready for you every morning, just the way you like it. From eating fresh, homemade & hearty Iowan meals to hunting and exploring over 1,000 acres of land, this package will not disappoint. Escape the hectic demands of life and work to find comfort and adventure at Heritage. Premium Package gets you no-limit bird hunts on our land. This includes experienced guides, trained hunting dogs, fresh meals prepared in house by our very own personal chef who uses Grandma Judy's recipes, premium lodging, hunting licenses, bird cleaning, and packaging.
Guided Disabled friendly (Easy trip)
Driven Bird Hunt Walk Up With Dogs Shotgun Hunting
Hunting season: 1 Oct 2022 - 31 Dec 2022
OTC Tag available
Where you will hunt
Territory
1,000 acres of preserved and well maintained hunting land surrounded by another 1,000 acres of corn and soybeans. Every year the Ewing family sets aside 1,000 acres for the Conservation Reserve Program boosting the natural habitat of this land and creating the ideal conditions for a successful hunt.
Fence type: Not fenced
Territory size: 1000 acres
Languages spoken by staff: English
Operating since: 1865 year
Structure by elevation
Plains: 40%
Hills: 40%
Mountains: 20%
Structure by landscape
Fields/Bush: 40%
Forest: 40%
Agricultural lands: 20%
Entertainment services
Fishing
Where you will stay
Heritage Lodge
Beyond the hunting, our lodge offers first-class amenities such as a full bar, family-style meals from a local restaurateur, and rustic, comfortable accommodations. From dawn till dusk, guests will be treated with the highest quality care AND hunt the best land Iowa has to offer! You'll be served incredible meals from a personal chef, who uses all of Grandma Judy's recipes. Her recipes have been in the family for decades. You'll never leave for a hunt or go to bed hungry! After you return from guided upland bird hunting in the afternoon, gather around the stone fireplace and sink deep into our big comfortable couches and retell the day's adventures while sipping on a cold brew or premium scotch. Be sure to let us know if you have a specific request for the bar! We know how valuable sleep is after a long day, so we've created a clean and comfortable, quiet space to dream about tomorrow's hunt.
Facilities: Wi-Fi TV Internet Bathroom In-suite shower Fridge Electricity Billiards
How to get there
Navigation guidelines
Flying in? Great! We recommend the convenience of the Des Moines (DSM) airport, just 60 minutes away. Need airport pick up and door to door service? Not a problem! We provide private transportation service, including airport pick-up and drop-off, as well as transfers to your lodging and hunting sites. We welcome you just like family. Need group transportation? Not a problem! We can provide charter services for up to 8 guests, including luggage and access to unlimited range land 20 minutes from the Heritage lodge. We are here to make this an easy and wonderful hunting excursion for you! If you're driving: Want to drive in? Great! You will fall in love with the countryside. The views are amazing! Starting from State Highway 2, turn north on highway S56 on the east end of Promise City and travel about 9 miles until you come to a stop. Then turn left toward Russell on J18: the main entrance to the lodge will be on the north side of J18 about 1/4 mile from where you turned. If you are traveling in on State Highway 34, turn south onto Cedar Street, about 7 miles east of Chariton, Iowa toward Russell, Iowa. Go through Russell and stay on highway S56 for about 11 miles. You will come to a T-intersection J18 (TIMBER ROAD), turn left and go east on J18. Travel about 1/2 mile and look for the entrance to the lodge on the north side of the road. We can't wait to see you! Book your trip soon before dates are no longer available.
Nearest airport: Des Moines Airport
Distance from airport: 60 miles
Transfer from airport: Yes
Transfer from railway: No
Other information
Gun rental: No
Vaccination required: No
Terms
Price Includes
Accommodation
Transport on territory
Transfer from/to airport
Guiding by PH
Field trophy preparation
Trophy measurement
Trophies
Breakfast
Lunch
Dinner
Beverages/soft drinks
Cleaning of birds
Packaging of birds
Dogs
Terms of Payment
Deposit: 30% based on trip price
Deposit deadline: 5 days after booking
Final payment: Onsite
Cancellation
Deposit is non refundable
Price DOES NOT include
Alcoholic drinks
Tips (Hunters Discretion
Gun rental, available if required
Hunting license and permits
Insurance
All applicable taxes
any necessary paperwork
Wounding
All efforts are made to retrieve wounded animals
Price Includes
Accommodation
Transport on territory
Transfer from/to airport
Guiding by PH
Field trophy preparation
Trophy measurement
Trophies
Breakfast
Lunch
Dinner
Beverages/soft drinks
Cleaning of birds
Packaging of birds
Dogs
Price DOES NOT include
Alcoholic drinks
Tips (Hunters Discretion
Gun rental, available if required
Hunting license and permits
Insurance
All applicable taxes
any necessary paperwork
Terms of Payment
Deposit: 30% based on trip price
Deposit deadline: 5 days after booking
Final payment: Onsite
Cancellation
Deposit is non refundable
Wounding
All efforts are made to retrieve wounded animals
Interested in this hunt? Create a subscription to get offers with the same destination and species
{{ onboarding.step }}
/{{ onboarding.stepsCount }}
{{ onboarding.title }}
{{ onboarding.text }}