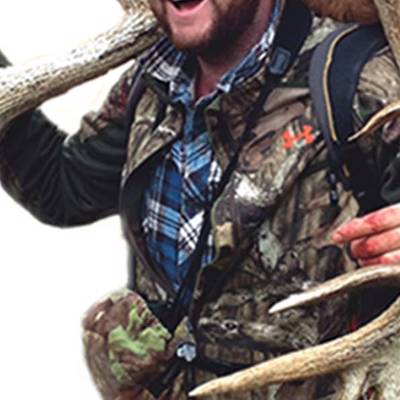 Who is offering this hunt Once you

start a conversation

regarding this hunt the outfitter name will be provided New Zealand

Response rate: 86 %

Response time: within a week
Duncan, owner
Our company was established in 2000 and operates in 1 territory.
Trophy hunting in the Southern Alps of New Zealand with our professional guides will give you a challenging hunting experience for some of the world's most majestic game animals. Enjoy the satisfaction of a successful alpine hunting adventure set in spectacularly scenic terrain on our prestigious and unique trophy hunting preserve.
We provide a world-class standard of service that's at the same time laid back and friendly – everyone feels at home when hunting with our family, and staying in our hunting lodges. Quite simply, we offer New Zealand's ultimate hunting experience. It's one we look forward to sharing with you.
About this hunt
Whether we are guiding you around, showcasing the best of our country, or reliving your tales from earlier in the day, we guarantee you'll feel at home when hunting with our family.Come as visitors, leave as friends. We provide a home for one of the largest privately owned trophy red deer herds in the South Pacific. Thanks to decades of carefully focused game management the quality of our Red stag is unbeatable. This is how we've gained considerable acclaim for producing world class trophies, with stags scoring in excess of 600SCI and 20kg of antler. A trophy this big provides our hunters with a genuine 'larger than life' experience – it's an exceptional time that you'll never forget.
Guided (Regular trip)
Rifle Hunting Stalking
Hunting season: 1 Jun 2020 - 31 Jul 2020
Where you will hunt
Territory
The south of New Zealand is widely recognised for its incredibly diverse and unique landscapes. Here, the big red stags are hunted in managed areas, and we ensure this territory is in their natural habitat. The hunting preserve is in undulating back country, covered in native vegetation. There's excellent cover and plenty of draws and gullies. This environment delivers all the excitement of hunting in raw, untamed terrain without compromising on accessibility – you can travel in on foot, drive in via 4WD or be flown in. Besides world-class Red Stags we also offer quality hunts for tahr, chamois, fallow, elk, goat, ram, boar, whitetail, sika, sambar and rusa. These big game species are complemented by small game (rabbit, hare, wallaby, possum) and, time permitting, wing shooting.
Fence type: Fenced
Territory size: 100000 ha
Languages spoken by staff: English
Operating since: 2000 year
Structure by elevation
Hills: 50%
Mountains: 50%
Structure by landscape
Fields/Bush: 50%
Forest: 50%
Entertainment services
Fishing Diving Skiing and snowboarding Penguin viewing TranzAlpine Train sightseeing High country farming experience (horse trekking, sheep shearing) Luging in Queenstown and Rotorua Otago Central Rail Trail Golf Mountain biking Kiwi spotting on Stewart Island New Zealand's 'Great Walks' Milford Sound tours Whale watching Jetboating Bungy jumping Helicopter scenic tours Visit Mt Cook (NZ's highest mountain)
Where you will stay
Hunting Lodge
We own and operate our hunting lodge on our family's private estate. Situated right in the heart of the hunting area, this lodge is deep in the heart of the action – it's not uncommon to see game from the deck of the lodge. The main log cabin contains a modern, stylish open-plan kitchen and dining area and separate sleeping chalets with private ensuite bathrooms accommodate our guests. Here you'll be able to relax at the days end with a drink on the large deck overlooking the nearby Pacific Ocean before retiring inside to enjoy the best of local cuisine.
Facilities: Bathroom Laundry Electricity Wine Tasting
How to get there
Navigation guidelines
We will meet you at the airport.
Nearest airport: Christchurch
Distance from airport: 450 km
Transfer from airport: Yes
Transfer from railway: No
Other information
Gun rental: Yes
Vaccination required: No
Additional services
Rescue travel insurance
Ripcord - we take the worry out of your travel so you can be completely devoted to the things you enjoy...
read more
Terms
Price Includes
Accommodation
Transport on territory
Transfer from/to airport
Guiding by PH
Field trophy preparation
Trophy measurement
Breakfast
Lunch
Dinner
Laundry
Beverages/soft drinks
Terms of Payment
Deposit: 50% based on trip price
Deposit deadline: 5 days after booking
Final payment: Onsite
Cancellation
Deposit is non-refundable
Price DOES NOT include
Ammunition
Tips
Gun rental
Hunting license
Gun permits
Insurance
Wounding
Price Includes
Accommodation
Transport on territory
Transfer from/to airport
Guiding by PH
Field trophy preparation
Trophy measurement
Breakfast
Lunch
Dinner
Laundry
Beverages/soft drinks
Price DOES NOT include
Ammunition
Tips
Gun rental
Hunting license
Gun permits
Insurance
Terms of Payment
Deposit: 50% based on trip price
Deposit deadline: 5 days after booking
Final payment: Onsite
Cancellation
Deposit is non-refundable
Wounding
Interested in this hunt? Create a subscription to get offers with the same destination and species
{{ onboarding.step }}
/{{ onboarding.stepsCount }}
{{ onboarding.title }}
{{ onboarding.text }}