2 on 1 BC Spring bear '24
Pauschalpreis
Pauschalpreis
$
4,900
für 6 Tage, 1 Jäger,
with

Schwarzbär

included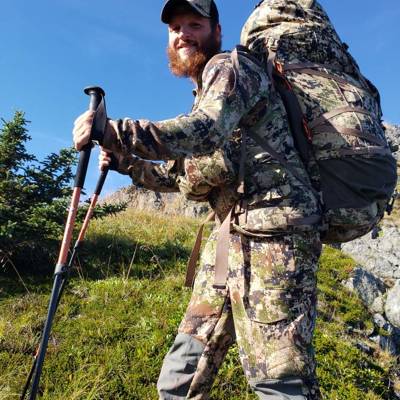 Jagdanbieter Kanada

Antwortet: 86 %

Antwortzeit: innerhalb eines Tages
More about us
Unser Unternehmen wurde 2010 gegründet und betreibt 1 Revier.
All hunts are free range fair chase in remote areas of north central BC
Über diese Jagd
Spring spot and stalk bear hunts in north central BC. These hunts provide numerous opportunities at stalks with many bears spotted typically during an average hunt. Trophy potential is very high 25-35%colour phase. Price is based on 2 hunters for 1 guide. Price is per hunter. Single hunter can be accommodated for an additional price
Geführt (Leichte Jagdreise)
Büchsenjagd Pirschjagd Bogenjagd Lockjagd (Ruf) Vorderlader
Jagdsaison: 20 Mai 2024 - 30 Jun 2024
Success rate
Opportunity to harvest is 99.9%
OTC tag verfügbar
Wo werde ich jagen
Jagdgebiet
Umzäunung: Freie Wildbahn
Reviergröße: 1800 sq km
Gesprochene Sprachen: Englisch
Jagdbetrieb seit: 2012 Jahr
Gelände
Ebene: 70%
Hügelland: 20%
Gebirge: 10%
Landschaft
Grasland/Buschland: 10%
Wald: 90%
Unterhaltungsangebot
Fischen
Wo werde ich wohnen
RV/wall tent camp
Rustic remote camp Sleeping accommodations are a nice clean RV with wall tent common cooking area
Einrichtungen: Elektrizität
Anreise
Wegbeschreibung
Clients can drive to the territory directly or we can arrange for pickup from Prince George airport.
Nächstgelegener Flughafen: Prince George
Entfernung vom Flughafen: 100 miles
Flughafentransfer: Ja
Bahnhofstransfer: Nein
Weitere Informationen
Waffen-Verleih: Ja
Schutzimpfung erforderlich: Nein
Bedingungen
Im Preis inkludiert
Unterkunft
Transport im Revier
Flughafentrasfer
Munition
Pirschführung
Trophäenvorbehandlung
Trophäen-Vermessung
Waffen-Verleih
Frühstück
Mittagessen
Dinner
Snacks
Getränke und Erfrischungsgetränke
Stornierung
Deposits are non refundable but we will work with the client to use the deposit towards a future hunt
Cancellation must be made 60 days prior to the hunt dates. Consideration for special circumstances will be made
NICHT im Preis inkludiert
Trinkgelder
Jagdlizenz
Waffenbesitzkarte
Versicherung
Alkoholische Getränke
Wäscheservice
Anschweißen
All efforts will be made to recover any wounded animals. If the animal is not found the guide will make a judgment call as to whether or not the animals wounds will be fatal or not. Fatally hit animals will result in a cancelled tag
Im Preis inkludiert
Unterkunft
Transport im Revier
Flughafentrasfer
Munition
Pirschführung
Trophäenvorbehandlung
Trophäen-Vermessung
Waffen-Verleih
Frühstück
Mittagessen
Dinner
Snacks
Getränke und Erfrischungsgetränke
NICHT im Preis inkludiert
Trinkgelder
Jagdlizenz
Waffenbesitzkarte
Versicherung
Alkoholische Getränke
Wäscheservice
Stornierung
Deposits are non refundable but we will work with the client to use the deposit towards a future hunt
Cancellation must be made 60 days prior to the hunt dates. Consideration for special circumstances will be made
Anschweißen
All efforts will be made to recover any wounded animals. If the animal is not found the guide will make a judgment call as to whether or not the animals wounds will be fatal or not. Fatally hit animals will result in a cancelled tag
Payment
Anzahlung
50% basierend auf die Jagdreise
Anzahlung: 5 Tage nach der Buchung
Restzahlung
Paid 30 days vor Jagdantritt
Interessiert Sie diese Jagd? Erstellen Sie ein Abo um Angebote für die gewünschte Wildart und das Reiseziel zu erhalten
{{ onboarding.step }}
/{{ onboarding.stepsCount }}
{{ onboarding.title }}
{{ onboarding.text }}