Preis ab
Preis ab
$
7,305
$

7,493
für 3 Tage, 1 Jäger,
with

Pyrenäen Gams

included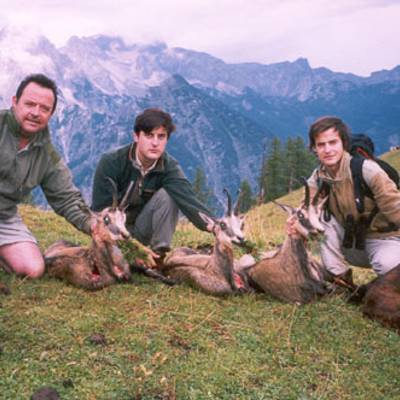 Giuseppe, owner Spanien

Antwortet: 100 %

Antwortzeit: innerhalb eines Tages
More about us
Unser Unternehmen wurde 1992 gegründet und betreibt 10 Reviere.
We can tailor-make the hunt of your dreams in Spain, and will provide you and your non hunting companion with a most enjoyable time and successful hunt in our Country.
*This is an approximate price in the selected currency. Actual price of the trip is
€

6,900
This price includes:
Other services: Jagdlizenz / Hunting Insurance
Über diese Jagd
This trophy is quite a challenge for sportsmen who love mountain hunting
Geführt (schwer Jagdreise)
Büchsenjagd Pirschjagd Bergjagd
Jagdsaison: 24 Apr 2024 - 15 Dez 2024
Die beste Zeit für die Jagd: 24 Apr 2024 - 26 Mai 2024
Wo werde ich jagen
Jagdgebiet
Hunting territory for Pyrenean Chamois.
Umzäunung: Freie Wildbahn
Reviergröße: 40.000 ha
Gesprochene Sprachen: Englisch Spanisch
Jagdbetrieb seit: 1992 Jahr
Gelände
Gebirge: 100%
Landschaft
Grasland/Buschland: 30%
Wald: 70%
Unterhaltungsangebot
Fischen
Wo werde ich wohnen
Pyrenees
Depending on situation we will stay at different hotels: Ansó, Bagá, etc.
Nicht im Revier, 15min
Einrichtungen: TV Internet Bad Ensuite shower Freiluftdusche Kühlschrank Wäscheservice Safe Telefonverbindung Gesellschaftsspiele Weinverkostung
Anreise
Nächstgelegener Flughafen: Zaragoza
Entfernung vom Flughafen: 2h 25min
Flughafentransfer: Ja
Entfernung Bahnhof: 1h 45min
Bahnhofstransfer: Ja
Weitere Informationen
Waffen-Verleih: Nein
Schutzimpfung erforderlich: Nein
Bedingungen
Im Preis inkludiert
Unterkunft
Transport im Revier
Flughafentrasfer
Munition
Pirschführung
Trophäenvorbehandlung
Trophäen-Vermessung
Jagdlizenz
Waffenbesitzkarte
Versicherung
Waffen-Verleih
Frühstück
Mittagessen
Abendessen
Wäscheservice
Snacks
Getränke und Erfrischungsgetränke
Alkoholische Getränke
Pre-scouting of the area before the hunter gets there
21% VAT
Stornierung
Six months before the hunt, 50% deposit is retained
Less than six months, 100% deposit is retained unless hunt may be postponed for the fallowing season
NICHT im Preis inkludiert
Vet. Certificates required to obtain export permits outside the EU: 170€/trophy
Taxidermist. Professional trophy preparation as per hunter's request
Anschweißen
Im Preis inkludiert
Unterkunft
Transport im Revier
Flughafentrasfer
Munition
Pirschführung
Trophäenvorbehandlung
Trophäen-Vermessung
Jagdlizenz
Waffenbesitzkarte
Versicherung
Waffen-Verleih
Frühstück
Mittagessen
Abendessen
Wäscheservice
Snacks
Getränke und Erfrischungsgetränke
Alkoholische Getränke
Pre-scouting of the area before the hunter gets there
21% VAT
NICHT im Preis inkludiert
Vet. Certificates required to obtain export permits outside the EU: 170€/trophy
Taxidermist. Professional trophy preparation as per hunter's request
Stornierung
Six months before the hunt, 50% deposit is retained
Less than six months, 100% deposit is retained unless hunt may be postponed for the fallowing season
Anschweißen
Payment
Anzahlung
50% basierend auf die Jagdreise
Anzahlung: 5 Tage nach der Buchung
Restzahlung
Paid 90 days vor Jagdantritt
Interessiert Sie diese Jagd? Erstellen Sie ein Abo um Angebote für die gewünschte Wildart und das Reiseziel zu erhalten
{{ onboarding.step }}
/{{ onboarding.stepsCount }}
{{ onboarding.title }}
{{ onboarding.text }}