Pauschalpreis
Pauschalpreis
$
5,500
für 5 Tage, 1 Jäger,
with

Weißwedelhirsch

included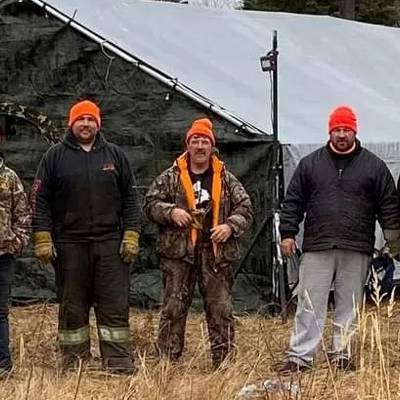 Kim & Chad Kanada
More about us
Unser Unternehmen wurde 2001 gegründet und betreibt 4 Reviere.
Saskatchewan has been well known for some of the largest whitetail in the world, we have monster black bear with an excellent population of color phase bears, and we are located in the first feeding grounds for waterfowl as they make their journey south. All of our staff has a lifetime of knowledge and experience in hunting/guiding. You will feel right at home here.
Membership of associations

Über diese Jagd
Saskatchewan has been known to produce some of the biggest whitetail in the world. We do our absolute best to manage our whitetail population/quality and do not overhunt our area. Our guides have hunted their entire lives and have extensive knowledge guiding/hunting, Our cooks are top notch and their home-cooked meals are to die for.
Geführt (normale Jagdreise)
Lockjagd (Köder) Büchsenjagd Tarnjagd Vorderlader
Jagdsaison: 20 Nov 2023 - 24 Nov 2023
Die beste Zeit für die Jagd: 20 Nov 2023 - 24 Nov 2023
OTC tag verfügbar
Wo werde ich jagen
Jagdgebiet
Umzäunung: Freie Wildbahn
Reviergröße: 65,000 acres
Gesprochene Sprachen: Englisch
Jagdbetrieb seit: 2011 Jahr
Wo werde ich wohnen
Helene Lake Lodge
Main Lodge used for whitetail hunts
Einrichtungen: Wi-Fi TV Internet Bad Kühlschrank Wäscheservice Telefonverbindung Elektrizität
Anreise
Wegbeschreibung
Give us a call for directions
Nächstgelegener Flughafen: Saskatoon
Entfernung vom Flughafen: 2.5 hours
Flughafentransfer: Nein
Bahnhofstransfer: Nein
Weitere Informationen
Waffen-Verleih: Nein
Schutzimpfung erforderlich: Nein
Bedingungen
Im Preis inkludiert
Unterkunft
Transport im Revier
Pirschführung
Trophäenvorbehandlung
Frühstück
Mittagessen
Dinner
Getränke und Erfrischungsgetränke
Stornierung
Deposits are required to secure your booking, and are absolutely non-refundable. We recommend taking some kind of insurance if you feel there may be a reason you might cancel the hunt
NICHT im Preis inkludiert
Versicherung
Snacks
Steuer
Waffenbesitzkarte
Jagdlizenz
Waffen-Verleih
Trinkgeld
Flughafentrasfer
Munition
Alkoholische Getränke
Anschweißen
If an animal is wounded, we will put in absolutely every bit of effort we possibly can to retrieve it. If the animal can not be retrieved, there will be a fee to continue with the chance to hunt another animal. Please be sure of the shot before you take the shot
Im Preis inkludiert
Unterkunft
Transport im Revier
Pirschführung
Trophäenvorbehandlung
Frühstück
Mittagessen
Dinner
Getränke und Erfrischungsgetränke
NICHT im Preis inkludiert
Versicherung
Snacks
Steuer
Waffenbesitzkarte
Jagdlizenz
Waffen-Verleih
Trinkgeld
Flughafentrasfer
Munition
Alkoholische Getränke
Stornierung
Deposits are required to secure your booking, and are absolutely non-refundable. We recommend taking some kind of insurance if you feel there may be a reason you might cancel the hunt
Anschweißen
If an animal is wounded, we will put in absolutely every bit of effort we possibly can to retrieve it. If the animal can not be retrieved, there will be a fee to continue with the chance to hunt another animal. Please be sure of the shot before you take the shot
Payment
Anzahlung
50% basierend auf die Jagdreise
Anzahlung: 5 Tage nach der Buchung
Payment options provided by outfitter:
Restzahlung
bezahlt vor Ort
Payment options provided by outfitter:
Cash
Check
Credit card
PayPal
Interessiert Sie diese Jagd? Erstellen Sie ein Abo um Angebote für die gewünschte Wildart und das Reiseziel zu erhalten
{{ onboarding.step }}
/{{ onboarding.stepsCount }}
{{ onboarding.title }}
{{ onboarding.text }}