Dove & Pigeon Shoot in Argentina
Preis ab
Preis ab
$
2,250
für 3 Tage, 1 Jäger,
with

Wildtauben

Taube

included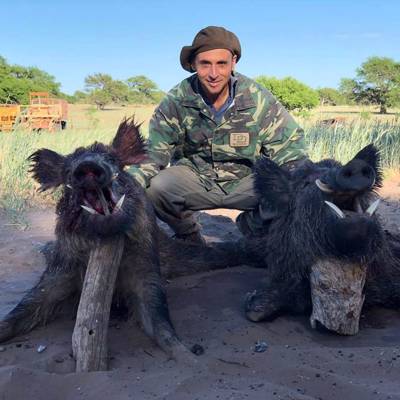 Gustavo, owner Argentinien

Antwortet: 67 %

Antwortzeit: innerhalb eines Tages
More about us
Unser Unternehmen wurde 2018 gegründet und betreibt 1 Revier.
I'm bringing 20+ year of experience acquired from other ranches and companies important in the hunting industry.
Über diese Jagd
We have A LOT OF BIG PIGEONS
Geführt (normale Jagdreise)
Flintenjagd
Jagdsaison: 1 Apr 2023 - 31 Dez 2023
Wo werde ich jagen
Jagdgebiet
Umzäunung: teilweise umfriedet
Umfriedetes Gebiet: 1,250 acres
Reviergröße: 56,250 acres
Gesprochene Sprachen: Englisch Spanisch
Landschaft
Grasland/Buschland: 50%
Wald: 50%
Wo werde ich wohnen
Jagdhaus
Our accommodations are simple, no luxury, but You´ll find friendly atmosphere, comfortable beds, VERY GOOD FOOD AND WINES, and my family dedicated to make your stay unforgettable.
Einrichtungen: TV Internet Bad Wäscheservice Weinverkostung
Anreise
Wegbeschreibung
We will meet you at the local airport.
Nächstgelegener Flughafen: San Luis or Santa Rosa
Entfernung vom Flughafen: 250-280 km
Flughafentransfer: Ja
Bahnhofstransfer: Ja
Weitere Informationen
Waffen-Verleih: Ja
Schutzimpfung erforderlich: Nein
Bedingungen
Im Preis inkludiert
Unterkunft
Transport im Revier
Pirschführung
Trophäenvorbehandlung
Trophäen-Vermessung
Frühstück
Mittagessen
Dinner
Snacks
Getränke und Erfrischungsgetränke
Alkoholische Getränke
Transfer from San Luis/ Santa Rosa airport
Double-occupancy accommodation
Assistance to obtain Hunting and/or Fishing licenses
Assistance to obtain gun & ammo licenses and permits
Assistance with Visas or other requirements
Stornierung
Die Anzahlung wird nicht zurückerstattet
NICHT im Preis inkludiert
Single Occupancy supplement - $100/day
International or Domestic Airfare
Air or ground charters and transfers from BA
Gun rental ($50 - rifle, $80 - shotgun) & Ammunition / cartridges
Taxidermy and trophy shipment
Persönliche Ausgaben
Hunting and Fishing licenses costs
Waffenbesitzkarte
Versicherung
Trinkgeld
Anschweißen
Im Preis inkludiert
Unterkunft
Transport im Revier
Pirschführung
Trophäenvorbehandlung
Trophäen-Vermessung
Frühstück
Mittagessen
Dinner
Snacks
Getränke und Erfrischungsgetränke
Alkoholische Getränke
Transfer from San Luis/ Santa Rosa airport
Double-occupancy accommodation
Assistance to obtain Hunting and/or Fishing licenses
Assistance to obtain gun & ammo licenses and permits
Assistance with Visas or other requirements
NICHT im Preis inkludiert
Single Occupancy supplement - $100/day
International or Domestic Airfare
Air or ground charters and transfers from BA
Gun rental ($50 - rifle, $80 - shotgun) & Ammunition / cartridges
Taxidermy and trophy shipment
Persönliche Ausgaben
Hunting and Fishing licenses costs
Waffenbesitzkarte
Versicherung
Trinkgeld
Stornierung
Die Anzahlung wird nicht zurückerstattet
Anschweißen
Payment
Anzahlung
30% basierend auf Tagesrate
Anzahlung: 10 Tage nach der Buchung
Payment options provided by outfitter:
Restzahlung
bezahlt vor Ort
Payment options provided by outfitter:
Interessiert Sie diese Jagd? Erstellen Sie ein Abo um Angebote für die gewünschte Wildart und das Reiseziel zu erhalten
{{ onboarding.step }}
/{{ onboarding.stepsCount }}
{{ onboarding.title }}
{{ onboarding.text }}