3 Days Saskatchewan Waterfowl Hunt!
Pauschalpreis
Pauschalpreis
$
7,200
für 3 Tage, 4 Jäger,
with

Stockente

Pintail-Ente

Ross Gans

...

included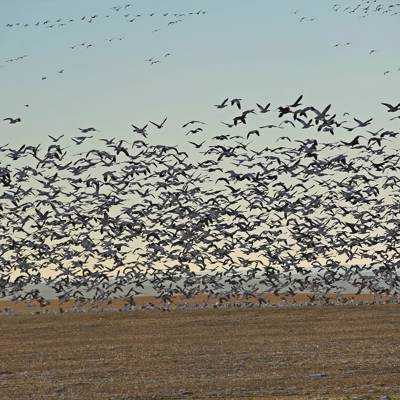 Gary, Owner/Guide Kanada
More about us
Unser Unternehmen wurde 2000 gegründet und betreibt 1 Revier.
Our objective is to selectively offer high quality, professionally managed hunting opportunities on a limited basis. We focus on quality assets and managing them professionally. Very experienced guides, top quality equipment and a dedication to service is our recipe for success. We work hard and strive to offer the best possible hunting experience for our clients.
Located in the heart of the central flyway, Our Saskatchewan Waterfowl operation is one of the premier waterfowling destinations in North America. It is no secret that Saskatchewan is on every serious waterfowler's bucket list. Our operation has the licensed rights to 5 contiguous Wildlife Management Zones covering an area of over 20,000 square kilometers. This premier area is known as the "duck factory" and is comprised of the most productive waterfowl habitat on the continent. Speckle Bellies, Greater and Lesser Canadas, Snows, Blues and Ross Geese as well as numerous species of ducks call this vast agricultural prairie pothole region home. If you dream of experiencing the ultimate mixed bag hunt we invite you to join us and would be excited to orchestrate your next waterfowl adventure in our world class area in Saskatchewan, Canada.
This price includes:
Stockente, Pintail-Ente, Ross Gans, Kanadakranich, Snow Goose, Gefleckte Gans
Über diese Jagd
We will host you and your group on a 3 day Canadian waterfowling adventure. Hunts are based on a Monday to Wednesday or Thursday to Saturday schedule with the core of the migration occurring the last two weeks of September and the month of October. Your hunt actually starts long before you arrive as our staff will be out each morning and evening scouting prior to your arrival. Each evening an active field is identified and land owner permission is obtained in preparation for the morning hunt. Orchestrated long before sunrise, morning activities are focused on field shoots for ducks and geese utilizing traditional decoy and portable layout blind set ups. A typical morning shoot may end anytime between 9 am and noon at which point equipment and birds are gathered up and we head back to the lodge for the midday meal. During the evening hours hunters will find themselves back in the blinds in a fresh field, hunkered down focusing on filling their daily bag limit of ducks. Once regulations permit all day hunting for geese on the 21st of October, field hunts for geese may also be conducted in the evening depending on the success of the morning set up. Bag Limits: 8 dark geese daily (5 white-fronts) and possession limit of 24 (15 of which may be white-fronts). 20 white geese daily and no possession limit (includes Snows, Blues, and Ross' Geese). 8 ducks daily (4 may be pintails) and possession limit of 24 possession limit (12 of which may be pintails). 5 Cranes daily and possession limit of 15. The late October dates are typically some of our best hunts. By that time we are shooting northern birds in full plumage.
Geführt (normale Jagdreise)
Flintenjagd
Jagdsaison: 17 Sep 2024 - 31 Okt 2024
Wo werde ich jagen
Jagdgebiet
The fields nestled along the shores of Lake Diefenbaker and Lucky Lake set the stage for you and your group to experience and enjoy one of the most incredible waterfowl migrations in North America. We are located in the heart of the Central flyway.
Umzäunung: Freie Wildbahn
Reviergröße: 20 000 sq. km
Gesprochene Sprachen: Englisch
Jagdbetrieb seit: 2000 Jahr
Landschaft
Grasland/Buschland: 100%
Wo werde ich wohnen
Unterkunft wird nicht bereitgestellt
Empfehlungen:
Your group will use local motel accommodations that will be prearranged prior to your arrival, single or double occupancy is available. We utilize local restaurants and cafes for meals.
Anreise
Wegbeschreibung
Rental vehicles are available at the Saskatoon International Airport. We recommend you reserve a 4 wheel drive vehicle prior to arrival in Saskatoon, Saskatchewan.
Nächstgelegener Flughafen: Saskatoon International Airport
Entfernung vom Flughafen: 140 km
Flughafentransfer: Nein
Bahnhofstransfer: Nein
Weitere Informationen
Waffen-Verleih: Nein
Schutzimpfung erforderlich: Nein
Bedingungen
Im Preis inkludiert
Transport im Revier
Pirschführung
Stornierung
Die Anzahlung wird nicht zurückerstattet
NICHT im Preis inkludiert
Lodging & Meals - will be arranged prior to your arrival
Gun rental and ammunition - A full selection of ammunition for ducks and geese is available.
Trinkgelder
Bird cleaning (the bird cleaning costs are tallied and shared equally among all members of your group)
Hunting license (cost approximately $CDN115.00)
Versicherung
5% Goods & Services Tax
Anschweißen
Im Preis inkludiert
Transport im Revier
Pirschführung
NICHT im Preis inkludiert
Lodging & Meals - will be arranged prior to your arrival
Gun rental and ammunition - A full selection of ammunition for ducks and geese is available.
Trinkgelder
Bird cleaning (the bird cleaning costs are tallied and shared equally among all members of your group)
Hunting license (cost approximately $CDN115.00)
Versicherung
5% Goods & Services Tax
Stornierung
Die Anzahlung wird nicht zurückerstattet
Anschweißen
Payment
Anzahlung
50% basierend auf die Jagdreise
Anzahlung: 5 Tage nach der Buchung
Restzahlung
Paid 60 days vor Jagdantritt
Interessiert Sie diese Jagd? Erstellen Sie ein Abo um Angebote für die gewünschte Wildart und das Reiseziel zu erhalten
{{ onboarding.step }}
/{{ onboarding.stepsCount }}
{{ onboarding.title }}
{{ onboarding.text }}