Tagesrate
Tagesrate
$
1,500
für 3 Tage, 2 Jäger
Trophy fee is not included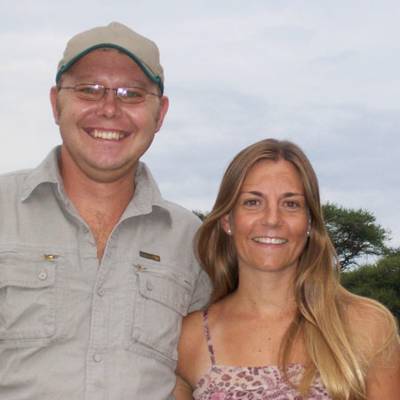 Gerhard & Maggie, owners Botswana

Antwortet: 50 %

Antwortzeit: innerhalb eines Tages
More about us
Unser Unternehmen wurde 2005 gegründet und betreibt 4 Reviere.
We have over ten years experience in the conservation, hunting and hospitality industry which ensure that you will have an unforgettable experience with us.
Botswana is the perfect country to hunt for Southern African species. Come and experience Hunting - The Botswana way!
This price includes:
Trophy is NOT included. Please select species from the price list to see the final price.
Über diese Jagd
Botswana is a beautiful country in Southern Africa, bordering from the North: Zambia and the Caprivi Strip in Namibia; the South: South Africa; to the East - Zimbabwe and to the West - Namibia. It is considered to be the safest and most stable African country. The hunting season in Botswana is during the winter months, between March and September. The weather during the season is pleasantly warm, sunny days, with cold evenings. There is normally no or very little rainfall during the hunting season.
Geführt (normale Jagdreise)
Büchsenjagd Pirschjagd Bogenjagd
Jagdsaison: 1 Mrz 2023 - 30 Sep 2023
Wo werde ich jagen
Jagdgebiet
Hunting with us is a great and true hunting experience, the way it used to be! We are the sole concession holders of a 100 000 ha privately owned registered game ranch. This vast area with abundant game allows you to experience a true hunting experience. The Game Ranch is situated in the South Eastern part of Botswana, bordering the Limpopo River which is the border between South Africa and Botswana, in an area known as the Tuli Block. The total 100 000 ha borders the Limpopo River.
Umzäunung: umfriedet
Reviergröße: 100 000 ha
Gesprochene Sprachen: Englisch
Jagdbetrieb seit: 2005 Jahr
Gelände
Ebene: 80%
Hügelland: 20%
Landschaft
Grasland/Buschland: 80%
Wald: 20%
Unterhaltungsangebot
Fischen
Wo werde ich wohnen
Jagdhaus
Our lodge is situated on a side stream of the Limpopo River, about 80 meters from the main river. The camp consists of 4 double bedrooms. Each bedroom has its own bathroom with shower, toilet and basin. Outside there is a fully equipped kitchen, dining area, fire place and a deck where you can relax in the afternoon. The lodge is fully serviced daily (including laundry services). The camp is powered by generator and inverter system, which allows you to charge cell phones, camera batteries etc.
Einrichtungen: Bad Dusche im Zimmer Wäscheservice Telefonverbindung Elektrizität
Anreise
Wegbeschreibung
The ranch is a comfortable 2 ½ hours drive from Gaborone, the capital city of Botswana, and 5½ hours from Oliver Thambo International Airport in South Africa. The closest border of entry from South Africa to Botswana is Parrs Halt / Stockpoort Border post.
Nächstgelegener Flughafen: Gaborone
Entfernung vom Flughafen: 200 km
Flughafentransfer: Ja
Bahnhofstransfer: Nein
Weitere Informationen
Waffen-Verleih: Ja
Schutzimpfung erforderlich: Nein
Bedingungen
Im Preis inkludiert
Unterkunft
Transport im Revier
Pirschführung
Trophäenvorbehandlung
Trophäen-Vermessung
Frühstück
Mittagessen
Abendessen
Wäscheservice
Snacks
Getränke und Erfrischungsgetränke
Alkoholische Getränke
Assistance at the airport
Trophy export to the taxidermist
Stornierung
Die Anzahlung wird nicht zurückerstattet
NICHT im Preis inkludiert
VAT 12% on daily rates
USD 310-00 per group for Gaborone airport pick-up and drop-off fee (arrival & departure)
All flights
Shipment of trophies
Tierpräparator
Persönliche Ausgaben
Rifle permits etc
Trinkgelder
Anschweißen
Im Preis inkludiert
Unterkunft
Transport im Revier
Pirschführung
Trophäenvorbehandlung
Trophäen-Vermessung
Frühstück
Mittagessen
Abendessen
Wäscheservice
Snacks
Getränke und Erfrischungsgetränke
Alkoholische Getränke
Assistance at the airport
Trophy export to the taxidermist
NICHT im Preis inkludiert
VAT 12% on daily rates
USD 310-00 per group for Gaborone airport pick-up and drop-off fee (arrival & departure)
All flights
Shipment of trophies
Tierpräparator
Persönliche Ausgaben
Rifle permits etc
Trinkgelder
Stornierung
Die Anzahlung wird nicht zurückerstattet
Anschweißen
Payment
Anzahlung
50% basierend auf die Jagdreise
Anzahlung: 5 Tage nach der Buchung
Restzahlung
bezahlt vor Ort
Payment options provided by outfitter:
Bewertungen (2)
Verifizierte Bewertung
Diese Bewertung stammt aus einem bestätigten BookYourHunt-Kauf
22 Mrz 2022
Great outfitter
Everything
Verifizierte Bewertung
Diese Bewertung stammt aus einem bestätigten BookYourHunt-Kauf
9 Jul 2018
Best african hunt I've been on
It was real african hunting like it used to be
Having to leave
Interessiert Sie diese Jagd? Erstellen Sie ein Abo um Angebote für die gewünschte Wildart und das Reiseziel zu erhalten
{{ onboarding.step }}
/{{ onboarding.stepsCount }}
{{ onboarding.title }}
{{ onboarding.text }}