24 hunts
3 countries
2270

km
to the nearest trip
Where to hunt Dall Sheep
The snow-colored Dall sheep inhabits the snow-covered peaks of America's northmost mountain ranges. Like other iconic species, Dall sheep is raised on game farms and ranches far away from its original habitat, like Argentina and Texas. But for the genuine hunting experience, you'll have to travel to some of the most remote and inaccessible areas of the continent, with most hunting opportunities located in Alaska and Yukon.
Price distribution
The most affordable Dall hunting experiences are to be found on game farms and ranches in Texas and Argentina, and cost between $2,500 and $5,000. Hunts in Dall sheep's natural range include travel to remote destinations, and are typically priced between $16,000 and $20,000. You may have to add the cost of licenses and tags, and travel from your residence to state or provincial capital. A Dall sheep hunt can be combined with a caribou or bear hunt, which could mean a better bargain overall.
When to hunt Dall Sheep?
The Dall sheep hunting season is short. In Alaska it runs from August 10 to September 20. In Yukon it may run until the end of October in some zones, but the best times for sheep hunting are early in the season. On game farms and ranches the animal of course can be hunted a year round.
In August and September Dall sheep mostly graze on the Alpine meadows, but may descend below the tree line for water or to visit a salt lick. Their white coat makes them relatively easy to stalk over long distance. Stalking them is another story, with natural alertness of the animal intensified by difficulty of walking over boulders, dwarf pine, bogs, and whatnot. Glass from below, stalk from above, don't show yourself over the skyline, and try to hold back "sheep fever" as you realize the ram of your dreams is in your sights, or almost there.
Why hunt Dall Sheep?
All hunts (24)
Dall sheep populations have been protected not only by game laws, but also by the remoteness and inaccessibility of their habitat. To harvest a mature ram, a hunter will have to live in a spike camp with the scantest of comfort, cover mile after mile on terrain where even sheep can break their land, freeze on the permafrost and boil over with sweat. What for, you may ask? For a few pounds of (absolutely delicious) meat and graceful, curling hurls? Or for the flow of emotions that only hunters will understand, as you almost crawl on your belly to take the position for the shot? If you possibly can, go Dall sheep hunting and discover why it's on almost every serious hunter's dream hunt list!
10 Day Dall Sheep/Caribou Hunt 1x1 '20
United States
The sheep and caribou hunts will be booked as a medium difficulty backpack hunt on 1x1. We will plan on being in areas of less exposure to weather. 100% success on sheep 2015! Spike camp will be carried by the client and guide, usually on a through-hike (not coming out the same way they went in). The clients will need to be in top physical and mental shape. In the Arctic, one guarantee is by mid-September the mountain creeks have begun to freeze (if not already), storms have became more violent and higher elevation air strips are threatened by snow. Temperatures are generally in the 20 to 45 degree range. Along with the storms comes poor visibility, high river crossings and delayed travel. These times are mentally challenging for most hunters. Good Kavik Camp communication and high quality gear while in Spike Camp allows us to be patient and comfortable while waiting for better weather. During the later hunts, there are definitely fewer people out and about resulting in less traffic in the main valleys. Also animals seem to start moving out of high elevation areas that they have been in most of the summer and travel into transition areas lower down in elevation. Our packs will be approximately 60 lbs each. This will allow the guide to carry additional 100 lbs of game meat out and the hunter with 50 lbs of cape and horns. Air support will be utilized for pick up on a braided gravel bar of at least 500 ft. with a good approach. Hunting License and tags not included in above prices. Our company sells tags but you can also purchase at http://www.adfg.alaska.gov. For an additional fee of $3000 you can request your own packer to aid with your entire hunt. We have full time butcher to cut, grind and vacuum seal your game. Additional species on a trophy fee basis while on the hunt.
Trip duration: 10 days
Hunting season: 19 Aug 2020 28 Aug 2020
Dall Sheep Hunt 2021
United States
Unlike many other backpack Sheep hunts, we access the mountains in our company owned light aircraft on tundra tires, which means when you start your hunt, you're already in Sheep country! Even so, you're sure to earn your trophy on this rugged 1X1, 10 day backpack hunt. We have years of experience hunting and flying this area, so if you come in good shape, you won't go home disappointed! The Brooks Range is one of few remaining over-the-counter Sheep tags available to NonResident hunters in Alaska, which means you don't have to wait until you win the draw to come on this Sheep hunt! We hunt the Southern Slopes of the Brooks Range, where Grizzlies are common, and can be harvested as a secondary animal incidentally during a hunt, or targeted after a hunter is successful. A trophy fee will be charged for Grizzly Bears only if one is harvested in addition to a Sheep. Dates: August 10 - 19 August 21 - 30
Trip duration: 10 days
Hunting season: 10 Aug 2021 30 Aug 2021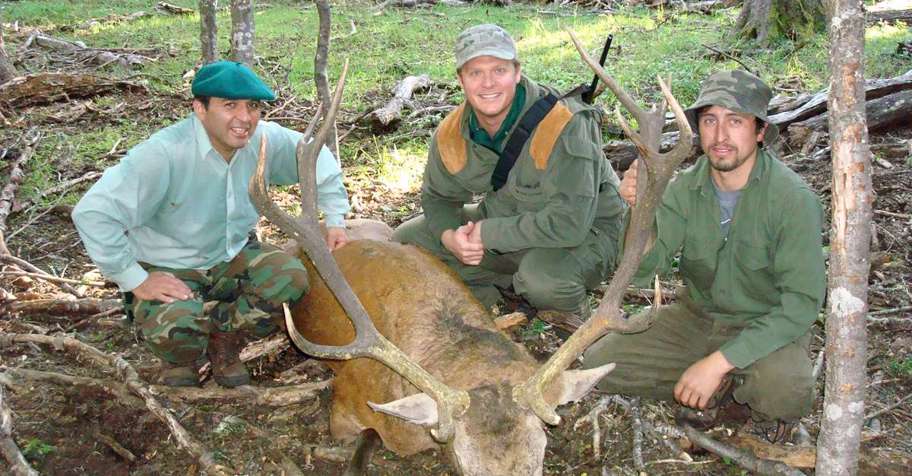 Big game hunt in La Pampa/Patagonia '20
Argentina
The big hunting ranch is located in the Southeast of La Pampa province, Argentina. Has an extension of 37.500 non-fenced acres, of which 25.000 acres are covered with bush. The hunting days are depend on the species that you choose. Hunting hour for red stag are from early in the morning to midday, and from mid-afternoon until dark. The hunt can take place by stalking and also lying in wait. Wild boars are usually hunted by waiting in a hunting tower at night during full moon. Puma is hunted by lying in wait, stalking or by using dogs to track them through the bushes. For all other species a guide will be ever present to track the animal down in the bushes and instruct the hunter which animal will be a good trophy. Possible program: Day 1: Reception at Ezeiza International airport in Buenos Aires city custom cleaning and transfer to Domestic airport to take a flight to Bahia Blanca city (2 hours flight). Reception at Bahia Blanca airport and transfer to hunting Lodge (2 hours drive). Reception at lodge, distribution of rooms, quick snack and enjoy a half day of Big Game Hunt. Day 2-3-4: Full Big Game Hunt Day 5: Half Big Game Hunting day, lunch and transfer to Bahia Blanca airport. Reception at Domestic airport in Buenos Aires and transfer to Ezeiza International airport. End of our services. Please take the hunting seasons into consideration while choosing species from the trophy list. For Red stag: March 1st to May 31th – Rut season during end of March till middle of April For Puma : February 15th to September 30th For all other species offered : The season is open ALL YEAR ROUND The reception and the assistance in the airport and a bilingual guide included in the price as well.
Trip duration: 5 - 10 days
Hunting season: 1 Mar 2020 31 Aug 2020
Interested in this animal? Create a subscription to get offers right to your inbox