2 hunts
2 countries
10743

km
to the nearest trip
Where to hunt Bukharan Urial
Bukharan urial is distributed across such former Soviet republics as Turkmenistan, Uzbekistan and Tajikistan, in the Pamirs, a.k.a. The Roof of the World, some of the highest and wildest mountain ranges on this planet. Bukhara urial hunting is forbidden or very strictly limited across most of its range, with the exception of Tajikistan, where community-based consumptive use conservation resulted in impressive growth in most species of local wildlife.
Price distribution
Bukhara urial hunting is not cheap, and most hunting offers are priced well over $30,000. Bear in mind, however, that the money you pay goes directly to the local conservancy where you hunt providing direct financial support to the local villages, whose inhabitants are now the greatest champions and protectors of Tajikistan's mountain wildlife.
Learn more from our blog story
Community-based, consumptive-use funded conservation projects have proved their efficiency in restoring critically endangered species in many countries of the world. Among the most impressive successes of conservation through empowering local communities with the use of the money generated by trophy hunting is the Hunting & Conservation Alliance of Tajikistan.
21 Jul 2017 How Hunters Saved Markhor in Tajikistan.
When to hunt Bukharan Urial?
Bukhara urial hunting season in Tajikistan opens in November and closes in February. This period usually covers the rutting activity, which with Bukhara urial may continue until early spring. The end of the season, when high snows push the animals from the mountain tops into the valleys, is usually considered the best time for hunting.
Hunting methods
Burkhara Urial hunting falls into the "easier said than done" category. You go out into the mountains at dawn, scan them through the powerful optics, and when you see an old ram, carefully approach within range for a shot, and while it may sound simple, a walk in the park it is not. The Pamirs, a.k.a. the Roof of the World, are some of the hardest mountain ranges for a hunter. Working out to get into really good shape is essential, and you should be prepared for long and challenging shots. On the other hand, the guides, who represent a mountain hunting culture that dates back to prehistoric times, know these mountains intimately, understand visiting hunters, and will adjust to your pace and hunting style.
Why hunt Bukharan Urial?
Bukhara Urial hunting may be too physically demanding for more than 50% of hunters, but offers an unforgettable experience of unique wildlife, and the stunning beauty of the high Pamirs, and immersion into local culture. The challenges such as long, rough drive on the infamous Pamir Highway, living in camp tents and shepherds' huts without indoor plumbing, a great deal of privacy, or other comforts you might be used to is balanced by unparalleled hospitality of the Tajik people that has to be seen to be believed. You might have a chance to sight other iconic animals of the Pamirs, such as the Marco Polo sheep, Bukhara markhor, brown bear and even snow leopard. This is the ultimate mountain hunting adventure that may well become the highlight of your hunting career.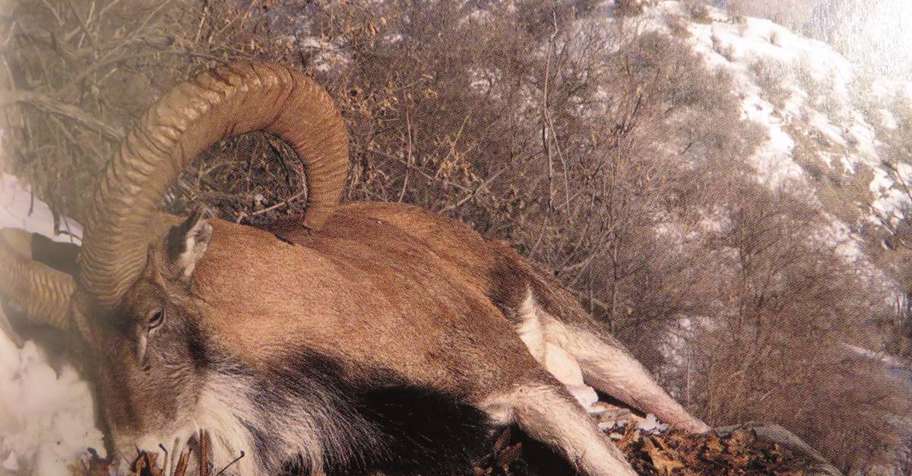 Bukharan Urial Hunt
Tajikistan
Thanks to the conservation efforts by community-based conservancies, managed by local non-profits and small family enterprises and covering almost 1200 square miles (768,000 acres) populations of fascinating Marco Polo sheep, Asiatic ibex, Bukhara urial and most unique Bukhara markhor have been recovered to a level that allows for sport hunters to take unique trophies while supporting conservation (especially endangered snow leopard) and development of local rural communities!
Trip duration: 9 days
Hunting season: 1 Nov 2019 28 Feb 2020
Interested in this animal? Create a subscription to get offers right to your inbox